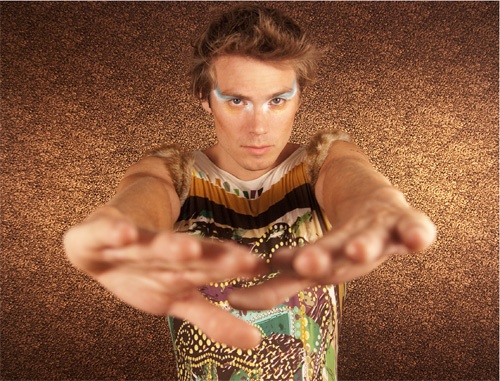 The debut music video from Amil Byleckie, our Songtruster of the Week, offers the perfect introduction to his delightfully weird glam-pop group from Providence, RI. (Watch it below.) Packed with darting lasers, space stations, and off-kilter alien images (NSFW at the very end), the video for "Shadow of a Doubt" showcases this young band at their most mature yet. The song, which closes out their recent "ep3," is slower and more immediately gripping than the band's previous high-caffeinated electro-pop, but retains the soaring, impassioned pop vocals, galactic synths, and Bowie-inspired eccentricity that makes them so great.
Self-described "spandex-clad heartthrobs," the Amil Byleckie Band is, they say, "ready to dominate your basement show, house party, or bedroom wall for a night of unforgettable, feverish sweating and dancing." Amil's influences run the gamut, but are generally rooted in the '60s and '70s, from pop stars like David Bowie and Freddie Mercury to minimalist New York composers like Philip Glass and Steve Reich. Aesthetically, he says his band is "basically an homage to glam pop from the '70s."
Amil has been busy with various music projects since his teenage years, with a discography that includes a dozen cassette and CD releases, as well as many tours within the DIY community under his belt. His previous recordings include the album "Amil is Personal," a project of "genuinely bizarre recording" that was "inspired by adult personal ads from the Providence Phoenix." He also once recorded a Christmas album that takes the concept of outsider-pop to a whole new level. But for now, the Amil Byleckie Band includes writer-vocalist Amil "The Band" Byleckie, bassist Cordey "Licks" Lopez, drummer Diego "Skins" Perez, and JD "Fingers" Fontanella, who mans a homemade keytar.
Since starting the band, Amil says he's learned a lot about showmanship and being a frontman. (Check out this radical live vid for proof.) "I've also learned to start respecting the work I do," Amil says. "I realized that writing and playing music is what I love, and if you love something, you have to own it, and not be apologetic about what you make." Those realizations led him to start registering his songs.
Having performed with indie stars like Baltimore's Future Islands and legendary K Records founder Calvin Johnson, the Amil Byleckie Band performs at Brooklyn DIY venue 285 Kent on September 17th with Prince Rama and Javelin. Download the Amil Byleckie Band's new EP (free, for a limited time) from Bandcamp, check out more tracks at the Free Music Archive, and keep up to date at their website.