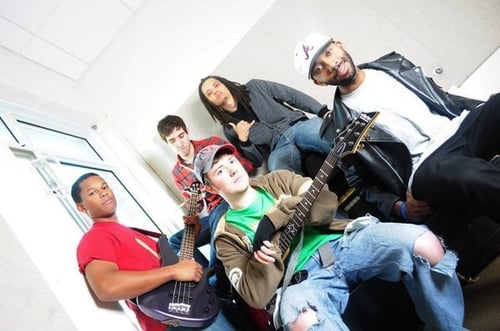 This week's interview comes to us from Anthony Tulloch, or as he's known in the music community, The Free Radical. His music can only be described as alternative rock with grunge, pop, and experimental sensibilities – while still fit to move an entire stadium. Anthemic, repeatable, and catchy hooks drive the music and round out a sound that many may find foreign but refreshing.
The Free Radical is a producer, singer, songwriter, engineer with a passion for creativity reminiscent of history's best artists. The Brooklyn born and bred artist has channeled this passion over the years and used it to create a new sound that fills a void in today's music atmosphere.
Some of the influences that help mold this music are the works of Muse, Radiohead, Jeff Buckley, Nirvana, Pharrell Williams, and other creative minds outside the realm of music. The Free Radical draws inspiration from everything in life – fashion, painting, and even conversation. All forms of expression can be translated and reinterpreted, and that is exactly what happens when The Free Radical is at work. He's just observing the molecules.
1.) When did you first start writing music?
I've really been writing music my entire life, but I guess it became a mindful and legitimate passion once I got to college. I had to witness other musicians actively pursuing their goals, so that I could see that my goals were attainable.
2.) What styles of music do you primarily like to work with?
I honestly work with all styles. As a producer/songwriter for others I've worked with Hip-Hop, Pop, R&B, Soul, and Experimental artists. When I write my own music, however, I tend to live primarily in the Rock realm.
3.) Which artists have influenced your songwriting most?
I've been most inspire by Pharrell Williams, Thom Yorke, Jeff Buckley, and John Mayer. Those guys are Mount Rushmore.
4.) For you, how important is it that you control all of the rights to your music?
Controlling the rights to my music in this current age of the industry is imperative. It's more than obvious that "the powers that be" have no clue what they're doing anymore, so I feel 100% comfortable trying to do things myself.
5.) What musical goals do you have for the future?
I just want to be able to sustain myself and pay back my student loans being a full-time musician. Anything beyond that is an absolute blessing.
--
For more information on The Free Radical, check out these links: