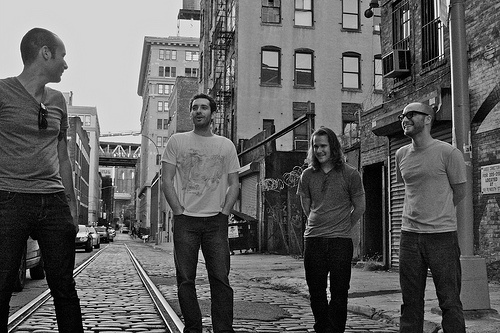 Brian Sendrowitz, lead singer/ frontman for Long Island, NY-based Beat Radio has been through it all. Starting in 2008 with the release of the first LP, The Great Big Sea, Beat Radio was quick to garner the attention of several influential music blogs. But unfortunately, a timely combination of lineup changes and the troubled state of the music industry caused Sendrowitz to quickly found himself back home in Bellmore, NY without a band.
When most would have called it quits after being so close to tasting success, Brian continued to produce new songs. And after a year's worth of late night sessions in his basement, he was finally able to release his sophomore record Safe Inside the Sound.
A new full band lineup seemed to grow around the songs: Dan Bills came on board and helped fully realize the blissed-out synth pop vibes only hinted at previously; Evan Duby and Brian Ver Straten had worked together for while as rhythm section in another project. Intrinsically connected, they became the new soul of the Beat Radio, laying the foundation like a pair of Motown session pros.
At the start of 2010, everything seemed to be coming back together. The band set out to release two tracks every month via Bandcamp site. The goal was to work spontaneously let the songs find whatever shape came most naturally. By early summer, Golden Age had begun to take shape.
The band set up camp at a new rehearsal in Dumbo, Brooklyn and came into their own. New songs were written in a spirit of optimism and sincerity, centered around the belief that one can transcend limitations through the force of imagination. In August, Sendrowitz and company ran a successful Kickstarter campaign to fund the vinyl pressing for the new album. The record was released as a limited edition 12" translucent gold vinyl LP in December on the band's new DIY boutique label, Awkward For Life Records.
For more Beat Radio: Facebook // Twitter // YouTube // Tumblr // Last.fm