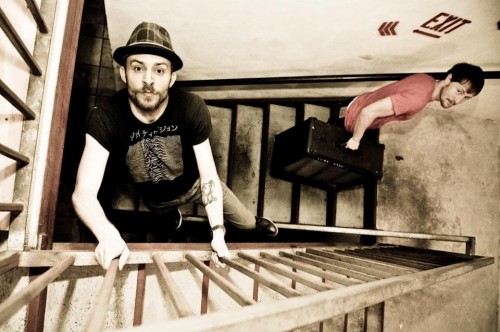 Ben Runyan and Jarret Zerrer, the two principle songwriters behind Philadelphia-based electro-pop outfit City Rain have only just begun their journey into the music industry. Starting with the release of their first album in September 2010, they've already they have seen some great successes.
When Ben and Jarrett released their debut album Running Man, the local scene quickly took note. Deli Magazine voted City Rain Philadelphia's 'Band of the Month', meanwhile local radio station 88.5 WXPN picked them up for regular rotation almost immediately. It was at this point that City Rain took to touring the Northeast, including trips through New York City, Washington D.C. and of course their hometown of Philadelphia, where they routinely opened for such buzzworthy acts as The Dears, School of Seven Bells, Telefon Tel Aviv, East Hundred and Hank & Cupcakes.
Since then, Ben and Jarrett have gone back into the studio to put together their follow up to 2010's debut of their 'Running Man' LP; an EP entitled I'm Gone, which was self-produced by Ben in Stompf Tavern Studios in Stockton, NJ and is now available as a free download from Bandcamp. In support of the release, City Rain enlisted the help of Quigley Films to produce their first music video for the Title track off of their new EP.
http://www.youtube.com/watch?v=5G2g3CHnBBo
City Rain has an upcoming show on Dec 16th at the Knitting Factory.