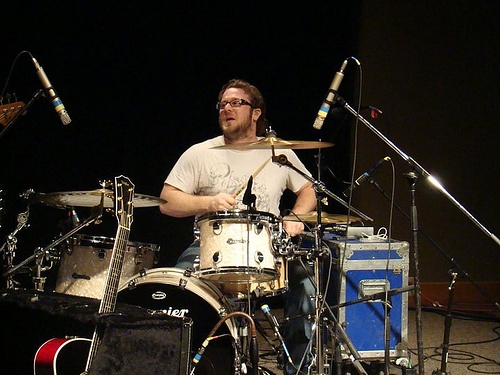 Jon Skaggs is a composer, producer and songwriter located in Los Angeles, CA and most recently Jon formed S2 Artists, a music production/ artist management/ TV film and licensing company.
1. How did you get started in the music industry?
I have been a professional drummer for 17 years playing for Grammy, Emmy, Golden Globe, and Dove award winning artists. I have also been composing/arranging strings, songwriting, and recording music since high school.
I met a guy named Steven Miller in Dallas, TX in 2003, who is a published and accomplished songwriter in LA, and we started making records together. A few years later, while I was living in Nashville, Steve called me and persuaded me to move to LA. After a brief visit, I made the move because of the creative opportunities with Steve and former Evanescence member/Grammy award winning songwriter, David Hodges and I joined their new band Arrows to Athens. You can download the record "Kings and Thieves" on iTunes and hear our song "Alive" on Steven King's mini series "Bag of Bones" which is appearing on A&E.
Through this alignment and musical collaboration with David and Steve, I've been able to contribute to each of their own production and creative projects like Tyler Hilton, Dion Roy, Curtis Peoples, and Kyle Worsham. In 2011, I created S2 Artists in Los Angeles, CA which is a Production, Artist Management, Publishing, and TV/Film Sync licensing company.
2. What has been the proudest moment in your career?
Forming S2 Artists has always been a dream of mine. I used to make records on a 4 track tape recorder in my garage and have always loved the writing, collaboration, composing, recording and production process. When I moved to Los Angeles, the goal was to get off the road and make great music with the people I love making music with. I have always envisioned a way to propagate copyrights, recordings, and original music I make with an artist or band throughout the vast amounts of online channels that have become available to independent artists. I want to continue to create and invent new ways for artists to get their music into the listener's hands. Songtrust has become a part of this dream and I'm happy to include them in the Publishing and Creative side of my venture. Playing with my band Arrows to Athens, Tyler Hilton, and producing records with Steven Miller are very proud moments that I'm very honored to be a part of.
3. What inspires you as a songwriter (or composer if you feel that suits you better)?
My friends Steven Miller, David Hodges, and Tyler Hilton definitely inspire me as a songwriter. I've never heard three people craft a melody, hook, chorus, and overall song structure with such brilliance and genius. As a composer I'm currently influenced by the music of Ulrich Schnauss, Lyle Workman, Mark Isham, Pat Metheny, Brian Eno, and M83. I'm really into Ambient music at the moment. I'll sit on my balcony at night in LA and start thinking of the music that best represents a dream. Ambient music always comes to mind and it seems to be the music that is accompanying most TV/Film scores today.
4. Do you belong to a PRO? If so, which one and why did you choose that organization over the others?
I belong to BMI because of it's reputation of being innovative and a workhorse for the publisher and songwriter. I believe that if you work as hard as an organization works for you then you will see definite results. They are also a very personal and loyal organization that I trust.
5. What projects or events are coming up for you that the Songtrust readers should know about?
Some of the songs that I just played drums on for the new Tyler Hilton record will be featured on a popular TV show that I can't announce just yet. S2 Artists will also be producing many artists in 2012 and I'm really excited about a new record we're working on with a group out of Washington called The Wicks. We are currently writing and doing some pre-production for the album and it should be available in the Fall of 2012. Personally I plan on releasing an instrumental record called "The Art of Existence" and an Americana record called "A Rainy Day at Lone Oak" while finishing up my new book of Music Industry and Travel Memoirs. There are also plans on writing and collaborating with many artists from Nashville, New York, and Los Angeles.
http://www.youtube.com/watch?v=SC1oWSWYC_Q