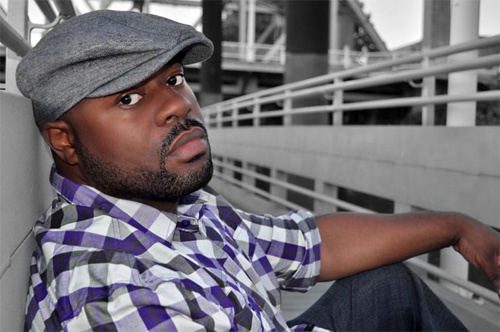 Jay Jai, a twenty something California native has taken his childhood fantasy to a new level. From the age of ten, he has wanted to break into the music industry. Jay Jai got his start as part of an R&B group doing shows throughout the San Francisco Bay Area during the early to late 90's. Since then he has focused on production-which is his passion. Music has always been a favorite past time for Jay Jai - he constantly researches music, always listening in an absorptive manner. For him, it's a way of "staying on top of the game." Some other interests of Jay Jai's include travel and people watching. He finds watching the varied interactions of others an effective way of learning about people.
This perceived introvert transforms quickly once on stage, taking full command of his audience and shines through his music. Creativity is key to Jay Jai, and his list of musical favorites include: Prince, Timbaland, and R.Kelly. Jay Jai is open to any musical experience which is the basis of his vision for Vorieti Pack Entertainment and his breakthrough album Variety Pack; which has earned him a great deal of attention in the Bay Area. This assortment of beats, versatility, skill, and personality ring of harmonic flows and is a combination music lovers can appreciate. Ultimately, the dream of Variety Pack (and Vorieti Pack Entertainment) is to "push the envelope of creativity, and take the game to a new level." Urban, Pop, Rap, Rock. All of these ingredients create a new trend of music. A new era of sound, a rare blend of creative energy called Variety Pack. This is definitely not for the closed-minded individual.
Songtrust recently caught up with Jay Jai for a quick 5-question interview:
1.) When did you first start writing music?
I started writing at the age of 10. The first song I wrote was called "Red Rose" - I'm not sure what genre, but the hook was catchy and my love for music began.
2.) What styles of music do you primarily like to work with?
I like to work with all kinds of music, I don't really have a favorite type. I like how different genres express emotions, how your story reads with the pop, r&b and rock melodies. As songwriter you never want to close yourself, you want to be open to new and different experiences.
3.) Which artists have influenced your songwriting most?
I like artists that can paint a picture and tell a good story. R.Kelly, Prince, Ne-Yo - I like how they all have unique styles and can write for almost anybody.
4.) For you, how important is it that you control all of the rights to your music?
The music business is scary...I love to create music and express myself how I want, through pop, r&b, rap, whatever it is. Giving myself the freedom to do so IS GREAT. Controlling the rights to my music for me means that I don't have to sell myself short.
5.) What musical goals do you have for the future?
My ultimate musical goal is to be a platinum selling artist that produces and writes songs for some of today's hottest artists. I'd like give the world a different view on talent.
-
For more information on Jay Jai, be sure to check out some of these links: