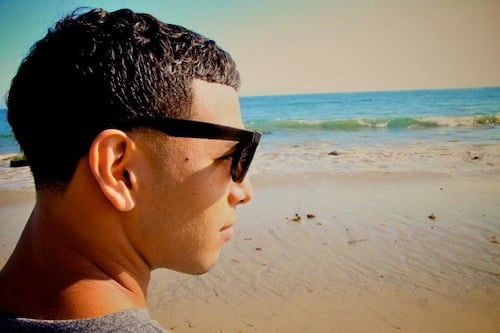 Julian Write is a promising hip-hop songwriter from Woodland, CA, about to release his first official project - an EP entitled Hearts of Gold.
How did you get started in the music industry?
I got started in middle school when I was 13. My best friend had a small recording setup and invited me over to check it out. I had never written a song in my life, I only went to watch them, but by the time I left that afternoon I had written and recorded my first song. I never planned on taking music seriously, my friends and I just did it for fun as a hobby after school, but after that day I couldn't stop writing. By my senior year of high school I started to take it very seriously, but it wasn't until I dropped out of college as a sophomore that I knew it was all I wanted. It's been a little over a year since then and I haven't looked back.
What has been the proudest moment in your career?
I'd say my proudest moment in my career thus far, as young as it is, would probably be leaving my small hometown of Woodland California - a small city 15 miles outside of Sacramento - a few months ago in September of this year to come to L.A. in pursuit of bigger opportunities. As much as I love it there, it was a defining and proud moment for me because it let not only the people around me know, but also myself that this is truly what I want and showed that I will pursue it at all costs, regardless of what I have to sacrifice for it. I already feel that being out here is the best thing I could have done for myself and my team.
What inspires you as a songwriter?
I'm most inspired by life and emotion. As simple as it sounds. My songs are extremely personal to me, to the point that if you were listening to one of them and in the same room as me I'd probably feel awkward simply because I reveal so much about myself in them. Emotion and substance are the main things I feed off of. I feel like if those two things are not present in a record, that song isn't relatable, and if a song isn't relatable, it's not timeless. And I see no point in being a songwriter if the work I create isn't timeless, it has to outlive me.
You're an ASCAP writer. How come you chose them?
I registered with them via Songtrust. I chose ASCAP simply because they works best for me and what I do. I did countless hours of research comparing all the different PROs and after that and talking to a few industry friends of mine that could tell me firsthand about their experience with each, I decided on ASCAP and so far I'm very much so pleased with my decision.
What's coming up for you?
I actually have an EP coming out next week titled Hearts of Gold that will be available on iTunes and also on my website, so I'm ecstatic about that! It comes out on December 18th, which also happens to be my 21st birthday! And on top of that I have a release party in my hometown on the 17th, so altogether it's going to be amazing.
http://youtu.be/hlom1TsGDJg
Aside from promoting my release, just continuing to build myself up as an artist and songwriter and make music and moves that will put my foot in the door, I'm looking forward to what 2012 has in store.