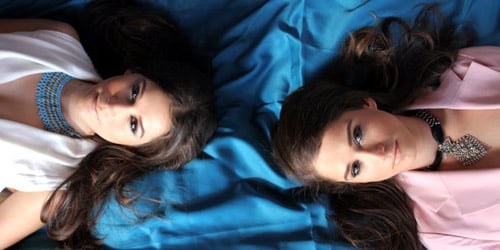 Michelle Macedo and her identical twin Melissa perform together as Macedo. Together they've re-released Michelle's second album Flags & Boxes mixed by Justin Gerrish (MGMT, Vampire Weekend), mastered by Fred Kevorkian (Regina Spektor), and re-mastered by Randy Sharpe (Dixie Chicks).
How did you get your start in songwriting?
I have always kept a journal since about 3rd grade. As long as I can remember I've just written everything down, which has evolved into an obsession with documenting everything! I started writing poetry with no intention of showing it to anyone. The first person I showed it to was Melissa and she was so encouraging that I just kept going. Then around 6th grade we both realized we loved to sing but again would not sing in front of anyone. It was really supporting each other and being supported by our friends at the all girls high school we attended.
What most inspires you as a songwriter?
We are both very inspired by poetry, visual arts but mostly real life situations. We are lucky enough to be able to turn our troubles into something better. The more adversity we face the stronger we become. Mostly we like to ask ourselves "Why is it important that people hear this?"
Who are your songwriting idols?
There are so many songwriters we look up to and we have been SO lucky to be able to meet one of them. Matraca Berg is an amazing songwriter and has a real gift at storytelling. Some other huge influences are Diane Warren, Carole King, Regina Spektor and Fiona Apple. That's just the beginning. We are always striving to be better.
What has been your proudest moment as a songwriter?
Our proudest moment as a songwriter is meeting Matraca Berg when she came to Los Angeles for the Grammy's and told us that she loved the album. I had no idea what to say. I was speechless.
Why did you decide to join Songtrust?
We registered songs for licensing and Harry Fox Agency recommended Songtrust. When we saw how easy it was to register, we immediately signed up.
Any advice you can share with emerging artists/songwriters?
It always helps us to think about "why is it important to say what you are saying?". It clarifies the intent behind the writing. Also, a thesaurus is your best friend!
What's coming up for you in 2012?
We have SO much going on. We are playing currently around California and next at the Make Music Pasadena Festival, June 16th. We are currently ready to record the next album!! It's going to be a huge job but we have been working really hard to make sure it's our best and Melissa and I (Michelle) have been trying to perfect our harmonies. We are so excited to start recording!
More info: Official Site // Facebook // Twitter