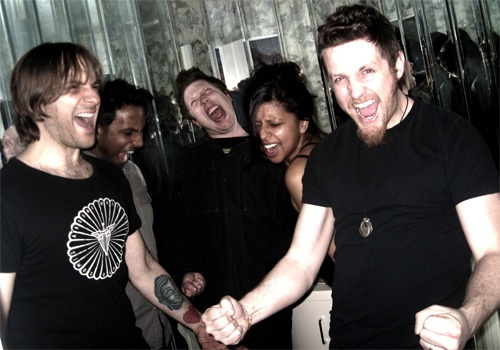 My Pet Dragon is a New York City-based rock band who released their debut LP, Mountains and Cities in August 2011. Although much of the album was recorded solely by principle songwriter and group founder Todd Michaelsen, My Pet Dragon has since blossomed into a 5-piece band. We had a chance to catch up with Todd about his experiences as an emerging songwriter.
How did you get started in the music industry?
I would say my true start was leaving my life behind in upstate New York about 8 years ago and coming to New York City. I knew I needed to grow as an artist. Playing open mics in Brooklyn and in the East Village, meeting different kinds of musicians and poets, making the most of what a big city can offer me as an artist - as a sponge. That was when I found out what it took to make music properly.
It's been a slow process and I'm still growing but leaving everything behind and willing to take that dive was the start of me wanting to join this "industry".
What has been the proudest moment in your career?
The proudest moment in my career has been the last few months of performing live with the other members of My Pet Dragon. All these shows we've been playing, all these late night drives to other cities, all the new music we are creating has brought us to a whole new level that I'm truly proud of.
What inspires you as a songwriter?
Well in the past, I used to write about specific people and events around me. Memories of loved ones that are gone, frustrations with intolerance and ignorance, love lost and found - all the standard things. But now, I'm on a new level where I can't really say for sure where these new songs are coming from. They seem like songs that write themselves and I'm just channeling some inner force.
I feel like these songs are about an alternate reality that I wish we could live in where there is no hatred and people are just truly free and open. Even if that means owning up to the darker side within us, yet the music is lifting us somewhere else and pain is gone through that process. Songwriting is like breathing for me now. I just do it. Constantly.
You're an ASCAP writer. How come you chose them?
I chose ASCAP because another friend of mine who was a songwriter suggested I sign up with them.
What's coming up for you?
My Pet Dragon has a song called Love Anthem that was chosen to be a part of a compilation album supporting Occupy Wall St. Other artists on the album include: Jackson Browne, Ladytron, Devo, Crosy and Nash, Lucinda Williams, Warren Haynes, 3rd Eye Blind, and Yo La Tengo, so we are very excited about that.
And we are doing an East Coast tour in January/February 2012 with our single Moonshine being promoted to radio. We can't. Check out mypetdragon.net for tour dates.
http://youtu.be/Lv2EurKKl-o