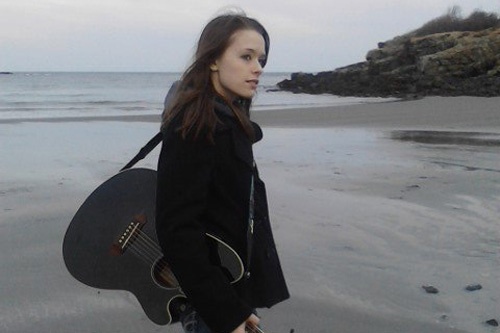 Patty Doyle is new on the music scene, but just a few months after publishing her first single, this young singer/songwriter is turning heads and being featured at some pretty impressive venues.
Her two singles debuted earlier this year on iTunes the same evening that she opened for a showcase of female singer/songwriters at The Knitting Factory in Brooklyn. This summer, she's busy performing at venues in New Jersey, New York, Vermont, and Maine. She's been a finalist in two singing competitions in the greater New York area, and is currently competing in the "Are You the Next Teen Superstar?" contest sponsored by the EARS Entertainment Group in conjunction with the non-profit Entertainers 4 Education Alliance.
Patty has been singing in her church choir under the direction of Dr. Anne Matlack since the age of 3, and keeping a journal as long as she can remember, but sometime around the age of 10, she started writing down ideas for lyrics. "I find inspiration in so many things," says Patty. "I'm constantly writing down song ideas that occur to me at the oddest times."
The need to put her ideas to music led to guitar lessons. At 13, she started taking lessons from an extraordinary folk singer/songwriter, Kathy Moser, who encouraged Patty to pursue her songwriting passion. Kathy also invited Patty to perform at her gigs and open mic events that she was involved in.
Rosewood, a band comprised of friends of her family, also helped Patty develop a stage presence by persuading her to perform at their gigs. When he heard Patty sing in a local singing competition, Emmy-award winning producer Robert Sands encouraged Patty to record a song or two, and several months later, her first two singles were born.
Patty's style varies from song to song, but you can always expect thought-provoking lyrics and memorable melodies from her. She writes from the heart, sharing her innermost thoughts and feelings on topics ranging from hopeful love to crushing defeat.
"There's no better feeling than knowing that you've touched someone's heart through a few choice words. The greatest compliment is when someone I've never met tells me they love my music and have bought my songs. That just makes my day," says Patty.
For more information on Patty Doyle, check out some of these links: