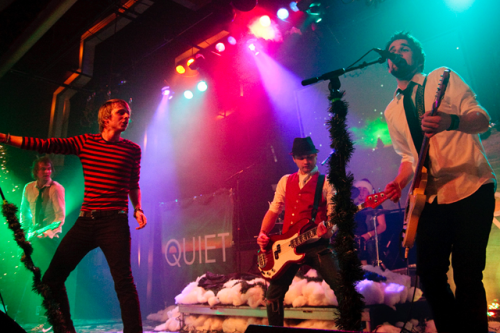 Kevin Truckenmiller is a singer/songwriter/producer working out of Minneapolis and Nashville, currently in the rock band Quietdrive.
How did you get started in the music industry?
I got started playing covers at local bars in college for beer money. I was also in other bands at the time and started throwing my own stuff into the sets that we would play, and people started demanding that we play originals.
Usually I feel like it's the other way around, but shortly after that I was jettisoned into the life of a serious musician. Now I don't spend as much time on the road as I used to, but I love writing music and chasing new songs along with helping other artists.
What has been the proudest moment in your career?
I think the proudest moment would be when my songs started taking off and our record started getting airplay. Once you feel that surge it can be seriously addicting. You want to replicate it with another song that can make people feel that same way. I think earlier in life I liked the recognition, but now my proudest moments are creating new songs and helping other artists create something special. That's equally as addicting.
What inspires you as a songwriter?
My inspiration usually comes from spinning off something else. Someone will sing an idea and I am just beginning to take that idea and making it into something special. But every so often, a song idea will present itself when you least expect it and you really have to run with it. A lot of times I try to convince myself that it's no good, but I record it anyway - trying to flesh out the lyrics and trying to find where the emotion and melody are coming from.
The more ideas I have for myself for later, the better. But the magic happens in the studio when you put all those ideas together into a composition. Then I just listen to the idea, and listen to what my brain wants to add to it.
What's coming up for you?
I'm writing and producing on a project in Nashville for an artist that's going to be releasing a record next year that I'm pretty excited about. Also trying to get some tracks pushed out to Jason Derulo that I've been working on for consideration on his next release. The group that I write and play in called Quietdrive is going to play some festivals this summer in Japan, and we are releasing a new record as well here in the States.