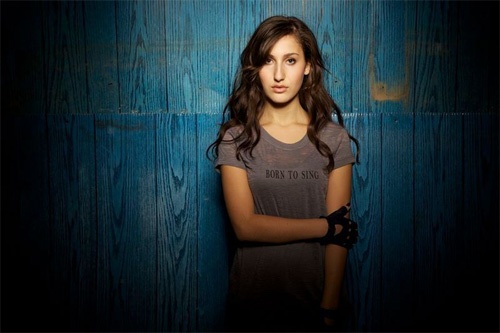 We're proud to welcome Sarah Solovay to our publishing family! In a world where sometimes all you need is an acoustic guitar and a dream -- Sarah Solovay's got both -- and she happens to have a rather transcendent voice to boot.
With each of her songs, the 17-year-old New York City singer- songwriter strikes just the right note between organic rock and vibrant pop. Cuts like the hypnotic "Hearts Collide" and powerful "Superhuman" weave together unforgettable melodies and heartfelt, honest lyrics.
That's precisely why Sarah's music has already reached massive audiences via hit shows such as 90210 and why she's garnered accolades such as the "Young Songwriters Award" from the New York Songwriters Circle. However, it's all merely prelude to the moment Sarah truly arrives -- when her forthcoming debut album drops and captivates the entire world.
Even though she's been playing guitar since she was six years old, Sarah's talents began to receive serious attention and industry affirmation in 2008. In that year, her song "Gone" won the New York Songwriters Circle "Young Songwriters Award" and the song is currently a finalist in The International Songwriters Competition.
It's only the first of many milestones to come. Her sound exudes a true vibrancy because it's so personal and tangible. Sarah describes the alchemy at the heart of her sound:
"My music is a balance between upbeat pop rock and raw, edgy indie. I begin all of my songs with an acoustic guitar and they evolve into these full productions. I want to ride that fine line between singer-songwriter and mainstream pop girl. There's a little bit of both in me."
You can hear this musical blend on her 2009 iTunes release Gone – EP, but it's even more evident in the strong and evocative "Superhuman," Sarah's latest track to hit the Internet.
Additionally, Sarah's music serves as the soundtrack to both popular television and film productions. "Hearts Collide" played over a March 2010 episode of the smash TV hit show 90210 with Sarah as 90210's featured artist. The track was also included on the highly successful soundtrack for the show, alongside songs from chart-topping sensations such as The All-American Rejects and N.E.R.D.
Meanwhile, the pensive and poignant "Flaws and All" was written specifically for the MySpace TV show BFF and then found its way into the movie The Hole by acclaimed genre director Joe Dante (Gremlins, Gremlins 2: The New Batch). Sarah explains: "The producers came to me and asked if I would write something about best friends for BFF, so I came up with 'Flaws and All.' MySpace TV used it, and then Joe Dante decided to feature it in The Hole as well."
Sarah has also been showcased on Teen.com and TeenVogue.com, but she truly shines on stage. "There's something really perfect about the connection between the audience and the performer," she says. "You can do anything you want on stage with the songs." Sarah continues to dazzle audiences all over her native New York with more touring to come.
For more information, and to listen to some of Sarah's songs, check out the links below!
"Gone" - Sarah Solovay
"Hearts Collide" - Sarah Solovay