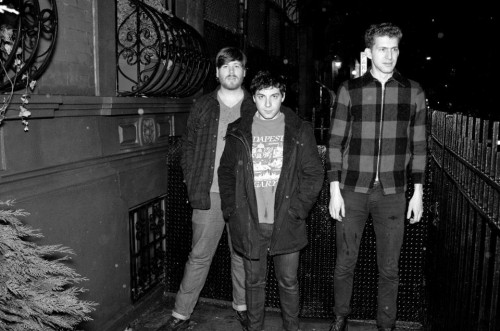 Steel Phantoms is a three-piece rock/ new wave band from Brooklyn, NY. They were recently voted The Deli's Artist of the Month. We spoke with Joseph 'Yos' Munro about their history and recent successes.
How did you get started in the music industry?
Aaron and I started out playing in a jazz band together in high school. We played weddings and special events around Pittsburgh. Then during college we really started developing strong pop sentiments. What we admired in music and musicians we saw in Brooklyn, as cliche as it sounds, so we headed here and have tried to carve out a space.
What has been the proudest moment in your career?
We've had some proud moments. We got to tour with Islands in the summer of 2010. We opened for CANT at one of their first shows. We've been featured on Spinner, Line of Best Fit, Heart is a Spade and other blogs we love. We are proud every time we get to share a bill with the bands we love: Slowdance, Violent Bullshit, Wild Yaks and others. Hard to name the proudest moment but those are all up there. We are really proudest when we play a super fun show at a full venue and everybody has a great time. It's also nice when we get free drinks.
What inspires you as a songwriter?
Bands and songwriters who make me turn my head and say "yes". And this doesn't only happen when I'm actually listening to Yes and someone asks me what I'm listening to. I think we're most awed and inspired when we listen to Paul Simon, The Misfits, The Jam, Siouxie and the Banshees, Bruce Springsteen, LCD Soundsystem, and a few others I can't think of right now. We learn a great deal from any artists who write with nuance and ingenuity, and who are very strong performers.
You're a BMI writer. Why did you choose them?
I registered us with BMI - it was the PRO I had heard most about at the time.
What shows/releases are coming up for you guys?
Some pretty good ones! We've got a show at Brooklyn Bowl. A show at 285 Kent with Violent Bullshit. Our second EP, Forer coming out on Vinyl (with two added bonus tracks). New t-shirt designs. A college tour. We're pumped!
http://youtu.be/bYtuftIBV2U