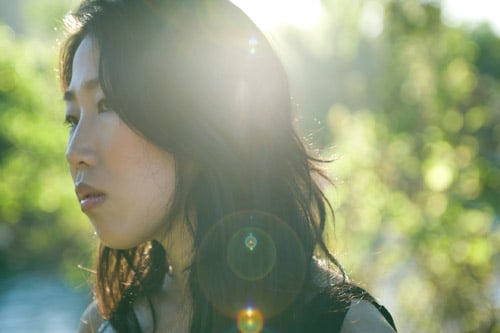 Folk singer Susie Suh is the newest member of the Songtrust family! Susie's debut record - as produced by Grammy Award winner Glen Ballard - was released on Sony Epic Records. Her music has also been featured in numerous TV shows and movies worldwide.
How did you get your start in songwriting?
I started writing songs in high school when I learned how to play the guitar. I eventually got a publishing deal, which led to a record deal with Sony Epic Records.
What most inspires you as a songwriter?
I will never tire of creating something out of thin air and turning it into something someone can listen to and enjoy. I find tapping into that creative process so magical and cathartic.
Who are your songwriting idols?
There are so many songwriters whose music I really enjoy. Growing up, I really liked artists who all wrote their own music like Joni Mitchell, Bob Dylan, Nick Drake, Tracy Chapman, and Fiona Apple. I think Glen Ballard, the producer I worked with on my first record is an extremely talented songwriter - he wrote Man in the Mirror for Michael Jackson. Currently, I think that Feist is a beautiful songwriter and so is Antony Hegarty from Antony and the Johnsons.
What has been your proudest moment as a songwriter?
Some of my proudest moments are hearing my songs in a movie or television show and seeing how my music becomes woven into a bigger project and story. I also feel really honored when someone writes me and tells me how a song I wrote touched their lives in some way.
Why did you decide to join Songtrust?
I found out about Songtrust from ASCAP and also from a Berklee music class I am taking online. I decided to join because I am no longer with a publisher or major label. And after going independent for my last project and starting my own label, I decided Songtrust could be a helpful addition to my digital team.
Any advice you can share with emerging artists/songwriters?
If I had to speak to a younger version of myself I would first say to learn as much as you can about the business. It is complex and always changing, but you can never stop learning. And it's important to empower yourself as much as you can. Even when you have other people helping you I think it's important to have a general idea of what is going on in all aspects of your career. I would also say to constantly hone your craft and follow your instincts. No one knows better than you what is right for you and your music.
What's coming up for you in 2012?
I worked on an EP in Berlin that I am planning on releasing in 2012. It was inspired by my time living abroad in Europe. I will also be in the studio doing more songwriting and collaborating this year.
More info: Official Site // Facebook // Twitter