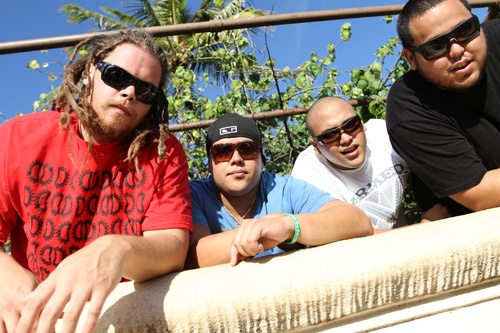 In less than a year the scene-shaking reggae band The Green has quickly emerged as one of the most exciting new reggae artists from the US. Their self-titled debut album was named "Best Reggae Album" of 2010 by iTunes and hit Billboard's 2010 Year-End Reggae Chart by selling over 20,000 copies and counting.
The band is following up with their sophomore album entitled Ways & Means, set to be released on October 25th on one of the leading reggae labels - Easy Star Records. Singer and guitarist Zion Thompson talks about their new album, the Hawaiian music scene and the importance of music publishing.
Tell us a bit about the EP that was just released and what we can expect with the next full length?
"Love & Affection" is one of our new songs and it's the title of our new EP. The song is a dancehall reggae tune with a lovers rock vibe in the lyrics. Some pretty "green" style guitar work accompany Caleb's usual smooth melodies and voicing. It's a good example of what we've experienced and how we've grown as a band all wrapped up into one song. The EP consists of four songs plus a dub.
Our full length album is called "Ways & Means" and it comes out October 25 on Easy Star Records. We are really proud of this album. It's a bit heavier and more eclectic than our first album, but will have something for music lovers of all ages and genres. It's still 100% The Green. It's our sound, improved!
Hawaii has a rich music history but their isn't much of a music industry presence. What are some of the pros and cons for a band coming up there?
You're right, the music industries in Hawaii and in the mainland U.S. are very different. There's a lot of factors that influence this. We are the most isolated group of islands in the world and even in this high-tec day and age of one click, world wide access, in a lot of ways that's still a big enough distance to make a difference musically and in the business environment. But yes, things run a little differently down here. For good or bad.
Things done the wrong way can make you not wanna come back and things done the right way can make the experience of being here something that will feel like a part of you forever. That goes for musicians and non-musician visitors alike.
The Green is trying to ride that balance of dealing with both entities and more at the same time. If that's a con then we welcome it and are eager to build on what's going on in Hawaii's music scene/industry in the best way possible.
What's the current state of the music scene in Hawaii?
There's so much music in Hawaii! Always has been! Nowadays, there's plenty of groups out here with original, raw talent. What's cool is that there is also a sense of a movement happening in what's been considered "popular music". There's way more conscious music being played on the radio. It's like, way too many people know how to get a hold of any music that they want at any given time for the radio stations to ignore. They have to adapt just like everyone else. At least a little. Which is a good thing and better for everyone's longevity!
So, it's going great and no matter if sometimes the message falls on deaf ears, it's a step in the right direction.
What's the band's songwriting process?
Sometimes a song will take a while to finish. Other times you can write 5 songs in a week. It really is different for everyone too. In The Green, someone will either have a completely finished song or ideas that we work on together. Either way the band turns things into the finished product and everyone contributes in some way. It's a completely comfortable environment creatively.
What artists and songwriters have had the greatest influence on The Green's songwriting?
Lots of influences. I can't totally speak for each band member, but we are inspired by every kind of music out there. Nicki Minaj creates some sick lyrics and delivers them in a way that makes us stand up and pay attention to more than just the videos and the hype around her. Bob Marley was one of the greatest songwriters of all time! He was and still is able to capture the minds of millions of people, across all continents and oceans. Jill Scott is a true poet. She's so creative and talented! That's just a few influences.
What does controlling your own publishing mean to the band?
Publishing control is crucial! So crucial. We believe in you Songtrust! Just like you believe in us! Did I say that publishing control is crucial?
What are your thoughts on licensing your music?
We feel like if the right opportunity comes along, take it. Realistically, I don't know too many songwriters that wouldn't want to have a song of theirs in a movie, commercial, or on TV. Under the right circumstances.
What are The Green's goals in the immediate future and down the road?
Right now we're focused on our new album and the coinciding US tour which kicks off October 7 in Las Vegas. We will have already been on the road for 2.5 weeks by the time "Ways & Means" officially comes out on October 25.
In the future our goal is to be traveling to places like New Zealand, Europe, and pretty much everywhere. It's amazing where music takes you! We hope as time goes on, that the talent in Hawaii is continually made known to the world. We also hope to be writing new, hopefully good music, and then getting fat checks from Songtrust for it! Haha! Aloha.
For more information on The Green, head over to their website or facebook pages. You can also check out the video for the "She Was the Best" which appears on their new EP, 'Love & Affection' and their new full length 'Ways & Means.'