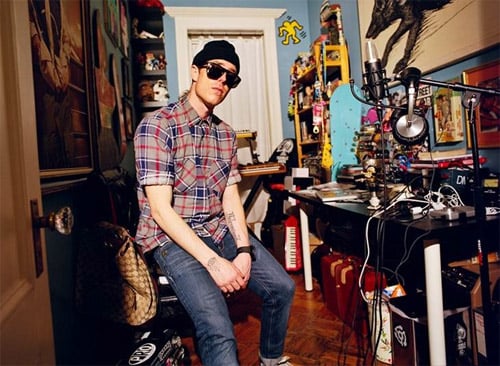 We're so excited to have Trouble Andrew join the Songtrust family! As Artist/ Owner of Trouble Gang Records Label, Trouble Andrew is a true innovator and business mogul. From a professional snowboarding career that went all the way to Olympics, a cutting edge musician, songwriter, producer and a style influencer designing for the likes of Burton, Yes, Analog, Oakley, Nixon, Electric and Native Shoes.
We spoke with Trouble Andrew about his journey as an indie musician - and what it takes to make it.
You used to be signed to a major. Why did you decide to start your own thing?
Too many cooks in the kitchen on a major. I'm a master chef, so I'm happy to be in control of my own recipes now.
What does being DIY mean to you?
Do it yourself, get it done, don't wait on no one!
How did you get your start in songwriting?
I blew my knee out snowboarding in in 2004. I was in Philly staying with Santi (Santigold) and she had music equipment around the crib, so I just picked it up out of boredom, starting making some songs to kill time. At first I was just making instrumentals and riffing on the guitar. Santi ended up using some of my ideas on her Stiffed Burned Again EP.
It encouraged me that I could write songs even though I could hardly play anything that well, I never had played anything before that so I was just kinda messing around. I figured I could write and produce for other artists but then I was like, why don't I just do this myself? So when no one was home I started trying to sing over the instrumentals I was making. The 1st complete track I wrote was Chase Money.
What most inspires you as a songwriter?
Traveling and exposing myself to as much art and culture as possible. The internet is a great tool, when you are stuck at home, you have the ability to reach the world. You can't grow as a artist without growing as a person.
Who are your songwriting idols?
Glen Danzig, Milo Aukerman, Ian Curtis, 2Pac.
What has been your proudest moment as a songwriter?
I'm not sure I have achieved that moment yet. I'm just proud in general that my music is appreciated and touches people, it's a nice feeling when someone reaches out to let me know that a song I wrote helped them through a situation. Just hearing that your music is appreciated makes me proud and drives me to continue to create.
Why did you decide to join Songtrust?
Because they support indie artists like myself and understand what we need to succeed and have the tools to make it happen.
Any advice you can share with emerging artists/songwriters?
Break your own trail, don't follow others' paths.
What's coming up for you in 2012?
I will be releasing my 3rd Trouble Andrew album Aug 31st. I will also be releasing the Trouble Gang Mixtape Vol #2 + videos, The Adventures of Trouble Gang web series, along with albums from the Trouble Gang Records artist roster - Stunnaman (The Pack), JOFO, The Mr Move, Boy n Girl and more - throughout the year. Will also be touring with Yelawolf starting Sept 13th for two months and dropping new Trouble Andrew signature products such as snowboards, skateboards, sunglasses and clothing along the way.
More info: Official Site // Facebook // Twitter // YouTube