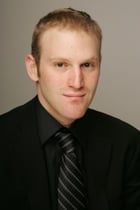 As Associate Director, Writer/Publisher Relations at Broadcast Music, Inc. (BMI), Brandon Haas knows a thing or two about publishing and careers in songwriting. Before landing at BMI, Haas earned a Bachelor of Music in Music Business/Management from the Berklee College of Music and, more recently, worked as an Artist Development Representative for Interscope/Geffen/A&M Octone Records. At BMI, he is responsible for recruiting and retaining songwriters, composers, and music publishers in the Northeast. We caught up with him to chat about PROs, songwriters, and how technology is changing the industry.
What's your role at BMI?
My role is to bring in new talent to the company and work with existing talent. I'm out there signing writers and publishers, and working with the existing writers we have at BMI on advancing their careers through songwriting events, showcases and seminars. The main thing is to find new writers, but I do anything and everything my writers need.
How do you find new writers?
Finding new writers is a process that's more relationship-based than anything else. By maintaining relationships with attorneys, managers, labels A&Rs, publishing A&Rs, booking agents; through all of those people, you find out more and more about upcoming writers. I'm out every night at shows, meeting new people, knowing who's playing. I also do a lot of online research; a lot of blogs, RSS feeds. I look at Hype Machine, RCRD LBL. I try to keep tabs on the 10,000 things that are happening at the same time.
What's the importance of a PRO to a songwriter?
The primary function of a PRO (performing rights organization) is to collect license fees from businesses that use music, and then distribute these fees as royalties to songwriters and publishers. If you are a songwriter or publisher, it is incredibly important that you sign up to ensure that you are paid performance royalties when your songs are played publicly.
What are the first steps once you find songwriters you're interested in working with?
First, I have them sign up as writers, and set them up with a publishing company. I get everything set up administratively. Everything's on a case-by-case basis. Depending on where they are in their career, I look for opportunities in songwriting and cowrites. I'll set someone up with a producer, get them an introduction to someone in the industry like a booking agent, manager, attorney, A&R for a label or a publisher. It depends on the type of things the writer's looking for, and what these industry people are looking for. Often [industry people] will come to us, and everybody gets to work together. My job is to be like Switzerland, I'm neutral. I know who to call, who we're interested in, who might be cool, who's buzzing.
How much do the songwriters and artists you work with know about their rights and how to earn royalties?
A large portion of writers know absolutely nothing about performing rights, let alone any other type of revenue streams. One of the things I do at BMI is educate them on all streams of income; not only performing rights, but mechanicals, syncs, etc.
How is the Internet and digital technology affecting performing rights?
Internet and digital technology has changed things in terms of the way people are both hearing and consuming music. I also think it's changing the way performing rights royalties are collected, by following technology trends to find new venue streams for songwriters and publishers.
How have Internet radio and online streaming services affected your work?
For the positive. Anytime a song is played on internet radio or streamed online BMI collects and pays for the performances. This is another opportunity for writers and publishers to make more money. BMI has been collecting and paying on internet radio and streaming services since 2000. This is the future and we are going to continue seeing more money generated for these types of performances.
As more and more artists begin to take control of their own careers, what will the future of PROs look like?
I feel that the possibilities are endless in terms of what a future PRO will look and act like. As the traditional model of the industry continues to change with the digital world, the role of artist development is becoming an increasingly bigger part of what BMI does on a creative level. We take a very hands-on approach to working with our writers, and in many cases have helped develop careers as if acting like a manager, agent, music supervisor, etc. all rolled into one. With more artists becoming self-sufficient, they will continue turning to us more to act as a portal to help in all aspects of their careers because of the relationships we maintain across the industry and the unbiased advice and opinions we are able to provide. As BMI follows technology trends instead of working against them, we will continue to find new ways to pay royalties to our writers, regardless of how music is being consumed. People are always going to write music, and regardless of how the rest of the industry changes, PROs will continue to be the lifeblood of the songwriter.