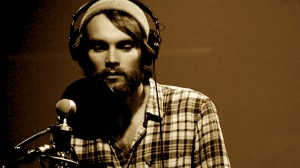 How exactly can you turn your hobby of writing music into a sustainable and profitable career? Where do you even begin? Are there specific steps that every successful songwriter must take? What's the formula?
Like many people out there, Tim Noyes didn't really dive into music until he was about 18 years old. It started as a creative hobby, but has since grown into a legitimate career for the singer/songwriter. In just those few years since he picked up a guitar, Tim and his band Aunt Martha have released an EP and a full-length album, are preparing to record their second full-length, have toured the country, penned a publishing deal, were selected to play at Bonnaroo, and had their material placed in television shows -- the sky seems to be the limit for him.
Trying to create a sustainable career as a songwriter is never easy and there is no master formula for success. But it can happen -- Tim will tell you that.
After Tim started mastering his guitar and songwriting chops, he decided to move to New York City to surround himself with music and improve his material. It was here, before the eyes of the world's harshest music critics, that Tim would tirelessly refine his sound. Sometimes it would be a dive bar, other times it would be as an opening act, and other times it would be at a college open mic night -- but this was where he needed to be. Tim devoted the majority of his time to writing and performing, sometimes playing upwards of 5 shows a week!
It was after one of these solo shows that Tim met future band mate Garrett. The two had a mutual friend and thought it would be a good idea to work together and create some kind of collaborative musical project. As Tim explains, the formation of Aunt Martha wasn't a necessarily a seamless experience: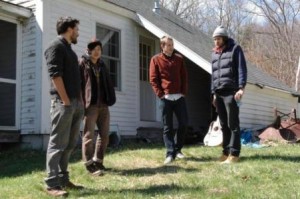 "We were bad. I would go over to Garrett's apartment in Brooklyn and we would play songs in his living room...and it was bad. But there was enough good stuff buried in there to warrant getting a rehearsal space and taking it a bit further. We added Charlie as a guitar player because he was really the only guitar player we both knew. Brian came on about a year later because we were about to go on a month tour and needed a bass player. It was all kind of sloppy with how everything came together -- we were all just friends that happened to play music. We never expected to play shows at first, it was just something to do after work. But we kind of just let things play out, and I guess it's working so far."
Aunt Martha's music is written solely by Tim in a somewhat methodical process. The songwriter spends months preparing 'batches' of new music and ideas to share with the rest of the band. Then, as a band, the group gets together and adds their own supporting ideas and thoughts, as the songs transform into their final shape. This creative process began to yield some incredible results as the group started developing a core fan base and turning heads with each successive concert they played.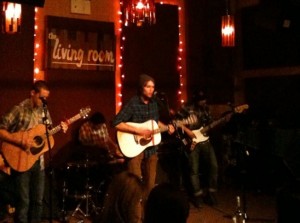 In 2010, and after a string of successful shows, Aunt Martha's manager Zach Diaz, facilitated a showcase for the band at The Living Room in Manhattan' s lower east side, in front a few label and publishing executives. Zach's contact at a publishing company liked what she heard from the showcase and invited Tim to come play a solo set in their office. It must have went well, because within a couple of months Tim was offered and signed a publishing agreement with BMG Rights Management. Shortly thereafter, Tim and Aunt Martha received the news that one of their songs would appear on an episode of Pretty Little Liars on ABC Family, and that there are also a few more placements in the pipeline.
The good news kept flowing in late 2010 when Tim was informed that Aunt Martha was being invited to play at Bonnaroo in 2011. The band had been touring constantly for months at a time -- and it was something they all genuinely loved to do. Additionally, touring and playing shows is really the main way new bands can create demand and attention for themselves, and what better place to perform than at one of the world's most recognizable and successful music festivals -- Bonnaroo. Tim gave us some insight into how this booking came about:

"We kind of lucked out with Bonnaroo this year. Our manager knows the folks that book Bonnaroo, so he gave them a copy of our EP and I guess it worked it's way up the ladder. We're playing 3 sets and hopefully it will be a great momentum builder as we continue touring throughout the summer and fall. At the very least, it'll be an amazing experience that most bands are not lucky enough to take part in."
In an attempt to create some promotion leading up to Bonnaroo, Tim had the idea of starting an exciting cover project for Aunt Martha. In the weeks leading up to Bonnaroo, Tim would be releasing cover songs from artists like Freelance Whales, Arcade Fire, The Black Keys, Matt & Kim and The Strokes. The hope was that these videos (which are also available as mp3's) would generate some interest and buzz for Aunt Martha leading up to their appearance at Bonnaroo. Check out his most recent cover of The Stroke's "Last Night."
The Strokes - Bonnaroo Cover Madness from Aunt Martha on Vimeo.
Moving forward, Tim and the band are hoping to begin recording their first full length album in late 2011, with an anticipated release date in early 2012. The songwriter has certainly come a long way from 5 open mics a week and messing around with some guitars in a buddy's apartment. Tim explains the group's goals of turning Aunt Martha into not just a couple of friends playing music, but a sustainable career:
"Aunt Martha as a business is really just getting going, so we're still in the process of building our foundation in a way that will make the band a sustainable profession. We don't make a lot of at shows and touring, and there are plenty of cities where nobody knows who we are. At this point, the good shows fund the bad shows and we make enough from tickets and merchandise to keep it going. The idea is to rough it out for a few years, then we can eventually get to the point where we're living comfortably doing what we love. That's the plan."
--
For more information on Tim & Aunt Martha, check out these links: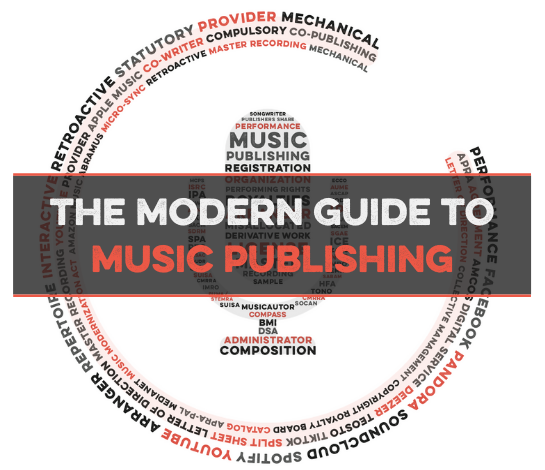 Take control of your publishing. Maximize Songtrust for your songs and business.
We created this guide to answer a simple question: How do songwriters support themselves?
The answer is not as simple as we'd like, but our goal is to make it as clear, transparent and understandable as we possibly can.
Songtrust is more than just a rights management platform and publishing administrator - we're a team of experts in the music community who strive to educate, support, and provide thought leadership to creators, representatives, and businesses across the music industry.
Our hope is that you'll finish this guide with an better understanding of the business behind songwriting and have actionable resources to help you be successful.