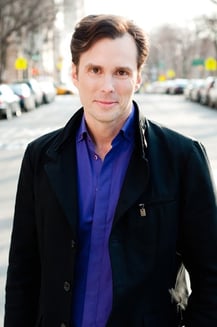 Eric Beall does it all: he is currently Vice President of A&R at Shapiro Bernstein, author of two books, and teacher/creator of Music Publishing 101 for Berklee Music Online.
How did you get your start in the music business?
I started as an arranger and guitar player when I first moved to New York, and that pretty quickly turned into a 15-year career as a songwriter and producer. I really entered the business on the creative side, and was fortunate enough to place a few songs early on.
What motivated your move into publishing from songwriting?
My entry into music publishing was really a case of an opportunity simply landing in my lap. Steve Lunt, who was an A&R person at Jive Records at the time (later moving on to Atlantic), had been an old songwriting partner of mine and he called me one day to suggest I might want to consider a job that had just opened up at Zomba on the publishing side. It was completely out of the blue—I was sitting at my desk working on a lyric. But I knew the company because I had been signed to Zomba back in the Eighties, and I thought it would be an interesting opportunity to do something different. It just seemed like one of those rare chances to see the other side of the industry. As it turned out, those were remarkable years at the company—I feel incredibly fortunate to have been a part of it. Steve and Richard Blackstone took a big chance bringing me into something for which I had minimal experience. It was one of those crazy, lucky breaks.
What are some of the key ways emerging songwriters and artists can best manage their song copyrights?
This is a challenging time for songwriters to find music publishing deals—most of the time, songwriters have to get something going on their own, to show that their songs can generate income, before they can expect offers from a larger publisher. Many publishers are in transitional periods where they're being bought or sold, and attention to administering and protecting their copyrights may be missing. I think many songwriters can benefit from either trying to operate their own publishing entity, or perhaps partnering with another larger company to administer their copyrights—which is to say that the administering publisher handles a lot of the registrations and collects the money from around the world.
I do think that Songtrust is one of the most innovative models along these lines, as it allows songwriters to continue to control and own their own material, but at the same time, gives them the support they need in order to administer their copyrights. It is not easy to register songs around the world and collect the money—especially these days. Realistically, I think most songwriters will need a partner in that area. Songtrust is a very good option in that respect.
Can you describe your current role as Vice President of A&R at Shapiro Bernstein? What's a typical day like for you?
My primary responsibility is to acquire new songwriters and catalogs and to develop the songwriters already signed to Shapiro. What I love about this particular job is that in a small company like ours, there are no restrictions on genre or territory. I don't have to focus only on pop or rock or urban, and I can look for opportunities anywhere in the world. So my day can vary wildly between different styles of music—I might be talking to one of our country writers, then discussing a sub-publishing deal with a publisher of dance music in Eastern Europe, then speaking to a musical theater composer in London. I usually try to do four or five meetings each week with writers or publishers who are in New York, and there are always deals to be structured, projects that we need to pitch songs to, and writing trips and collaborations to arrange.
You've worked at publishers of all sizes, from Zomba to Sony to now Shapiro Bernstein. Can you describe the differences between them?
Zomba was what I would call a mid-size publishing company, the kind that doesn't exist much anymore, as they've all been acquired and rolled into the majors. Zomba was also very special because it was closely linked to Jive Records, and a lot of the emphasis was on creating material for Jive's pop artist roster, like Britney Spears, Backstreet Boys, and NSYNC, who were all incredibly hot at the time. In that sense, it was very much modeled on the old Motown business structure.
At the time that I worked there, Sony ATV was the smallest of the major publishers, but like most major publishers there was a definite focus on trying to control market share— it was more about trying to sign whatever was hot on the charts at a particular moment than trying to interact with the Sony labels, or to "pitch" songs.
Shapiro Bernstein is really distinguished by its history, which is unlike almost any other place—it goes back to the very beginnings of music publishing and Tin Pan Alley in the 1900's, and remains family-owned and independent to this day. The catalog is an amazing collection of classic American songs—as I'm originally a jazz musician, a lot of them are songs I grew up playing. At the same time, we've really revitalized the company, and with songs like "Put Your Records On", "Too Little Too Late", "I Gotta Feeling" and "Without You", we've created a very relevant contemporary catalog. But it's still a small company, a family atmosphere, and definitely the most writer-friendly place I've ever worked.
You've coordinated and directed writers at Zomba Music Publishing who have produced material for the likes of Backstreet Boys and NSYNC. In your opinion, what did Justin Timberlake have that the rest of them just didn't?
The thing that was always evident about Justin was the desire to learn—to master every facet of the creative process. Particularly in that pop era, many artists came to the studio, sang their parts, and left. Justin was the opposite— he would stay to be part of the production, the mix, the songwriting, everything. I remember one night when NSYNC was playing the Garden in New York—Justin went back to Battery Studios after the concert and stayed all night working on the new record. He has a tremendous work ethic and curiosity that you now see extended into his acting career and business ventures.
What inspired you to start teaching at Berklee? Who should sign up for the class, and what can they expect to learn?
Music Publishing 101, the class I designed for Berkleemusic, grew out of my book, Making Music Make Money, which was published by Hal Leonard and Berklee Press. After completing the book, Berklee asked me if I'd be interested in designing a course for the online school, and it seemed a logical extension of what I'd started doing with the book. One of the core principles of the class is that anyone in the music industry who is a songwriter, or who regularly comes into contact with songwriters and artists, from studio owners to record producers to managers, should have a music publishing component to their business. The course really is designed to take students through the step-by-step process of creating their own music publishing company, and helping them understand the issues and challenges that they'll face.
Why would a student want to start her own music publishing company today?
What most songwriters don't realize is that if they've written a song, they already are a music publisher. They automatically control their own publishing on that song as soon as it's created. The question then becomes how to be an effective music publisher. As I always say, songwriting is not actually a business. There's no financial element to songwriting—it's just something you do. It's the job of the music publisher to turn songs into something that can generate income. That's why my book was called Making Music Make Money. For people who want to write songs for a living, it's also a reason that songwriters need to learn to be effective music publishers.
What advice would you have for a young songwriter afraid that a business-oriented mindset could obscure a clear creative vision?
Songwriters need to learn to wear more than one "hat". Of course you need a certain amount of isolation to create, but you also need some reality checks to look at your own music objectively and to figure out where the music fits in the market. In the end, that alternative perspective will actually help the creative vision, at least on a commercial level, by raising the quality of the writing and focusing it in a way that makes it easier for audiences to grasp. For myself, and I think for most professional songwriters or music publishers, it's always a battle to balance the time demands of running a business with those of creating music--- they're both full-time jobs, and the more you do of one, the more work there is to do on the other. It's never a completely comfortable fit, but the tension between the two is a big part of what pushes us to do our best work.
The book also places a heavy emphasis on the "exploitation process" of music. Can you explain this term?
Exploitation is one of those things that sounds bad—but in fact, it's the essential component that makes all of music publishing and songwriting work. Without it, nothing happens. Exploitation just means getting your music into places where people can hear it, and where someone can pay you for it—whether it's on television, on radio, in an advertisement or from "Billy Bass" the plastic singing fish. Most songwriters want their song exploited as much as possible.
Your other book, The Billboard Guide to Writing and Producing Songs That Sell, focuses on the formula for a hit single. All musicians need an income, but what do you think are the implications for music if too many artists are concerned with "music that sells" as opposed to artistic innovation? On the other hand, do you think music is devalued when musicians settle for increasingly small paychecks?
I think it's important to remember that a song that sells, is a song that communicates. That's why it's selling a lot—because it's touching a lot of people. At some point, a songwriter has to decide why they're making music. Is it about personal expression? Or is it about communication? If it's about personal expression, then the reaction of anyone else is pretty much irrelevant. But if it's about communication, then you have to accept that "hit" songs are the benchmark—they're communicating and connecting with millions of people around the world.
I do think the devaluation of music is a huge concern—perhaps the biggest one we have in the industry. As I've mentioned repeatedly in my blog, the fact is that there is simply more music out there than anyone can use, and the price is falling drastically. While I understand why many musicians will do anything, including give away their music for free, in order to be heard, it's a hugely damaging trend for the industry overall. The problem is, once you've set the value for something at a very low price, it's difficult to raise it, except in tiny, incremental steps. This is my concern with the current streaming rates, which are absurdly low. We've now established that price with the streaming services, and every negotiation we have from here on will be based on that number.
What are some of the most important lessons you've learned about the music industry since starting out?
I always try to avoid chasing the artist or writer that everyone else is hyping. I just haven't seen many "buzz bands" or "next big things" that ever pay off. I've also learned that you need to be very careful of publishing contracts with Minimum Release Commitments—those can be very dangerous if you don't understand what you're signing. In general, it's very important that songwriters not put themselves in a position of always relying on others—they need to understand the business of music and be able to take a pro-active role in their own career.