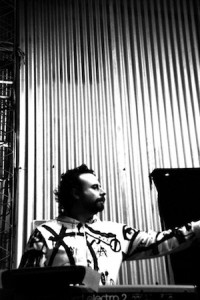 Fer Isella founded Limbo Music, a music production house specializing in contemporary music from Argentina from diverse musical genres, and Limbo Arts which provides sync and publishing for TV music spots in the US. Isella is also an award-winning composer.
How old were you when you began writing music? What kind of music did you listen to growing up?
I started playing piano at the age of 9. It was a very exiting time. I was experimenting a lot on finding well-known melodies, but gradually I started to look for a new "combination" of sounds and intervals, and then I discovered that I was a fairly good "melodist", so started recording those on a cassette tape recorder.
I come from a family of musicians, my dad is a folk singer-songwriter, pretty well known in Latin America, so music was around my life all the time. On vinyl, from Beatles to Mozart, then becoming more and more influenced by musicians like Keith Jarrett, Pat Metheny, Steve Reich, Egberto Gismonti, Astor Piazzolla - that kinda stuff.
You released Cosecha on August 1. How many albums have you released before this? In what way is this one different?
I'm really happy with Cosecha, my second album, because is a natural development of my previous album recorded in New York (Doña Furia Gaucha). It has roots on the folkloric side of Argentina, but It's very electric, eclectic, experimental, "post-rockish" and jazz influenced in the sense of re-interpretation and improvisation by the band. We recorded all the tracks in one take live in the studio with no overdubs. It was a wonderful challenge.
Your music has great atmosphere. How important are atmosphere and mood to you, as a songwriter?
Actually, I try not to have control over this when I'm composing, it's a more "natural" feel that happens when we actually perform the music in the rehearsal room. That sort of experimentation that surrounds what's written in the piece of paper. That's why is so important for me to collaborate with the right musicians, open minded and artists who deliver without me telling them every single note they oughta play.
You studied jazz composition at Berklee. How does jazz continue to inspire your music?
I won a Fulbright Scholarship and moved to Boston to study Jazz at Berklee College of Music. I don't play jazz piano well per se. So, what I have taken with me for life from that experience it's just one word: "interaction".
You are involved in lots of progressive, digital music initiatives—like digital marketing, and the use of QR codes. At what point did you become interested in this side of the music industry?
I'm actually a cultural entrepreneur and music producer besides being a musician. I've been producing records since 15 y/o (Sony Music), then developed my music career in the U.S., but just once I came back to my homeland, Buenos Aires, I started doing a lot of promotion and digital distribution stuff with my own independent records label, Limbo Music. Since I'm very passionate about developing things where there is an opportunity to create something that doesn't even exists in the first place, I saw the opportunity to develop a digital marketing career in Latin America, getting involved with current news and trends that are happening in the US and EU, and trying to push the envelope to make Latina America a creative ground for independent artists that want to promote their music around the world using all the new tools.
From the label to the digital marketing, for me it was a natural progression to happen. QR codes are fascinating. The cover of my new album it's just that, a simple QR code that able you to scan and go listen to the whole album online, watch videos, read, but also it's an interactive point of reference where fans can also send multimedia inspired on the album, whether is pictures, remixes, videos, illustrations, text, whatever. For me, in this case, QR codes are the perfect balance and a bridge between the physical world (CD) and the virtual one (online).
Can you tell me about your role with UnConvention? What inspired you to work on it? How does a strong DIY ethos guide what you do?
Un-Convention is the response to a lot of music industry events and conferences that are just places where the major industry discuss "numbers" about the "future" of the industry, but where actual tools, experiences and/or solutions are not talked about in the benefit of the independent artists, labels, managers. Un-Convention is based in the UK, founded by Ruth Daniel, but it's becoming a huge network of conferences around the globe.
The philosophy behind UnConvention is DIT (do it together!) instead of DIY. We recorded a full professional album in 72 hours in our last event in Argentina, having the opportunity to also giving music conferences, duplicating 500 CD in just one night, 300 t-shirts, 200 flyers, 6 album covers, digital distribution in partnership with SoundCloud, music videos, and so on.., all due and possible thanks to the collaboration between the workstations involved, and a truly passion for working on we love the most: music.