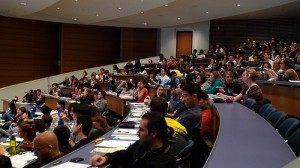 For many young music enthusiasts, the dream of someday making it big (whether in the industry, or as a performer) has been just that – a dream. But over the past 10 years or so, music business related programs have been popping up at colleges across the United States. These programs allow students to earn a four-year degree while studying everything from copyright law and performance rights, to marketing and promotion, to recording and engineering. Aside from providing the opportunity to learn all the 'ins and outs' of the music biz, most schools require their students to complete internships in their general fields of study. Often times internships will take place at music publishing companies, record labels, performance rights societies, recording studios, booking agencies and countless other music businesses. These learning experiences help establish a firm foundation and solid understanding of the industry for students looking to pursue careers as songwriters, musicians or industry professionals. Some of the schools that currently offer degrees in music business (and related) fields include Berklee College of Music, NYU, Northeastern, Loyola, Syracuse, USC, Drexel, Belmont, Wagner, University of Miami, Hoftstra and SUNY Oneonta.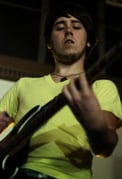 To help get a true sense of the experience and atmosphere these colleges are offering, we've interviewed a current student, Brandon Heer. Brandon is 21 years old and originally from Troy, NY. He is currently a Junior at the State University of New York, College at Oneonta (SUNY Oneonta) where he is pursuing dual majors in both Music Industry and Mass Communications and is anticipating his graduation in 2012. Brandon is also a practicing songwriter and musician -- playing guitar, piano, bass, drums, violin and will even be starting cello lessons next semester. In his spare time Brandon plays in several bands and spends a lot of his free time on campus working with various music industry clubs and event planning groups.
Here are some of Brandon's thoughts on, "The Music Business Major."
1.) Why did you decide to study music business?
I remember the day in high school when I found out that the music industry was actually a major at many colleges. I was ecstatic. Music has always been a very large element of my life, both educationally, recreationally and even socially. Once it came time to choose a possible direction for college, I knew the music industry might just be my calling card.
2.) How much research did you spend on finding the right school?
I was a little oblivious to the massive quest known as "finding the right college." There were so many to choose from, so many scholarships to apply for and so little time. Since I am a big "family guy," I wanted to be close to home, but not down the street. This left about 20 schools to choose to apply to. My high school guidance counselor wasn't too familiar with gearing students towards higher education in the music industry, so my parents and I went to a free lancing educational advisor to help us with the selection and application process. This was by far the best decision I ever made when looking for colleges. Basically, I put more time into discovering and researching colleges than I did towards my actual high school workload, which was above average in my opinion. I didn't care though. This was what really mattered. This was what I was actually waiting for since the beginning of sophomore year.
3.) What music business courses have you found to be the most educational?
When I was in most of my classes in both high school and college, I kept asking myself, "am I actually going to use this," or "isn't this common sense already?" In college, there were three main courses in the field of music business that really made me feel like I was learning tools and techniques that I would use after college.
Music in the Marketplace: This was the first music industry focused class I took my freshman year. The text was unbelievable. It was "novel meets factoids." By the end of the semester, I learned how to construct basic press releases, product affiliation and management of funds towards different processes in the music industry. They should really change the name of this class to Introduction to Music Business.
Music Industry Communications: I took this class the first semester of my Junior year. It remains #1 in my opinion. Music Industry Communications taught me what exactly to do when you enter the music industry after graduation, which I'm sure was on everyone's mind since they decided their major. From resumes and cover letters to devising business plans and interactive online portfolios, the course blew my mind each session. I was upset when it dismissed.
Legal Issues in the Music Industry: The description of this class is mostly explained in it's title. It's the extremely in-depth encyclopedia of legal language, standards and norms in the music industry that are required for anyone to comprehend what actually makes the industry's wheels continue to turn.
4.) What types of extra-curricular and performance activities do you take part in?
Currently, I'm playing with two bands -- one that I use as a means of making money and another that just keeps me smiling. I'm an active member of our school's Music Industry Club, which serves as a forum for students studying Music Industry. The group hosts meetings and discussions, organizes concerts and plans other industry-related events. I'm also involved with SUNY Oneonta's Rock to Cure Organization where I serve as the group's President.
5.) Has being a music industry student helped to improve your songwriting?
My songwriting has always been very askew. Sometimes it flows, other times not so much. Being a music industry student has helped my skills in a few areas though. SUNY Oneonta requires all music industry majors to complete at least their basic music theory courses to graduate, which I completely agree with. As a result of these theory classes, my blues, jazz, and funk songwriting capabilities were born.
6.) Are students required to take performance and songwriting courses?
Yes, as I previously mentioned, students studying music industry at SUNY Oneonta are required to have 7 credits geared towards courses with performance attributes. Of course, the college offers a wide variety of ensembles and private lessons to choose from. No songwriting courses are required for the Music Industry Bachelors Degree.
7.) Do you feel that you're more equipped to market and represent yourself as a musician?
Very much so. The Music Industry Communication course especially helped me out in this department. Also, the music industry major at SUNY Oneonta is considered to be a very social branch of study. This is great because it allows for so much more opportunity for presenting yourself musically. Some courses require you to go out and perform, while others require you to network with other musical hotspots, like New York City and California. Let it be known, if you are not a social person, the music industry probably isn't for you because you find yourself always learning new things from the advice from other fellow dwellers of the industry.
8.) What have you learned as far as performance/mechanical rights, copyrights and licensing?
The Legal Issues in the Music Industry class covers as much of this as possible for the length of an entire semester. The class uses Title 17/United States Copyright Law as one of the primary textbooks, so instead of me filling the answer of this question with 100 pages of legal jargon, just know that this particular course takes an in-depth look at all of the applicable rights and laws that govern the music industry.
9.) Do you find the environment to be conducive for both your learning experience and your creative side?
Absolutely. When you are a music industry major in class at SUNY Oneonta, you are constantly surrounded by the same or similar people that you perform with, write with, record with, party with, etc. And I don't just mean the students, but also the professors. You find yourself performing with them, performing for them, going to their performances, having coffee with them and talking about the industry. I feel much more comfortable in my college environment than I did in my high school environment.
10.) What advice do you have for high school students looking to pursue a career in the industry or as a musician?
If you are not enjoying yourself while studying in the music industry, then you are either doing something wrong or are in the wrong major. Unlike accounting or law, where work is standard and ordinary (in my opinion), the music industry is never the same it was the day before. This means that you need to change with it, but being happy with your career aspirations is what can motivate you the most. And most importantly, DO NOT BECOME LAZY! Always be on your toes, but learn when it is okay to relax and enjoy the world of music. Rock and Roll, but after you've done the days work.
-
**Special thanks to Brandon Heer for helping out with this interview.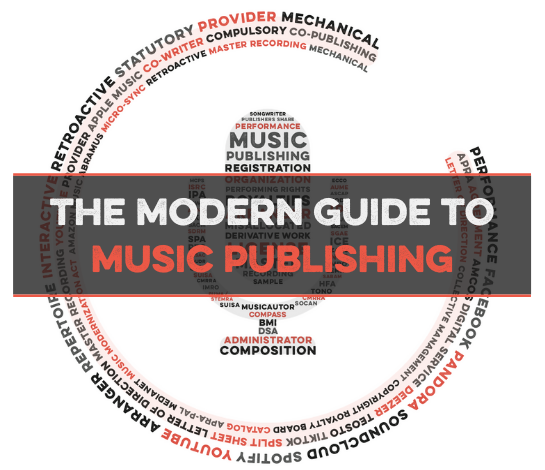 Take control of your publishing. Maximize Songtrust for your songs and business.
We created this guide to answer a simple question: How do songwriters support themselves?
The answer is not as simple as we'd like, but our goal is to make it as clear, transparent and understandable as we possibly can.
Songtrust is more than just a rights management platform and publishing administrator - we're a team of experts in the music community who strive to educate, support, and provide thought leadership to creators, representatives, and businesses across the music industry.
Our hope is that you'll finish this guide with an better understanding of the business behind songwriting and have actionable resources to help you be successful.