This guest post was written by Eric Beall, the author of "Making Music Make Money (An Insider's Guide To Becoming Your Own Music Publisher)", the upcoming "Hits Only, Please" and a respected music industry veteran. In addition to handling A & R for Shapiro Bernstein, one of the industry's most venerable and respected independent music publishers, Eric is also the Author and Instructor for Music Publishing 101, one of many Music Business courses offered at Berkleemusic. Berkleemusic's next term starts on April 4th. You can take a look at their complete course catalog here.
In case you're lying awake at night dreaming of being the next Rebecca Black (and really, who isn't?), you might want to read a little further before you equate fame, which is cheap and getting cheaper, and fortune, which is ever more hard to come by. Just last week, the Copyright Royalty Board released the statutory royalty rates for Internet radio royalties, which are royalties paid by webcasters for the streaming of sound recordings. It's not exactly the pot of gold at the end of the rainbow. At the same time, it's actually a step forward from where we were several years ago.
To be fair, YouTube is not one of the services covered by these royalty rates (although YouTube's rates are not much better). The published rates apply to "noninteractive streaming", which refers to streams that do not allow the listener to specifically select each individual track– it covers everything from radio-like "broadcasts" to what are termed "pureplay' webcasters like Pandora. And more importantly, these rates are for royalties paid through Sound Exchange to performers on the "sound recording"– that's in addition to the royalties paid to music publishers and songwriters, through ASCAP, BMI and SESAC. If you are a performer who writes and publishes his or her own music, you should receive royalties from Sound Exchange (representing your earnings as a musician and/or owner of the sound recording) and from ASCAP, BMI or SESAC (who collect your money as the composer and publisher of the song).
Like most agreements that are the result of hundreds of negotiating hours between attorneys, the basis for the rates is almost entirely incomprehensible. There is a distinction between broadcasters (commercial radio stations for example) who are streaming their programming on the Internet and "pureplay" webcasters like Pandora, who do not have a broadcast component to their business. There are exceptions for small services that can't afford the agreed upon rates as well as noncommercial services. NPR gets its own special deal. Then we get to do the negotiations all over again in 2015. Still, it's worth at least getting a rough idea of what your music earns for you, as a performer, when it shows up on an Internet stream. To get the full story, check out:
http://www.broadcastlawblog.com/2011/03/articles/internet-radio/final-webcasting-royalty-rates-published-a-comparison-of-how-much-various-services-pay/
Here's the basic breakdown for 2011:
Broadcasters Per Performance Royalties: $.0017 per performance
Statutory Webcasting: $.0019 per performance
Pureplay Webcasting: .00102 per performance
I know…. it's alot of zeroes before you even get to the decimal point. You read correctly: it's significantly less than one cent per performance. Ouch.
But keep in mind that this number is multiplied by the number of people listening to the stream. Therefore, a "pureplay" service offering 10 songs an hour to 1000 listeners would be paying a royalty of $10.20 per hour– or about a dollar per song. That's not so bad, especially if you're talking about a lot more than 1000 listeners.
Indeed, before we start complaining about the rates, it's worth noting that performers are still fighting (after only about 80 years) to receive any royalties at all for use of their music on commercial radio. While songwriters and publishers receive performance income from the use of the songs in a radio broadcast, record labels and artists receive nothing, except that all important "exposure". Which leads me to my real point…
Why is it that songwriters, publishers, labels and performers always seem to find themselves begging and pleading for a small crumb from the pie when it comes to every new media invention throughout history?

It happened with radio. In fact, it's still happening with radio. Since the 1930's, writers and publishers have been battling for what amounts to a tiny percentage of the overall profits from commercial broadcasting, when virtually every radio format in existence (except news, talk and traffic) is entirely built on music! And performers still haven't managed to get anything at all.
It happened again in the 1980's with MTV. Here was a television network built entirely on music, that paid nothing for the music videos upon which the channel relied. Today, the videos are in short supply, but MTV continues to pay almost nothing in synchronization fees for the music that it uses throughout shows like "The Hills", "Gossip Girls" and "Jersey Shore".
Then it happened yet again with YouTube in the last decade. In a virtual replay of the MTV story, the creators of YouTube constructed an Internet broadcasting network fundamentally based on the illegal, unlicensed use of any and all music, then sold the enterprise off to Google for a billion dollars, never having paid a nickel to OK Go, Soulja Boy, or any of the other YouTube phenoms who brought the company most of its biggest stories. Since then, Google has adapted a more acceptable position in regards to royalties, and YouTube is licensed by the PROs. However, as any songwriter or artist will tell you, the money being generated for the creative community is more symbolic than substantive.
OK Go
When a problem keeps occurring over and over, it's usually worth considering whether YOU might be doing something wrong. Sooner or later, the music community– labels, publishers, songwriters, artists, producers and musicians– is going to have to take off the headphones and step away from the control board, or duck out of the board meeting, or skip the after-party and take a few minutes to ponder:
Why do we keep getting screwed by the people building businesses around the music we create?
Here are three quick explanations of why the music business seem to continually find ourselves desperately, hopelessly passing the bucket around the media industry, hoping someone drops in some spare change:
1. We are incapable of acting in concert.
We can make concerts all right. But labels, publishers, artists and musicians can never manage to act "in concert"– that is to say, as a unified front capable of fighting for the rights of everyone in the industry. Publishers distrust labels. Labels take advantage of the artists. Artists desperately undercut one another, hoping to grab an opportunity to set themselves apart from the pack. Now we even have the problem of publishers and songwriters going around ASCAP,BMI, and HFA to license directly, effectively damaging their own representatives in the collective bargaining process, all in order to save a few percentage points worth of fees. Not surprisingly, everyone in the media, from advertisers, to networks, to film studios and Muzak programmers, have realized that there is always someone willing to license their music for next to nothing, or at least less than their buddy is charging. We are, by and large, an industry of weasels, and it's not helping our cause.
2. We forever believe in the myth of "exposure".
I remember when I first started playing the guitar, back in grade school. Soon I had formed a band, and even at that young age, I quickly realized: everyone always has a party, a dance, a wedding or a bar mitzvah that they want you to play for free– "because it will be great exposure". Of course, it's not entirely untrue. Clearly, OK Go got plenty of benefit from their "free" YouTube video, as has Rebecca Black. But as a business model, the idea of giving away the product to another company who then keeps all the money that your product generates has not panned out very well for us.
In perhaps the greatest irony of all, the music industry actually winds up paying out huge amounts of money to radio (and back in the day, to MTV) in order to get those media outlets to use their music for free. It's not just that we're giving it away for nothing. We're actually begging, pleading, and paying out the nose just to be able to give it away. Meanwhile, someone else is building their Clear Channel, or MTV or YouTube, largely from people tuning in to hear our product. And the more people that tune in, the more someone else earns, while we get nothing. But don't worry. It's great exposure.
3. We continue to focus solely on creating music, rather than selling it or marketing it.
Why was it Apple, rather than Sony for instance, who created the iPod, and iTunes? Why didn't the major record labels, having already learned about the power of music videos from all the "exposure" they got from MTV, come up with YouTube? Why couldn't a music publisher have invented Pandora? Instead of battling endlessly with the corporations who control these ventures, none of which have any inherent investment in music, the industry could actually control and profit from the medium it uses to promote and disseminate its product to the public. Instead of passing the bucket around after the set, the musicians could actually own the club.
It never happens. The history of the music business is the story of one fatal flaw, and that is the inability to think beyond the music itself, to how the public wants to receive that music. We're creators and owners of content. But we're never interested in thinking about how that content could be used.
Doug Morris
A few years ago, Doug Morris, then the head of Universal Music, gave a widely publicized interview with Wired magazine– where he bemoaned the effects of the digital revolution, and complained that everyone was treating the record industry like "The Shmoo":
"There was a cartoon character years ago called the Shmoo. It was in Li'l Abner. The Shmoo was a nice animal, a nice fella, but if you were hungry, you cut off a piece of him and put onions on it, and if you wanted to play football you just made him like a football. You could do anything to him. That's what was happening to the music business. Everyone was treating the music business like it was a Shmoo.
Acknowledging that his lack of knowledge in regards to technology made it difficult even to hire the necessary experts, Morris insisted that his job should solely be finding and developing new artists.
"There's no one in the record company that's a technologist. That's a misconception writers make all the time, that the record industry missed this. They didn't. They just didn't know what to do. It's like if you were suddenly asked to operate on your dog to remove his kidney. What would you do?"
Given an attitude like that, it does seem a little surprising that Morris would be the choice of Sony (didn't they use to be a technology company? ) to revitalize their music division in the year 2011. But of course, that's exactly the problem. We're so used to being the Shmoo, we couldn't possibly think of doing anything else. It might be wise for musicians and performers to keep their calculators handy. Because we're going to have to continue to live off royalty rates like $.00102 per play for some time to come.
This post originally appeared on Eric Beall's blog, Music Publishing and Songwriting, on March 23.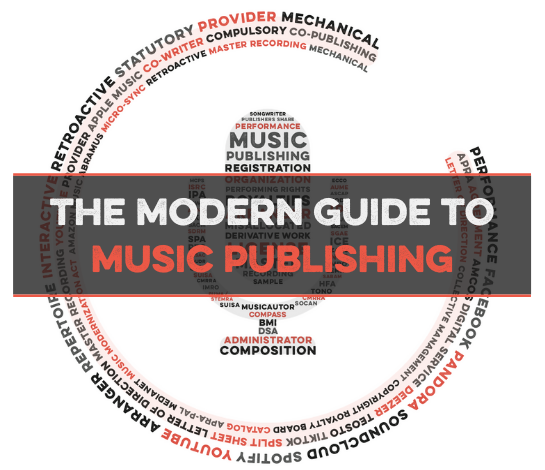 Take control of your publishing. Maximize Songtrust for your songs and business.
We created this guide to answer a simple question: How do songwriters support themselves?
The answer is not as simple as we'd like, but our goal is to make it as clear, transparent and understandable as we possibly can.
Songtrust is more than just a rights management platform and publishing administrator - we're a team of experts in the music community who strive to educate, support, and provide thought leadership to creators, representatives, and businesses across the music industry.
Our hope is that you'll finish this guide with an better understanding of the business behind songwriting and have actionable resources to help you be successful.