For a long time, the music industry didn't know what to do with YouTube. The ease with which users could upload content—be it songs or music videos—without permission from copyright owners was, understandably, alarming. But in more recent years, the company has worked hard to convince record labels, publishers, and other copyright holders that it values intellectual property and the importance of protecting copyright. In addition to launching an intense campaign to keep its users' content free of copyright violations, YouTube has become a significant, inimitable revenue stream for artists and musicians through its robust ad-sharing network, and its billions of annual views.
Having launched a partnership with the online music network Vevo, which has licensing agreements with three of the four major labels and hosts approximately 85 percent of the music videos on YouTube, the site has managed to become the web's primary destination for music. According to a recent comScore report, Vevo received over 51 million unique hits in January alone—and that includes only US and Canadian views. With plans to launch in the UK later this month and in other parts of the world "imminently," those numbers are only set to increase.
Still, it should be noted that YouTube has yet to reach an agreement that pays royalties to songwriters and publishers in all territories. In the UK, the company reached an agreement with PRS for Music—the UK's primary performing rights organization—wherein it is to pay an annual flat fee to license millions of songs represented by PRS for Music. That fee, similar to the ones paid by radio and television networks, is then to be divided among PRS for Music's members based on how often their music is played on the site. Similar agreements have been reached in France, Germany, Holland, and Israel, and are pending in other countries.
"YouTube is at the height of a process of signing royalty agreements," Meir Brand, CEO of Google Israel, told the Jerusalem Post. "In 2009 and 2010 alone, YouTube signed music royalty agreements in several countries, including with PRS in Britain, with Buma Sterma in Holland, with SGAE in Spain and with SACEM in France." The National Music Publishers' Association is currently engaged in legal action with YouTube to ensure that a similar royalty agreement be reached in the US soon.
Songwriter royalties aside, the benefits of YouTube to leverage a career in music are twofold: it is a place where there are growing earning capabilities, and it is also an incredibly useful tool for promotion. You may find that you are not yet at a point in your career where making money off YouTube is viable, but that's ok. You can use the site to build up a fan base, which can help usher you into its ad-sharing partner program, notoriously difficult to be a part of for anyone less than a full-time vlogger or well-known artist.
In 2009, YouTube launched Musicians Wanted, a channel that targets independent artists in particular and offers musicians promotional opportunities once they are accepted as ad-sharing partners. Ok Go was the first band to enlist, and YouTube has been largely credited for their wildly viral success over the past couple of years. "The YouTube Partners Program, and specifically the Musicians Wanted division of it, is [freeing]. We can distribute our videos the way we want to (embeddable!), and actually make some money off it, to boot," Ok Go's Damian Kulash told Wired.
Though there are no guarantees that you will be accepted as a partner—YouTube is pretty vague about its requirements—it's still worth shot. YouTube doesn't offer details about how much its users are paid (it varies from video to video, depending on advertising interest, they say), but its top earners are believed to be raking in up to hundreds of thousands of dollars a year.
Aside from ad revenue, perhaps more obvious is the power of YouTube for promotional purposes. After all, it's likely that anyone interested in hearing your music—be they a fan, or music supervisor, or label—is likely to look for it on YouTube. It's an important (and simple) way of impressing potential collaborators and building a fan base that can eventually help you earn an income. The more places people can easily access your work, the more likely they'll be interested in it.
Sign up here for a free YouTube account, and upload some content that shows off your skills: audio, music videos, or performance videos. Make sure your page and all videos include accurate details about you, your songs, your website, and/or other relevant contact information. Once you've done that, visit Musicians Wanted for more details on becoming a partner.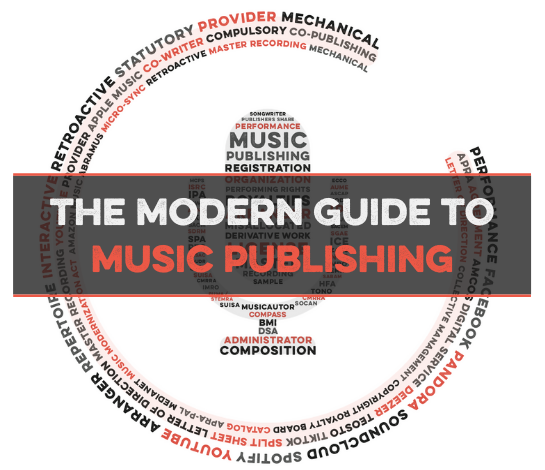 Take control of your publishing. Maximize Songtrust for your songs and business.
We created this guide to answer a simple question: How do songwriters support themselves?
The answer is not as simple as we'd like, but our goal is to make it as clear, transparent and understandable as we possibly can.
Songtrust is more than just a rights management platform and publishing administrator - we're a team of experts in the music community who strive to educate, support, and provide thought leadership to creators, representatives, and businesses across the music industry.
Our hope is that you'll finish this guide with an better understanding of the business behind songwriting and have actionable resources to help you be successful.