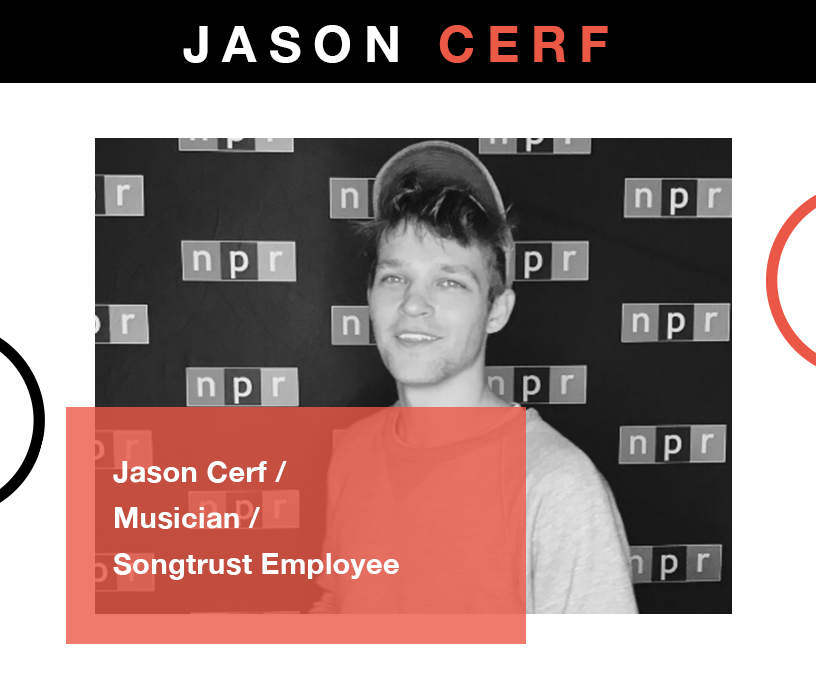 AS A MUSICIAN, Jason takes a wholesome approach, learning from the various business models and opportunities that exist in the music industry for all types of creators. Working with clients at all levels and from so many different countries presents him with the opportunity to learn about how individuals and businesses find success in a very mercurial market. From hitting 'record' to managing thousands of copyrights, Jason is dedicated to helping others navigate and enjoy the world of music.




When did you write your first song and what inspired you to write it?
When I was younger, I used to listen to music on cassette tapes while going to bed, like Take 6, Bobby McFerrin. I also listened to stories that had accompanying music, like Heather Forest and D'Aulaires' Book of Greek Myths. I remember going to bed with melodies in my head and waking up with my own in the morning. I think I became an active listener and aurally-oriented from that routine. I mostly learned covers and listened to other musicians. I only really started writing/composing when I studied music at Kenyon College and Berklee School of Music.
Where do you do your best writing?
Right now I do my best writing in my home studio. I try various methods, ranging from pen and paper to working 'in the box' with a wide range of plugins/packages like Komplete or Output for example. I've gathered a collection of instruments that can be a good starting place. I've also started recording/writing a lot more on-the-go with my phone, experimenting with various apps and services.
What was the first time you recognized yourself as a songwriter/musician?
I was taking voice and piano lessons early on. My vocal teacher, Linda Grimm, lived down the street from me growing up, and our lessons were half singing and half discussing music and what it is to be a musician. Another important turning point was when I got to college. I looked at the syllabus and was surprised to see that I could graduate by taking mostly music courses. I decided to major in Music and Philosophy, and began a deeper focus on the history, theory, performance, and composition of music.
What is your favorite songwriting tool?
I think it is really special when you can work with someone else. Cowriting, when it works, can make the process really fun. So I'll have to say that my favorite songwriting "tool" is another person - being able to jam or bounce ideas off of someone else, and approach a blank slate together.
Do you have a trick when you face writer's block or get stumped when you're writing?
I'm in the midst of improving my audio engineering skills. When I'm feeling blocked or unproductive, I just open up a new plugin or sound bank that i've been meaning to learn about. Usually the sounds or effects are already so powerful that I can find a way forward, learn a new technique, and make a new song in just a few hours, letting the tools guide me.
What is your role at Songtrust?
I started at Songtrust with very little knowledge about music publishing. At that point in time, Songtrust was still a scrappy startup, so I was able to work in many different areas of the company, from publishing operations and client support to overall strategy and client acquisition. I was lucky enough to learn from really smart people who were invested in helping me learn and grow. I took part in the improvement of our product and vision. I've been at Songtrust for almost three years. Now, I work with our existing clients, connect with potential clients, and contribute to our business development strategy. I enjoy the variety of people and projects that I come across, and especially the fact that I sit down and listen to music every day from all around the world.
What has your experience with Songtrust been like as both an employee and client?
As a musician, I've been able to embody the creator's perspective. To a lot of people, music is just music - the idea that you own both the recording and the composition only comes along when you want to start collecting royalties. With that in mind, I've tried to help hone our message and product to best serve independent musicians and businesses. As a Songtrust employee, I also see the challenges of running a business in an industry that is riddled with oddities and inertia. I see the obstacles, both cultural and operational, that music business faces. I've learned that the music industry has a sordid past. In my opinion, the industry is turning a corner and headed towards a bright future.
What makes Songtrust different than other publishing companies?
Songtrust has crafted the most artist-friendly deal in music publishing. Our stance is that you, the owner of your publishing rights, should always have easy access to your earnings. A lot of creators and businesses are unaware that you need a publishing administrator like Songtrust to effectively collect performance and mechanical royalties from the use of your catalog globally. Songtrust also offers a sleek, user-friendly platform where you can really take control of your rights, understand your earnings, and strategize as a business. The Songtrust team and product is growing quickly, and I'm really excited about where the company will be in the next few years.
What is your best advice for independent musicians?
Focus on the product. Music first. Think about every aspect of the music. Think about your goals and how to get there. Step by step. Meet people, ask questions, do your research. Treat it like a business if you want it to be sustainable. Try to listen to all types of music and find a way to appreciate every genre/style. Find a workflow and an environment that suits you. Enjoy the process. Ask others for help.
What are your goals for the future?
I'm dedicated to music. I imagine my future will be a continued education in music. The line between the 'creative side' and the 'business side' is increasingly blurred as resources like Songtrust are becoming available. Ideally I will be in a place where I can help others, be a part of change for the better, and be exposed to new thoughts and ideas.
Lastly - what is your favorite song right now?
If I had to choose one song I would choose "Love's In Need of Love Today" by Stevie Wonder. I remember playing that whole album, "Songs In The Key Of Life", on the bus ride to school using my old portable cd player. I didn't realize what I was listening to just yet, or how it would shape me going forward. I just looked out the window and enjoyed the moment.