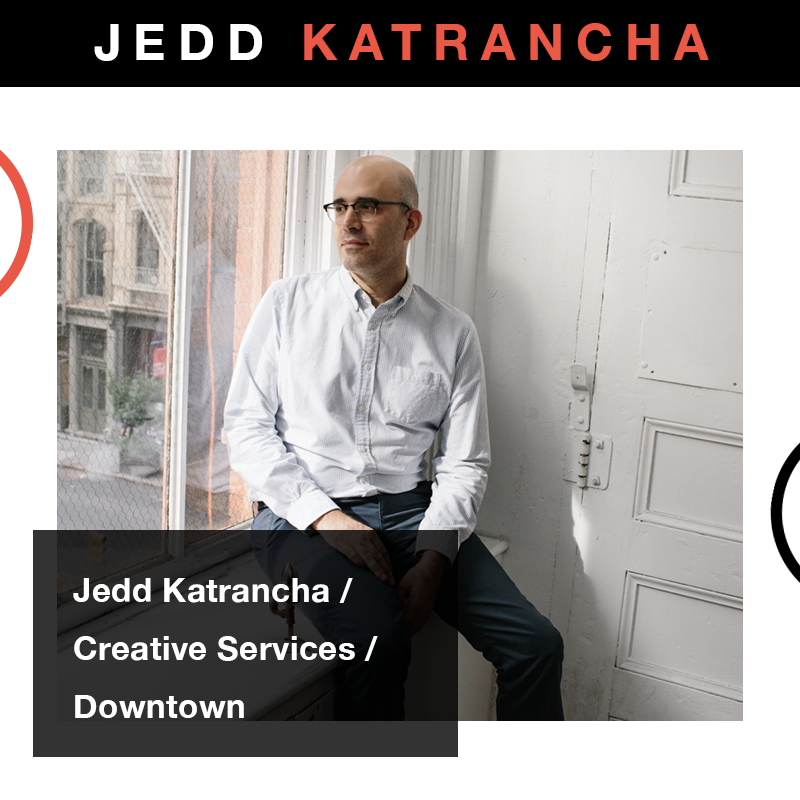 AS EVP AT DOWNTOWN MUSIC PUBLISHING, Jedd Katrancha oversees the company's global creative department, including efforts as they relate to placement of catalog in film, television, video games, product placement, advertising, and more. Jedd has personally worked on licenses with dozens of brands, including Anheuser Busch, Kia, Yahoo, Chevy, Vitamin Water, Mountain Dew, Sprint, and Cadillac.

Established in 2007, Downtown Music Publishing is one of the leading rights-management firms in North America, with offices in New York, Nashville, Los Angeles, London, and Amsterdam. The company's catalog spans over seven decades of popular music, including the works of such diverse writer/artists as John Lennon & Yoko Ono, Ryan Tedder, Benny Blanco, Hans Zimmer, Mötley Crüe, Jewel, Santigold, and One Direction.

How did you get your start in the music industry?
While living in VA, I attempted to get a music job up here but that wasn't working, so I wisely moved to New York and was introduced to the talented and now-award-winning music supervisor Susan Jacobs who was nice enough to employ me and let me learn from her. From there, and with her help, I transitioned to music publishing and eventually sync.
What drew you to sync?
I'd say it was luck that allowed me to experience sync (on the supervisor side) as my point of entry into this industry, but I like working in a field that has an immediate and positive impact on the writers we represent, and it's also fascinating to spend so much time working with people creating other forms of media. Film, TV, advertising, gaming, music…sync lets you see all of pop culture. From Grand Theft Auto V to the Marvel Cinematic Universe to the Democratic National Convention, you can find our songs there.
What is your thought process when choosing a song for tv, film, or an ad placement?
Unfortunately for our writers, I don't get to choose what songs are used, so I instead present ideas and opportunities to people looking to make their projects sound better and/or borrow equity from our songs. There are some structural things about a recording that make it work for certain types of scenes, and there are some songs that seem unlikely to ever work, but we just try to stay in tune with our catalog and soak in as much as we can about our targets and look for great matches.
In your opinion, what is the biggest misconception of sync?
That it's about being able to pick the right song. It's about relationships, and part of any good relationship is listening. From listening comes information, from information comes inspiration, and from inspiration come ideas/success/syncs.
What about the sync industry do you think does well, and what could be improved?
I spend a lot of time taking a hard look at what we can do better as a team....everything from operational changes to big creative ideas. I'm more concerned with us than the problems of a subset of the industry as a whole. But, on behalf of our writers, I'll say that music isn't always allotted the appropriate portion of a production budget.
What is the hardest part about finding sync placements?
Like I mentioned above, sync is about relationships. The hardest part is, while experiencing success, still forcing yourself to build your network and develop new relationships. Media is evolving, the landscape is constantly changing, and on behalf of our songs and writers, we have to change and grow as well.
At what point in their careers should songwriters/musicians consider sync?
From the moment they make or write their first great recording or song, and every moment afterwards. There are specific syncs that will be wrong for writers at different times and for different reasons, but I think everyone should work backwards from the assumption that syncs are something worth considering.
What advice do you have for a songwriters/musicians who wants to get a sync placement?
Find an advocate, someone who has become a trusted partner for all of the people out there looking to license music, and have them represent your music. Also, either deliberately attempt to make music that works well for sync or accept that your current vision might not work at the moment, but could work very well in the future. Be true to your art and be patient.
With all your experience, what makes Downtown and Songtrust different than other traditional publishers?
There is flexibility, and not just a willingness to change and evolve, but a desire to. It is already likely the smartest group of people assembled at a music publishing company, and they are constantly looking to expand their knowledge. Every writer they work with will benefit from that in some way.
How do you think the music industry has changed for artists/songwriters in the last 10 years, specifically in the sync industry?
While in some ways, sync has changed less than other areas for songwriters and artists, it has absolutely become more crowded as people continue to run there in search of revenue and exposure. There are more third party companies providing either pitch or supervision services depending on your needs, and there are more brands and productions in need of those services. For all of that, the need for the trusted source as your sync advocate is greater than ever.
Why do you think it's more important now than ever for songwriters/artists/musicians to also focus on being good business people?
I don't know that I do think that. There are more tools available to creators than ever before (see: Songtrust) to help them self-manage their intellectual property. Writers and artists need to understand who they should hire, or what tools and platforms they should be on, but they should otherwise be focused on perfecting their craft and writing or recording great music. Since music was first recorded, there have been writers and artists getting ripped off. It's not any more or less important now than it was decades ago to never have that happen.
The music industry is growing and becoming more modernized every year, but what about the industry do you think still needs to change that can ultimately benefit artists?
There are systematic changes that will happen that will definitely help writers/artists/publishers/labels and their bottom line, but beyond that, artists will benefit when companies challenge and devote themselves to a heightened level of awareness when it comes to customer service/artist relations.
Lastly, what are you listening to these days?
Cecile McLorin Salvant, Sasha Masakowski, Friendship, Maxwell, Eric Dolphy, The Minutemen, Prince (always)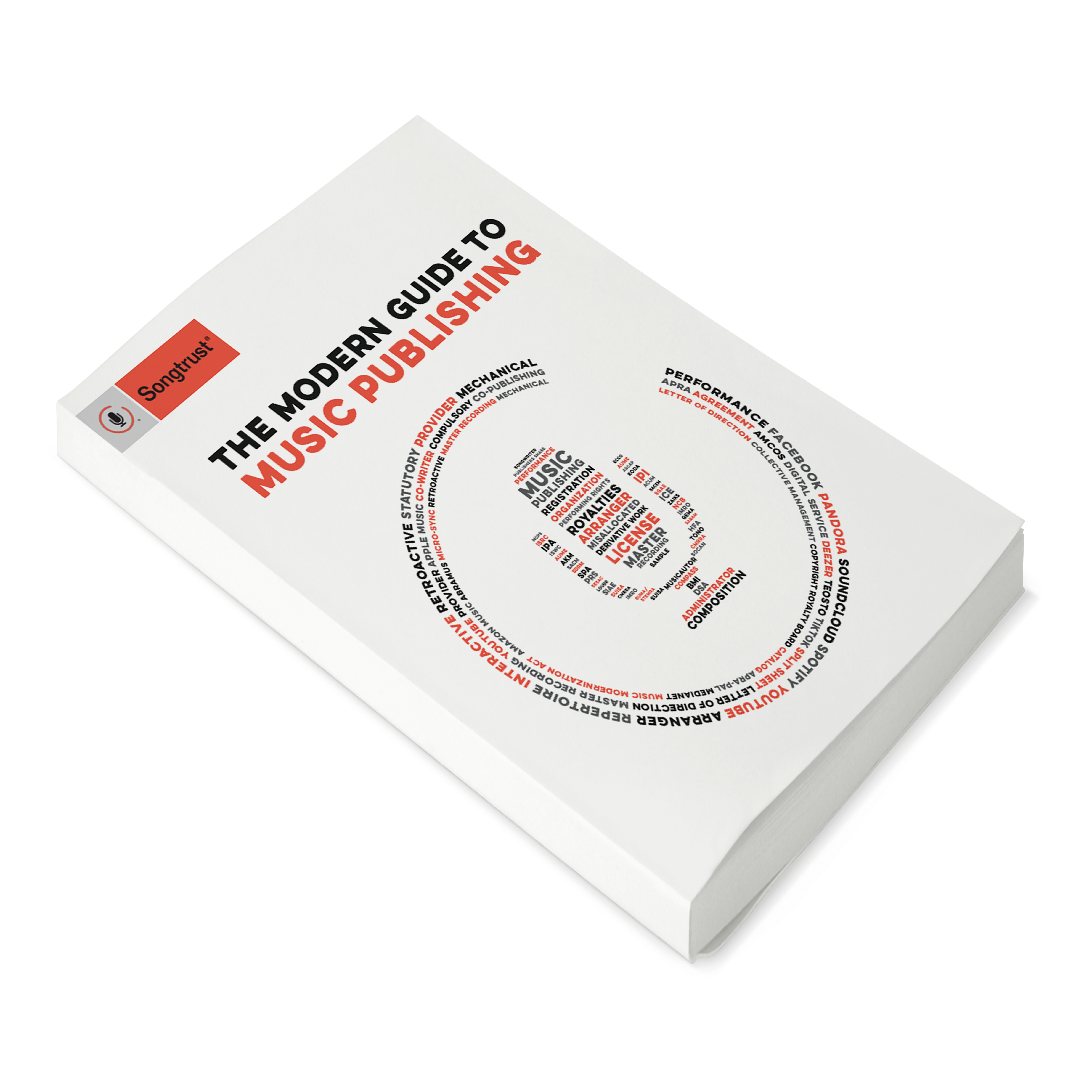 Maximize Songtrust for Your Songs and Business
We created this guide to answer a simple question: How do songwriters support themselves?
The answer is not as simple as we'd like, but our goal is to make it as clear, transparent and understandable as we possibly can.
Songtrust is more than just a rights management platform and publishing administrator - we're a team of experts in the music community who strive to educate, support, and provide thought leadership to creators, representatives, and businesses across the music industry.
Our hope is that you'll finish this guide with an better understanding of the business behind songwriting and have actionable resources to help you be successful. Included is an extensive glossary, too; if you see a term in bold in the text, you'll find it in the glossary at the end.
Related Articles
Songtrust Spotlight, Industry Spotlight
Client Spotlight, Songtrust Spotlight