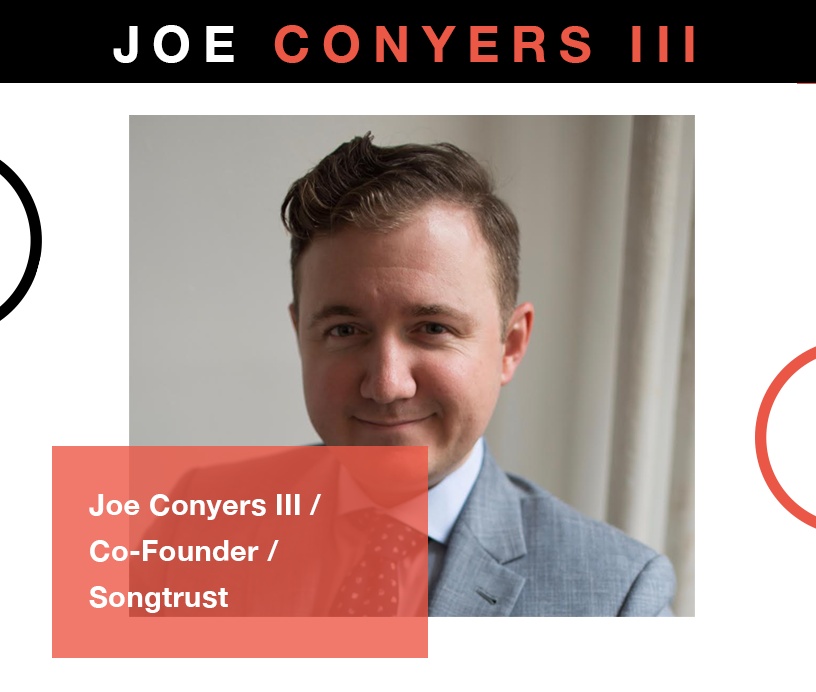 JOE B. CONYERS III is Co-founder & General Manager of Songtrust and VP of Technology for Downtown Music Publishing. Songtrust helps music makers and rights holders collect their music publishing royalties by powering global royalty collection with simple term deals, completely online working with 40+ societies and 120+ territories making it easy to get paid publishing royalties from YouTube, Spotify, Pandora, Radio, Movies, TV and more. Joe has grown the company to service over 150K creators and 20K publishers with works recorded by Brandy Clark, Bruno Mars, Selena Gomez, Frank Ocean, and other Grammy nominated artists. At Downtown, Joe leads product, technology, and digital service partnerships focusing on maximizing client royalty collection by advancing digital licensing efforts. Billboard Magazine has consecutively named Joe a Digital Power Player ('16, '17).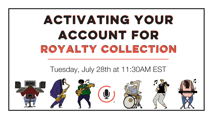 How did you get your start in the music industry?
I met Justin, our CEO, and he explained to me how music publishing works! I was astounded that a business could be so backwards and archaic. Songtrust is now the largest music publisher by volume, quite the rocketship it has been!
What do you believe are the key attributes that a person must have to running a successful business in this industry?
Persistence, resilience, patience and excellent people skills (or a lot of the first two, it's very much a relationship business).
Tell to us about Songtrust's origin story.
Songtrust began out of Justin's desire to be able to publish his friends and colleagues who wouldn't really be able to be published by Downtown (our parent company, where he is also CEO). Over the years as our tech got better, somewhat ironically, we then expanded to become the platform that Downtown runs off!
How does Songtrust differ now versus seven years ago when it was first founded?
We had a different business model, it was a monthly fee - it didn't work! Royalties take far too long to arrive.
Where do you see Songtrust in 5 years?
We are (even more than we already are) the default for any new writer, we've convinced the world that they are, in fact, not just artists - they are writers too, and we work with most publishers (excluding the absolute largest) in some way shape or form. Either through using our technology, digital licensing, sub-publishing, or professional services to help them with their own operational challenges.
What about Songtrust, and it's mission, makes you so passionate about what you do?
Helping creators and enabling businesses that support creators is near and dear to my heart. Getting someone to be able to quit their job to do what they love more full time is a really great motivator for me.
What does a typical day look like for you?
There is no typical day anymore - I look at a lot of different opportunities to grow our business and serve our clients better daily. I'm always working with my management team reviewing our strategy across operations, client success, sales, marketing, product, technology and most importantly - making sure we have the right people working for us. I also spend a lot of time with our more junior staff training, mentoring and making sure they have what they need to do their jobs as best as they can.
What drives you to continue educating about music publishing to the music industry?
You can go your whole career in the music business without understanding publishing, but you won't fully understand the music business until you do. It is so exciting to think about songwriting being the very basic building blocks of a good recording and then getting more and more people to understand the value that publishing has for their career - especially now (everyone knew what a music publisher was in the 1950's!).
Who is your biggest inspiration?
This changes often but lately now I've been spending a lot of time reading about Andy Grove, the former Intel CEO. I just finished his biography - he wrote a fantastic book called High Output Management that is a work of art in its own right.
What do you think is the biggest misconception of music publishing?
That you should hold out for a big check. Lately everyone thinks they can get that, but 99.9999% of people will not, and you should hedge your bets (by joining Songtrust or doing a short term admin deal with a reputable traditional publisher if you can swing it) until you have wet ink from the otherside. If you are blowing up like crazy, sure you can get your lawyer to negotiate that, and you might even be able to screw the publisher into doing a bad (for them) deal. I'd have to guess that only happens to 20-30 writers a year, tops. Assume this will not happen and act accordingly.
What would you like aspiring music business people to know?
Music Publishing! It's only going to be a better side of the business in the coming years as we strive to get rates up.
What change do you want to see in the music industry?
I'd love to see recordings and songwriting being treated as equals again. We need 50/50 for digital just as much as artists need royalties on terrestrial radio (only songwriters get them now).
Songtrust is growing so rapidly, what makes you the most excited about where your team is headed?
We've been able to hire some fantastic people this year and we are now able to provide even more amazing services for our clients. I'm obsessed with reducing our time to royalties and reducing issues our clients have which our team will continue to enable to happen.
Lastly, what's your favorite song right now?
Someone was playing Goldfrapp's "Strict Machine" earlier in the office, such a jam.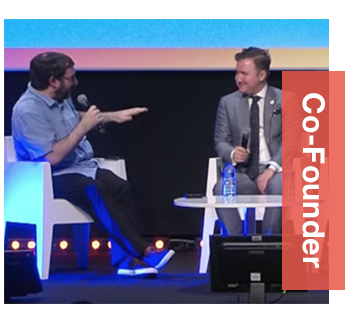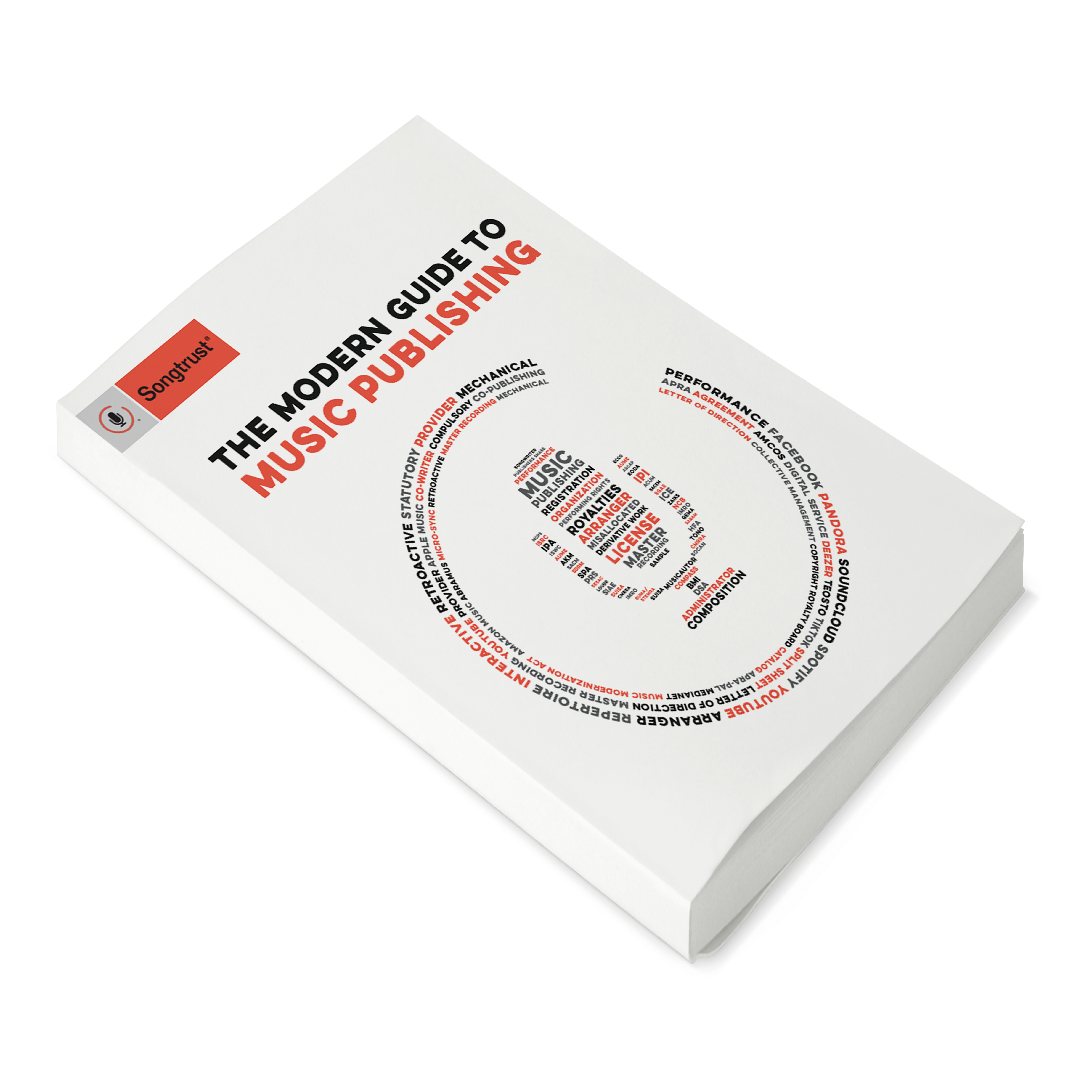 Maximize Songtrust for Your Songs and Business
We created this guide to answer a simple question: How do songwriters support themselves?
The answer is not as simple as we'd like, but our goal is to make it as clear, transparent and understandable as we possibly can.
Songtrust is more than just a rights management platform and publishing administrator - we're a team of experts in the music community who strive to educate, support, and provide thought leadership to creators, representatives, and businesses across the music industry.
Our hope is that you'll finish this guide with an better understanding of the business behind songwriting and have actionable resources to help you be successful. Included is an extensive glossary, too; if you see a term in bold in the text, you'll find it in the glossary at the end.
Related Articles
Songtrust Spotlight, Industry Spotlight
Client Spotlight, Songtrust Spotlight