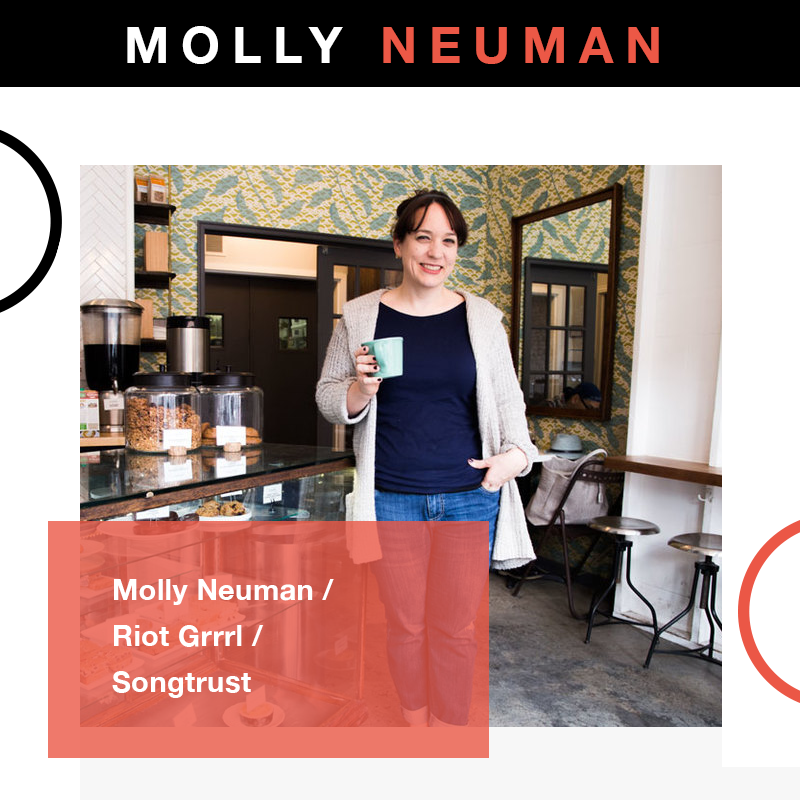 MOLLY NEUMAN, formally the Global Head of Business Development, is now President of Songtrust, the world's largest global royalty collection service and publishing administrator. At Songtrust, she oversees and guides the Songtrust teams in their service to over 300,000 songwriters to collect their publishing royalties worldwide for over 2,000,000 copyrights. Prior to joining Songtrust, Molly was Head of Music at Kickstarter, Interim President and Vice President of the American Association of Independent Music (A2IM) and held senior roles in label relations at Rhapsody International and eMusic. Additionally, she has served on the boards of SoundExchange and A2IM. Molly's career in music began as the drummer in the Riot Grrrl band, Bratmobile.


When did you write your first song and what inspired you to write it?
In the bathroom of the dorms at the University of Oregon, Allison Wolfe and I plotted our future as feminist punks and started our band Bratmobile the night before our December break freshman year. Allison had started writing lyrics that Fall and, after we "started" our band, I got serious on the acoustic guitar I had bought with my Summer job money (I had asked for one for graduation, but got luggage instead). I eventually traded that acoustic in for a Fender blue Melody Maker and in the fall of our Sophomore year, we were asked to play our first real show on the upcoming Valentine's Day and got to work on our first "real" songs. Girl Germs, Some Special Sidewalk, Applesauce Girls and maybe a few more…ALL HITS.
Where do you do your best writing?
It's been a while since I wrote a new song, but I like to sit on my bed with my guitar and a pint-sized mini-twin and work on riffs there. I think I'm always writing lyrics in my head.
What musicians did you admire growing up or early on in your career?
I was so fortunate to be a part of a music community with incredible people, musicians and activists at its center and was, and remain still, inspired by all of them. Being from D.C., I grew up with bands like Fugazi, Fireparty, Nation of Ulysses, Holy Rollers, Circus Lupus and Tsunami and so many others. Then going to school in the Northwest with bands like Bikini Kill, Beat Happening and Heavens to Betsy all fueled me.
What was the moment you attribute to your first success?
Success was never anything I really thought about as a songwriter/musician. We started our band because we had something to say - we wanted to talk about injustice, share our heartbreaks and purge our emotions. That resonated with lots of other girls who had similar feelings about not seeing themselves represented or their inspirations credited. Some writers started to take note of that and we received attention in places we had never considered: NY Times, USA Today, Melody Maker, and we were surprised and delighted when this allowed us to play more shows and make records.
How has the music industry changed for artists over the last decade?
Oh boy…definitely not enough space here for that and it's well documented that the industry has been turned upside down and inside out (also my perspective is more like the last two decades!). But I did wax philosophical about this at last year's The Next Web Music Summit.
Where do you see the music publishing industry 10 years from now?
I think making predictions in our industry is likely fruitless but expect to see more innovation and more artists and songwriters leading their own careers and more balancing in the overall power structure.
What makes Songtrust different than other publishing companies?
We're technology focused and some might say obsessed. We're never going to be satisfied that we're done - there's always more to do and improvements to make in our systems, how we're explaining what we do to our potential and existing clients and how we're supporting one another as a team. Our leadership team supports us taking risks, trying new things, making mistakes and learning from them. We care about songs and how they're crafted and protected. It's really wonderful.
Any final words you'd love new and aspiring artists, songwriters or musicians to think about as they're beginning their career?
Learn, study, ask questions, think, connect with your community, stumble, iterate, be kind, be humble.
Lastly - what is your favorite song right now?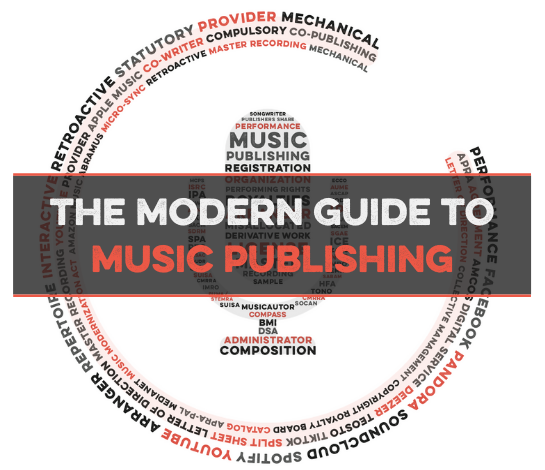 Take control of your publishing. Maximize Songtrust for your songs and business.
We created this guide to answer a simple question: How do songwriters support themselves?
The answer is not as simple as we'd like, but our goal is to make it as clear, transparent and understandable as we possibly can.
Songtrust is more than just a rights management platform and publishing administrator - we're a team of experts in the music community who strive to educate, support, and provide thought leadership to creators, representatives, and businesses across the music industry.
Our hope is that you'll finish this guide with an better understanding of the business behind songwriting and have actionable resources to help you be successful.