Help Center
Have a question about Songtrust or music publishing in general? You're probably not the only one. Head over to our help center -- filled with over 400 help articles -- to find the answer to your question(s). Easily search through our articles to find exactly what you're looking for.
Can't find the answer you're looking for? Use the live chat feature to speak with a team member. They'll quickly respond, during business hours, and find the answer to your question. And since every question is an important question, they'll add that Q&A to the list of help articles for future creators to find.
Send Us An Email
An easy and effective way to communicate with us is via email. Our team reads and responds to emails every business day. While email is our main form of communication, our inbox tends to fill up quickly, so know that there can be a delay in a response if we're experiencing a high volume of inquiries. Even so, our goal is to respond as quickly and efficiently as possible to every inquiry. Whether it's helping with account information, directing to the right department, or providing important publishing resources, email is a great way to get in touch with us.
Here are some email addresses to know of:
Client Succes/Support - support@songtrust.com
General Inquiries/Questions - contact@songtrust.com
"Creating an account" questions - sales@songtrust.com
FAQs - help@songtrust.com
Live Chat
Speaking with a live person can be so important -- we get it. Sometimes you need an answer right away and not later on. Whether you're a client or still thinking about it, live chat is available to you to speak with a team member as soon as possible.
For those still deciding about being a client - head over to the Help Center and find the live chat in the bottom right-hand corner.
For current Songtrust clients - log into your account and find the live chat in the bottom right-hand corner. This is the fastest way to get in touch with our team about an account issue or question. When you live chat with us through your account, your information is readily available to us to help assist you as quickly as possible.
Note - we highly recommend that you utilize the chat feature whenever possible. This is the fastest way to communicate with us outside of email! Live chat is available Monday -Friday, 10-6pm EST.
Weekly Publishing Sessions
We understand just how confusing and complex music publishing can be, and that everyone learns new concepts differently. That's why we've set up weekly publishing sessions with our publishing specialists to help answer all your burning publishing questions. Whether it's a general question about the industry or a specific question about Songtrust, our publishing specialists will help answer your questions so you feel more empowered to make decisions about your career. Have a question that we can't answer? It happens - but rest assured that our team will find the answer and get back to you in a timely manner.
These sessions occur twice a week and happen virtually so you can attend from anywhere as long as you have access to a computer. Register for an upcoming session here: songtr.st/PubSession
Newsletter/Blog
Another way you can interact with our team is by subscribing to our weekly newsletter and/or check out our blog for new articles published weekly. While this form of communication isn't a direct line to a team member, it does provide a lot of knowledge about music publishing and the industry that can help you stay on-top of your career.
Our team works hard to identify gaps in information in the industry or highlight frequently asked questions worth researching further to produce impactful and actionable articles for creators. Have a topic you want to learn more about? Send us an email or drop a message on socials!
Check out all our past articles here and make sure to subscribe to our newsletter here.

Events/Workshops
We regularly attend music conferences all over the world in our efforts to share our music publishing knowledge with the larger community. Check out our events page to learn about upcoming events we'll be attending and set up meetings with our team.
In addition, we're increasingly hosting workshops in different cities to help local creators. At the moment, we host monthly workshops in Atlanta, GA where we teach the basics of music publishing and offer an opportunity for creators to network and meet our team. Register to attend the next one here and keep an eye out for future workshops in different cities.
Royalty Estimator
Is your song(s) distributed on Spotify? Do you have over 10K streams? You could be earning royalties that you're not collecting. Head over to our Royalty Estimator, search for your song(s), and get an estimate on how many royalties those songs could be earning, and get an opportunity to speak with a team member about how to collect these royalties. Our team of publishing specialists will make sure all your questions are answered and you know what you need to do to not leave any money on the table.
Estimate your royalties here.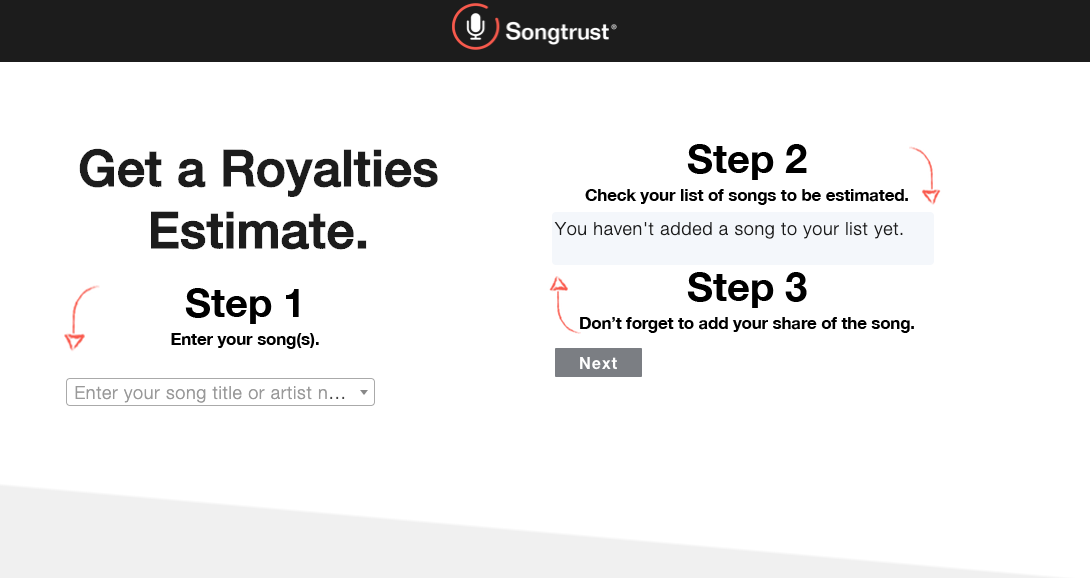 Songtrust's Community
It's important to us that our clients and the community have access to our expertise, our team, and actionable resources to help them be successful. There are many ways to communicate with us and be involved in the community that we're building. Ready to become a client? There are even more ways to stay connected! No matter your situation or career stage, we're here for you.