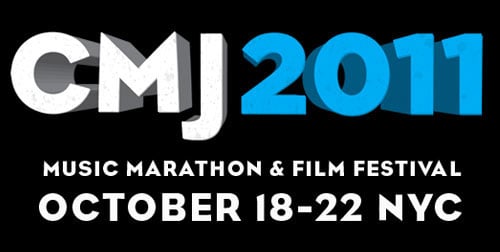 In exactly one week, the CMJ Music Marathon & Film Festival will descend upon NYC. If you've attended before, you know how vital a well-designed schedule is to squeezing every drop of goodness from the festival. All the shows and parties are fantastic, but the panels are a real gold mine. This year there are over 70 industry panels! In fact, Songtrust's Co-Founder Justin Kalifowitz is on a panel, as is Songtrust's Director of Writer Relations, Jeremy Yohai.
The following selections (in chronological order) will help you gain a better understanding of publishing, synching and how to make money with the music you make:
Sync Or Swim: Keeping Your Head Above Water
Tuesday, October 18 @ 11:00am. Kimmel Center Room 802
A look into current trends both musical and financial. Join us as top music professionals discuss the creative end of synchronization licensing, and the current climate of fees associated with these areas.

Moderator: Steven Scharf, President/ SVP Creative, Steven Scharf Entertainment/Carlin America
- Alisa Coleman, Senior VP Licensing & Soundtracks, ABKCO
- Janice Ginsberg, President, JGA
- Michael Hill, Supervisor, HBO's Bored To Death and Showtime's Nurse Jackie
- Annie Pearlman, Music Supervisor, Groove Garden
Tuesday October 18 @ 11:00am. Kimmel Center Room 905/907
Panelists will discuss innovation in marketing methods and brand reach in today's socially driven consumer landscape.
Moderator: Paula Moore, President, Massive CIA
- Justin Kalifowitz, President, Downtown Music Publishing
- Jesse Kirshbaum, CEO/Senior Talent Agent, New Universal Entertainment Agency
- Chris Wiltsee, Director of Business Development, RootMusic.com
- Lisette Paulson, Director, Partner Relations, MySpace
- Beatrice Farina, VP Marketing Communications, Shazam
Tuesday October 18 @ 3:30pm. Kimmel Center Rosenthal Pavilion, 10th Floor.
How the distribution of free music, and the usage of free music incentives, can build a diehard fanbase and major buzz.
Moderator: Kevin Monty, Director, Online Marketing, Razor & Tie
- Phil Antoniades, Founder & President, Nimbit, Inc.
- Tom Jeffries, CEO, Divvycast/Safe Xchange
- Jenna LoMonaco, Head of New Media, Glassnote Records
- Lou Plaia, Co-Founder, ReverbNation
Wednesday, October 19 @ 3:30pm. Kimmel Center Room 405
The nuts and bolts roadmap to making money and having longevity in the music industry. An introduction to how publishing enables artists to make money during and after their career through performance revenue, synchronization and licensing.
Moderator: Scott Sellwood, Senior VP & General Counsel, RightsFlow
- Rich Scott DePerto, Manager, Copyright & Licensing Reservoir Media Management, Inc.
- Frank Liwall, President, Royalty Network
- Justin Shukat, GM, Primary Wave Music
- Garry Velletri, Senior VP, Bug Music
Brass in Pocket: Accessing More Musician Income
Wednesday, October 19 @ 3:30pm. Kimmel Center Room 802
Whether you're a songwriter, performer or musician, there are pockets of money out there that you may be able to access. During this panel, learn more about the range of revenue streams available to musicians and composers, from the obvious to the more obscure.
Moderator: Jean Cook, Future of Music Coalition
- Bryan Calhoun, SoundExchange
- Nari Matsuura, Massarsky Consulting
The Business of Music & Money: Who You Want and Need on Your Team
Thursday, October 20 @ 12:30pm. Kimmel Center Room 405
A panel of industry luminaries talk straight regarding the real income streams, how to collect them, who are your rainmakers (in addition to yourself), who to hire to protect you from the business (and yourself) and who you need to chase down every dollar.
Moderator: Sara Qazi, Guided Portfolio Manager & Advisor, Morgan Stanley Smith Barney
- Joe D'Ambrosio, Founder & CEO, Joe D'Ambrosio Management
- Peter Katsis, SVP, Prospect Park
- Gerri Leonard, Founder & CEO, Leonard Business Management
- Monika Tashman, Partner, Hiscock & Barclay
Publishing/Licensing: It's All About the Songs
Thursday, October 20 @ 3:30pm. Kimmel Center Room 802
Collaboration with your teams and partners is paramount. The quality of the songs, and the people helping to place them, are what prevail in today's publishing and licensing landscape.
Moderator: Eric Galen, CEO, Music 180
- Seth Faber, Director of Marketing and Artist Development, Primary Wave
- Glen Phillips, Windish Music Licensing
- Brooke Primont, VP Music Placement & Licensing, Razor and Tie
- Jessica Sobhraj, Sir Groovy
Getting In Synch with Section 115
Friday October 21 @ 10:10am. Kimmel Center Rosenthal Pavilion, 10th floor
The Section 115 Reform Act (SIRA) was introduced five years ago to offer a mechanism whereby legitimate music services could clear all the necessary rights to make large numbers of musical works quickly available through blanket mechanical licensing. This panel will address these complex issues and many more related topics.
- Roger Miller, Chief Executive Office and Chief Investment Officer, The Bicycle Music Company
- Joel M. Schoenfeld, Esq., Partner, Mitchell Silberberg & Knupp LLP
- Christos Badavas, Esq., Vice President and Senior Council, The Harry Fox Agency
- Barry I. Slotnick, Esq., Partner and Chair, Intellectual Property and Entertainment Litigation Practice Group, Loeb & Loeb, LLP
Friday October 21 @ 10:10am. Kimmel Center Rosenthal Pavilion, 10th floor
Anyone who receives royalty accounting statements has to wonder if those statements are, in fact, accurate. This panel will discuss several recent, newsworthy cases, as well as personal experiences in disputing the assumptions and formulas used in paying royalties for recorded music, publishing income and overall statement auditing.
- Brian D. Caplan, Esq., Partner, Caplan and Ross, LLP
- J. Christopher Hull, CPA, Partner, Prager & Fenton LLP
- Barry Massarsky, President, Massarsky Consulting
- Jason Pascal, Esq., Vice President & Associate General Counsel, Assistant Corporate Secretary, The Orchard Enterprises, Inc.
From Karaoke to Cover Songs: Capturing All Licensing Revenue Streams
Friday October 21 @ 3:30pm. Kimmel Center Room 905/907
Did you know how lyric monetization, background music services (like Muzak) and performance revenue can go untouched? Learn how to tap into these revenue streams with minimal effort and blueprint your future success.
Moderator: Chris Potter, Director of Marketing, RightsFlow
- Chris Curley, Manager of Business Development, Harry Fox Agency
- Jason McCormack, Muzak
- Al Risi, Owner, ARMM
- Jeremy Yohai, Director of Writer Relations; Downtown Music Publishing/Songtrust