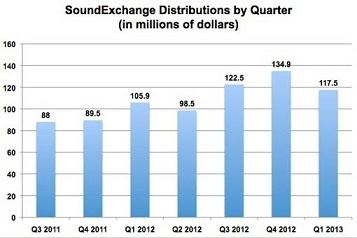 Successful pop songwriter, Dr. Luke, made publishing news this week with a few major deals. Dr. Luke and electronic producer Diplo signed a joint publishing deal between Diplo's Mad Decent Publishing and Dr. Luke's Prescription Songs. Prescription Songs also formed a joint venture with country music group Big Machine Music to allow the two companies to co-publish songwriters.
SoundExchange recently announced that it has distributed $117.5 million of digital performance royalties for the first quarter of 2013. Although this is the highest ever first-quarter payout for SoundExchange, the number is down from $134.9 million in the fourth quarter of 2012.
On April 20, Spotify announced that French electronic duo Daft Punk set the streaming service's record for most streams in a single day, in the US and UK, with their new song "Get Lucky". The exact number of streams has not been released.