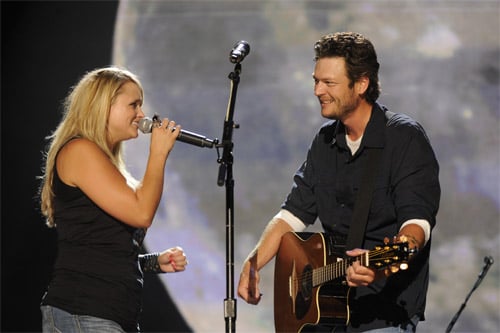 Country music's big night delivered for Blake Shelton who took out 'Entertainer of the Year' and 'Male Vocalist of the Year' at the CMAs. His wife Miranda Lambert also celebrated with 'Song of the Year' for Over You.
Along with the frivolity of the CMAs, each Performing Rights Organizations honored their top songwriters in separate ceremonies in Nashville. ASCAP crowned Ben Hayslip and Brad Paisley; BMI awarded top honors to Dallas Davidson and Luke Laird; SESAC presented Catt Gravitt as 'Songwriter of the Year'.
In the conversation about Pandora trying to lower royalty rates, it's been revealed that the online radio service is paying songwriters and publishers less than any other income type in the music business.
Carly Rae Jepsen, Owl City and a bunch of music publishers are in the firing line of a copyright infrigement suit relating to Ah, It's A Long Song.
Settlement has finally been reached in the long-running suit regarding digital royalties from sales of Eminem records.
Bryan Ferry, lead singer / songwriter of Roxy Music, has signed a worldwide deal with BMG Chrysalis UK. The deal will include BMG's releasing of Ferry's next three records, while their publishing arm will inherit much of his catalog.
CueSongs, founded by iconic British singer Peter Gabriel, has concluded negotiations will all major music publishers to enable filmmakers to easily license back catalogues of top artists.