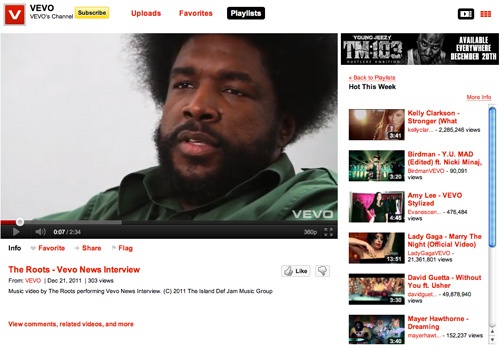 Two years after the launch of Vevo, the label-backed YouTube offshoot announced this week that in total it has paid out approximately $100 million in royalties to artists, publishers and labels. Many of the year's most watched YouTube music videos are from the Vevo stable.
Speaking of YouTube, the video platform has hit back at Universal Music Group who made headlines this week after pulling down the controversial 'Megaupload Song'. Initial reports suggested that UMG was able to take down the clip without the need to first consult YouTube. And the fun doesn't stop for Google after being criticized by record labels for not doing enough to uphold their 'special responsibility' to tackle the issue of illegal downloads.
Less trouble for Apple with their iTunes Match service launching in Germany with the blessing of GEMA - the German collection society. This comes hot on the heels of Apple reaching an agreement with the PRS For Music in England as well as a launch in Canada.