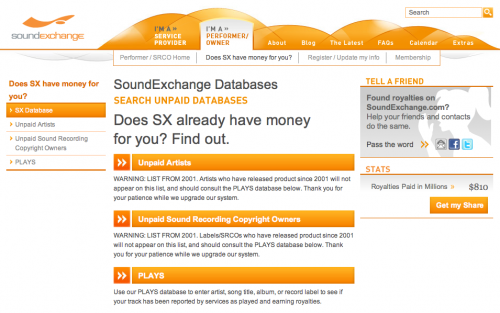 Now that 2011 is over, the annual royalty payout stats have been released by SoundExchange, the independent and nonprofit performance rights organization that collects royalties for satellite and internet radio, music channels on cable TV and digital music streams. For the last 3 years, SoundExchange was able to pay out record-breaking numbers, and 2011 was no exception with SoundExchanging expecting to out $292 million to artists and labels, up from $250 million the previous year. This may indicate an increase in digital publishing royalties.
Speaking of digital music royalties, a new study by David Touve, an Assistant Professor of Business at Washington & Lee University has shown that when compared to on a revenue-per-listen basis, Spotify royalties actually exceed those from terrestrial radio in both the U.S. and the U.K.
Unfortunately not all is well in the world of digital royalties; EMI is suing Grooveshark after their announced partnership went sour when Grooveshark allegedly failed to deliver a single accounting statement or royalty and the legendary Peter Frampton is suing the Universal Music Group-owned A&M Records for a backlog of unpaid digital royalties as well.
However the trend from 2011 going into 2012 is that things are looking up! For the first time in history, digital music sales topped physical sales and 2011 actually showed a slight increase in total music sales when compared to 2010. Of course, there is no doubt that this success can be largely accounted to Adele, who has now holds the records for highest sales for a digital album and a digital track, selling over 1.8 million digital albums and 5.67 million digital tracks in 2011.