Music has been at the center of my life for more than a decade. I have been writing, recording, and releasing songs since I was 13. In recent years, I have put more of my time into co-writing with others and managing a roster of three acts. Above all, I am a fan. And over time, I have become a true student of the music business. At Songtrust, my main focus is to reach out to music creators to explain the benefits of our service and propose the platform as a solution to their publishing needs. My role is a combination of A&R outreach and education.
Speaking at the Music Entrepreneur Club Tour in Philadelphia a few weeks ago, I met a producer/engineer/studio manager named Justin. Justin is in his 30s, and even though he has worked in music for years, he ultimately, like most people, had no idea how the music industry actually works. He mentioned that he had produced hundreds of records for artists over the course of his career and had only ever made money through hourly session rates. Not once had he registered any of his works at ASCAP (though he was a member!), nor any society for that matter, and had never collected any backend royalties from his music production and songwriting. He was confused that streaming generates additional publishing money that his distributor wasn't collecting. I've spoken to hundreds of "Justin's" over the last two years.
A few days later, I spent an hour and a half on a call with Justin breaking down everything regarding musical copyrights and royalties. We got into how to start your own label or publishing company and what those types of deals typically look like from multiple perspectives. We talked about what splits are and how to negotiate them. We spoke about how he should approach working with artists and producers and what he should be seeking out of those working relationships in ways that benefit everyone. I provided him with somewhat of a music industry blueprint so that he could do things the right way, run his business efficiently, and make better decisions in the future.
There are a lot of misconceptions about publishing and the music business in general, a lot of which stem from a lack of education around these topics. In college, I took numerous music business courses, but it wasn't until I started interning and working in music full time that I learned how things actually operate. While education is a two-way street, it shouldn't take collegiate-level music business courses for a producer to know how to properly collect their own money. I'm only 23 and have still barely scratched the surface, but I've learned more about musical copyrights and how to make money over the last two years than some do in their entire lives. Many people are in a similar position as Justin: they've been making music for decades, but haven't had the opportunity or time to learn the business.
I feel compelled to pay forward to others all that I've learned working in music. I love educating people and providing others with tools and resources, especially those who are in a less fortunate position than I, and those who have nobody speaking up for them. I believe, to a certain degree, I hold some sort of keys - and I believe it is my responsibility to open doors for others.
To learn more about Songtrust or have your music publishing questions answered, email us at contact@songtrust.com or check out our help center for FAQs.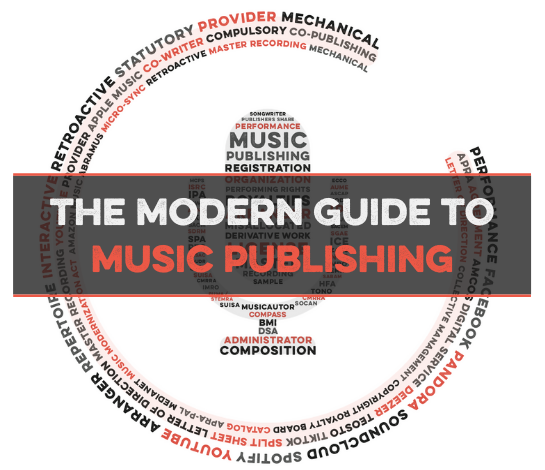 Take control of your publishing. Maximize Songtrust for your songs and business.
We created this guide to answer a simple question: How do songwriters support themselves?
The answer is not as simple as we'd like, but our goal is to make it as clear, transparent and understandable as we possibly can.
Songtrust is more than just a rights management platform and publishing administrator - we're a team of experts in the music community who strive to educate, support, and provide thought leadership to creators, representatives, and businesses across the music industry.
Our hope is that you'll finish this guide with an better understanding of the business behind songwriting and have actionable resources to help you be successful.
Related Articles
Songtrust News, Songtrust Team, Press Release
Songtrust News, Songtrust Team