The Songtrust Team is excited to announce a new feature update to Songtrust Accounts: Song Registration Tracker.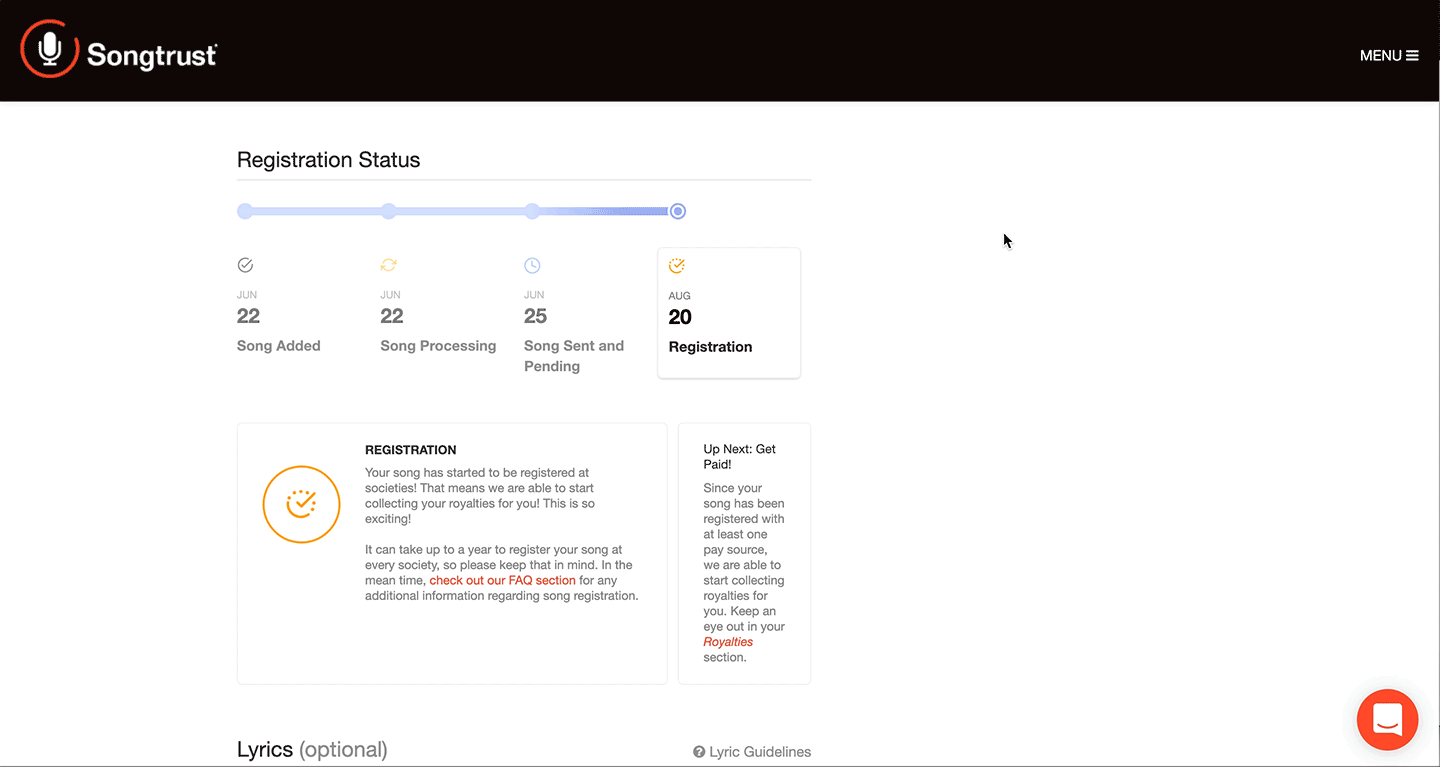 With this newest update, Songtrust clients will get additional context as to the current registration status of their song(s), the previously completed steps, and what's next in the process. Let's breakdown what the registration timeline looks like and what you can expect to see in your dashboard:
Step One - Song Added
This step is to show the date your song was added into your account. Once it's added, it will automatically go into the "song processing" stage. Once you've added songs into your Songtrust account, we then register them at over 50 different Performing Rights Organizations (PROs) and Collective Management Organizations (CMOs) around the world. Each society has its own set timeline for processing song registrations.
Step Two - Song Processing
There are a few things we have to do internally to make sure your song gets sent out correctly. In this stage, we are confirming your affiliation with your local collection society and the song details you submitted before sending your song information in our weekly CWR file to pay sources around the world.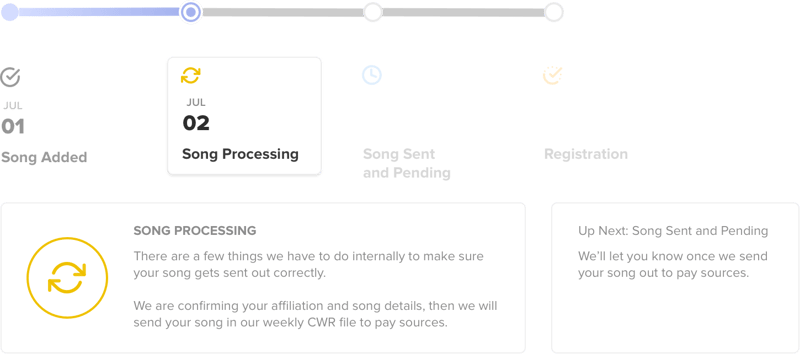 If your song stays in this stage after 6-8 weeks from when the song was added, you can reach out to our Client Services team via the Support Form to ensure we have everything we need for it to be successfully sent out. You can find this form by logging into your account and finding the link on your client dashboard.
Step Three - Song Sent and Pending
At this stage, we've officially sent out your song information! From here, we wait to hear back from pay sources. Your song will be in this stage between 6-12 months, depending on the society. It's important to note that this timeline is only relevant if your song information was entered correctly from the beginning. Any edits you've made during any stage of the registration process, means that our team needs to update your information and resend to societies, which could extend the length of this step.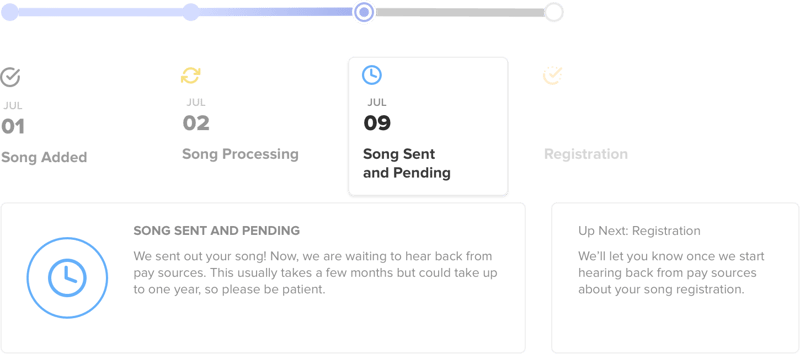 There can be a few reasons why your songs might sit in this stage longer than our estimated timeline, though. In addition to registering your song with multiple pay sources (which can itself take some time), it is also not uncommon for societies to register songs but not send us confirmation right away. In fact, certain societies will only show works that have generated royalties so far. This means that if your songs are not appearing in the public search at a certain pay source, it might just be that they aren't payable yet.
Also, your songs can be registered with one society and not yet with another, despite Songtrust sending them out for global registration at the same time. As a result, your songs might show as processing or pending when they are, in fact, already registered at some societies.
Not to worry though, we can still collect any royalties that are generated while the songs are processing.
Step Four - Registration
Once you reach this stage, your song has been registered, which means we are able to start collecting your royalties for you! A reminder that it can take up to 6-12 months to get your song fully registered. So, while you should keep an eye on your registration status, don't be alarmed if it takes a minute for your songs to reach this stage.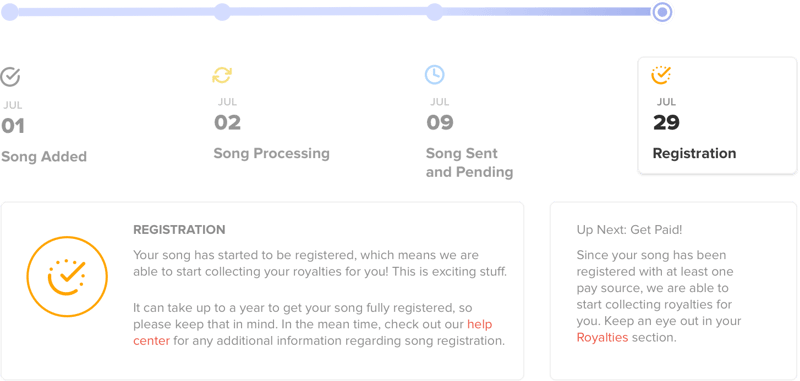 For other frequently asked questions about account registration and setup, check out our help center to learn more.
Leave the Collection To Us
That's it! Pretty simple, right? And with our new update, you'll get more clarity about your song and it's registration status to give you peace of mind while you're creating your next big hit. Our team will continue to work and update your experience as a Songtrust client. If you ever have any questions or need assistance with your account, reach out to our Client Services team using our Support Form to submit a ticket. You can find this form by logging into your account and finding the link on your client dashboard.
If you haven't set up your publishing yet, or aren't sure where to start, check out one of our bi-weekly Music Publishing 101 sessions, where our publishing specialists go over the fundamentals every creator should know. Whether you're just starting out or looking for a change, we're here to help you.