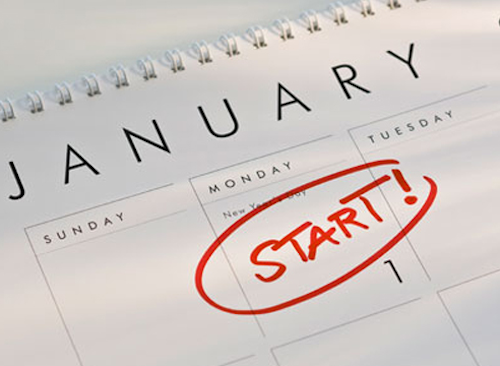 Earlier in the week we discussed the importance of critiquing your work from 2011 so that your observations about your strengths and weaknesses can help you to become a better songwriter in the new year. So on that note of trying to strive for a better year to come, we wanted this week's Open Mic discussion to continue the theme of goal setting and planning.
Our hope is that together we can create a definitive list of new year's resolutions, so as a community we can all move in a positive direction. New year's resolutions are a difficult thing to stick to and actually accomplish, so the strength in numbers and support of the Songtrust community will be a big part in the success of this effort.
Below we've started a list of new year's resolutions, but that is only the beginning. Think of it as a jumping off point. The real purpose of this discussion is the comment thread below - we want you to help grow this into a huge list by posting all of your ideas! Whether you have suggestions of basic new year's resolutions that all songwriters should do, or maybe you have some more specific resolutions that you yourself are trying to accomplish, PLEASE post them below.

Don't be afraid to comment. We want to hear from you!
Let's go!
The 2012 Songwriter's List of New Year's Resolutions

1. Join a PRO
A PRO, or a Performance Rights Organization will collect your performance royalties for you. In the US there is the choice of ASCAP, BMI and SESAC, all of which offer a similar service. The best bet here is to do some research on your own, maybe even ask some of your songwriter friends which they belong to, and pick which one feels best for you.

2. Produce 1 More Song Per Month
For some this goals will be incredibly easy, and for others this could be the most difficult thing in the world to accomplish. However, pushing yourself to produce just one more song per month is a great way to keeping you on top of your game as a songwriter.

3. Copyright Each Finished Song That You Produce
It is amazing how many artists overlook this important step. If you've written a song, especially one that you hope to use for licensing purposes (or even if it's just something you are proud of), get it copyrighted!

4. Set Aside 1 More Hour Per Week for Songwriting
Giving yourself just one more hour in a week could mean the difference between a song getting finished, allowing you to move on to the next on in the following week, or having that same song trail on, pushing your production schedule back by another week. This extra hour is a simple way to boost your productivity!

5. Listen to 1 New (To You) Album or Artist Per Week
This is such a simple thing to accomplish and will greatly help you to expand your musical horizons, leading the way to new inspirations and better-crafted songs.

6. Eat healthier
We mentioned this in an earlier post and it received some criticism, but it absolutely cannot be overlooked at just how important your health is to your creativity and your drive to work. Eating healthy is a critical step to success!

7. Get Your Ideas Organized in a Notebook or on The Computer
One of the biggest productivity killers for anyone in any industry is being unorganized. If you've got lyrics, topics, melodies, or any other pieces of songs that are just lying around on pieces of paper or random docs on your computer, get them organized and watch yourself start to produce more music on a consistent basis!

8. Join a Songwriting Circle
Search your local area for a songwriting circle. These communities are a fantastic way to receive constructive feedback on your work and to meet others to potentially collaborate with.

9. Read 1 New Blog Post a Week on Songwriting
Blogs, such as this one, are an incredible way for you to gain a new understanding of your craft on a consistent basis. And the best part is… the information on blogs is free! Taking just a few extra minutes per week to read at least 1 new blog post means at least 52 articles read in the year. Or in other words 52 new potential ways to better yourself as a songwriter!

10. Collaborate With at Least 1 New Songwriter
Collaboration is an incredibly important part of growth as a songwriter. Not only does it offer a unique and different perspective from your own, but it can help you to refine your technique, making you an all-around stronger producer of songs!
This is only just the beginning… Now it's your turn.
Now we need your help to make this the most definitive list of new year's resolutions for songwriters that we can! Any ideas that you have are greatly appreciated, as they will help the songwriting community as a whole to grow in the new year. Thanks and good luck!