This time of year as we all know is a time of unity and giving. So, what better time to unite the entire Songtrust community to discuss all of the best gifts to give our songwriter friends and family.
Our goal with this post is to create one giant list, which will require help from each and every one of you in the form of a comment below!
We've started the list of gift ideas below as a jumping off point for all of you to build upon with any and every gift idea possible, be it unique, amazing or simply practical.
So take a look at the 6 ideas we've given below and then dive into the comments section! There is absolutely no limit to the amount of gift ideas you can list, so list them all!
Ready??
... Go!
---
1. Condenser mic w/ shock mount
---
This is a simple yet powerful gift for any songwriter who has the capability of recording songs at home. A good condenser mic is crucial for properly recorded vocals, and can mean all the difference between an effective and ineffective demo.
---
2. Zoom h4n Portable Recorder
---
This portable recorder is simply a modern, digital take on the old handheld audio recorders. This is a fantastic gift for any songwriter who would rather take their ideas down in the form of a melody rather than a written lyric or concept.
---
3. Smartphone
---
As we've discussed in a previous article, there are quite a few incredible apps for both the iOS (iPhone) and Android mobile platforms that can help a songwriter to organize, write and record music. This has the potential to be a great gift for any songwriter.
---
4. The Plain and Simple Guide to Music Publishing
---
This book gives a fantastic and easy to understand walkthrough of the entire realm of music publishing. I've read this myself and feel that Randall Wixen's (manager of publishing companies for artists like Tom Petty) book is a must read for any songwriter attempting to publish their music and make money from music licensing.
---
5. Studio time
---
The cost of studio time ranges too greatly (anywhere from $100 to $1000 per hour or even more!) to give an estimate cost here, so that will really require some research on your part to find local studios and compare to find the best bang for the buck. But, even with a high cost, there is truly no comparison to time (well spent) in a professional recording studio. For your benefit as you look into this as a gift option, here are two important things to understand before hand:
How many songs are being recorded? One song, depending on how well rehearsed the songwriter is, can take anywhere from 3 to 5 hours to record.
Make sure the studio you are booking actually deals with the kind of music. Many studios are specialized to a certain genre of music and may not have all of the capabilities to record the sound you are looking for.
---
6. M-Audio Avid Recording Studio
---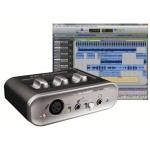 Let's face it, studio time is extremely expensive. So, this is a great gift that any songwriter can use to record their own demos. This interface is easy to use, it can record guitar, bass and vocals, plugs directly into any PC or Mac, and it comes with the recording software. This is truly a solid all-in-one package for an aspiring songwriter!
---
Now It's Your Turn!
---

It is up to you to help us grow this list as big as possible. Now that you've seen the ideas we've supplied above, help out the community by leaving a comment below with as many gift suggestions for songwriters as you'd like - more is better!