New York, NY (June 15, 2015) - Songtrust, a Billboard "Top Music Startup" is announcing the world's first Music Publishing App. Available on iOS devices in the App Store today providing an even simpler way for clients to track their royalties with efficiency and transparency. The launch of this app takes the leading global royalty collection platform to a new level within the digital age.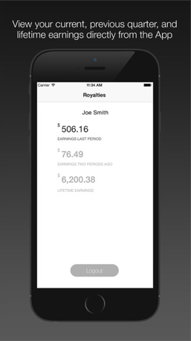 The Songtrust App will provide an easy way for existing clients to stay connected and up to date with the day to day processes of their accounts. Joe Conyers, VP & GM of Songtrust says "with Songtrust's new iOS app, we look forward to increasing convenience and transparency with our growing user base. This is our first step and expect to continue to bring innovative services to our clients. We look forward to hearing what else our clients might want to use our app for down the road." At launch Clients will be able to view their royalties in real time, online with more features coming available later in the year.
Create your own user feedback survey
About Songtrust
Songtrust is a cloud based music publishing royalty collection service that helps those who own or administer musical compositions. Songtrust collects royalties for over 350,000 copyrights for over 50,000 songwriters. Songtrust's clients include writers, publishers and their agents directly as well as B2B partners like The Orchard and CDbaby.