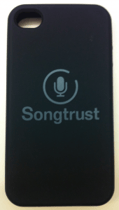 Just wanted to shoot a quick thanks out to the thousands of songwriters that stopped by the Songtrust booth last week at SXSW! We had a great time meeting many of our clients in person and talking music publishing/Songtrust.
We gave away more than 5,000 Songtrust iPhone cases ("Protect Your Phone... Protect Your Songs!") down in Austin but have a few hundred left. If you want us to mail you one, please send an email to hello@songtrust.com with 'I Want an iPhone Case' in the subject line, your address (obvi) and let us know whether you have an iPhone 4 or a 3GS (we only have cases for those 2 models).
For our friends in LA, we'll be at ASCAP's EXPO next month (April 28-30), giving away all of our cool swag and talking Songtrust there as well. See you soon!