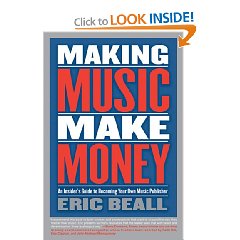 This is the second installment of a new Songtrust series that will highlight essential books on music publishing.
If you're reading this blog, chances are you're interested in the various ways professional musicians earn revenue in 2011. And that's why Making Music Make Money


, the 2003 book from Berklee Press, should be a staple on your bookshelf. Penned by music industry vet Eric Beall, this 272-page tome teaches songwriters and entrepreneurs the steps necessary to becoming successful, independent music publishers.
"The truth is, to most of the world outside of the music industry, and a fair amount of the world inside the music industry," Beall writes in his introduction, "music publishing is a mystery."
But the enigma of the industry begins to fade with Beall's book. Beall defines contemporary music publishing—"the sale or use of sound recordings"—and covers topics like collection, administration, protection, and acquisition. He provides steps for starting up your own business and "setting up shop," before devoting nearly 100 pages to the process of "exploitation."
Beall stresses that exploitation "has no negative connotations to a music publisher or a professional songwriter." He explains early on that the term merely refers to "the process by which a song finds some avenue to its audience, where it can begin to earn income for everyone involved." According to Beall, exploitation is the most important function of a publisher.
A former songwriter and record producer, Eric Beall currently works at Shapiro Bernstein, one of the music industry's most respected independent music publishers, and also wrote the 2009 book The Billboard Guide to Writing and Producing Songs That Sell. Beall teaches and designs courses for Berklee Music Online, and has formerly coordinated and directed songwriting for superstars like Backstreet Boys, *NSYNC, Britney Spears, and Aaron Carter.
Purchase Making Music Make Money here. For more on Eric Beall, visit his website.