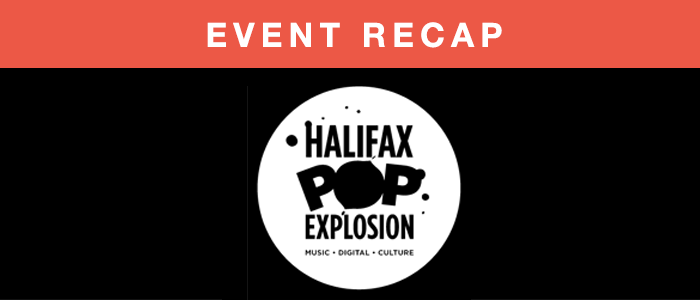 Songtrust is proud to attend and network with music business professionals and songwriters at events around the globe. Last month our team headed to Nova Scotia for the Halifax Pop Explosion (HPX), a growing conference dedicated to bringing together industry professionals, artists, and fans from around the world to discuss current trends, topics, and issues in the music industry.

HPX is a brilliant opportunity to meet like-minded individuals and businesses, is flexible and accommodating, and provides diverse environments to engage with various levels of the industry. Our goal was to boost brand awareness, spread the word about music publishing, and network with music industry professionals via panels, networking events and personal meetings.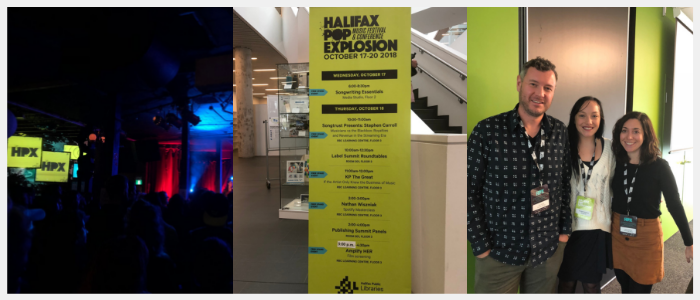 HPX was a smaller event, which builds trust and community faster. Business correspondence at this event is honest conversation, and not focused on pitching as much. Interestingly, we found little information being offered to writers and publishers of potential revenue streams they could take advantage of in addition to SOCAN. As well, Elizabeth experienced collaboration with other attendees and prospects due to the intimate bond of the festival.
We have a very good opportunity to learn more about how songwriters and musicians identify themselves and engage with publishing versus the other areas of the music business. Events such as HPX enable us to find out how much knowledge of music publishing creators in the community have to identify gaps that we can hopefully help fill.

Our Publishing Specialist, Elizabeth McBride, sat on the The Importance of Metadata and/or Technological Solutions in Music Publishing panel alongside other industry experts Liana Tassone, Creative Sync Licensing at Thirdside Music, and Tim Hardy, SOCAN of 22 years and co-owner of Sound of Pop music publishing. The discussion was an in-depth look at what metadata is required for publishers, how publishers use data and technology and how songwriters can harness these technology solutions to ultimately be more successful.
Overall, HPX was a beneficial and educational experience. There were more than enough panels, roundtables, mixers, and venues to connect with music business professionals and songwriters alike. Our biggest takeaway was witnessing how well informed Canadian songwriters and publishers are about their PRO (performing rights organization) SOCAN. They put a lot of trust in their government organizations, whose civil services (and tremendous grant funding) reciprocate the local music industry exponentially. We learned that being a small and well supported industry, there is generally more competition than there would be in the US. In addition, most Canadian artists' careers appear polarized - they are either hometown heroes or touring internationally. We're excited to see what is next in store for this ever-changing and evolving community, and for our upcoming events.
Make sure to check out all the events that Songtrust will be attending on our Events Page. Attending any of these? Let us know and we'll set up a meeting.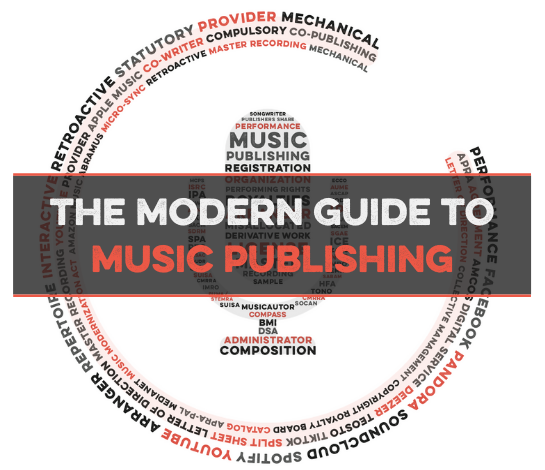 Take control of your publishing. Maximize Songtrust for your songs and business.
We created this guide to answer a simple question: How do songwriters support themselves?
The answer is not as simple as we'd like, but our goal is to make it as clear, transparent and understandable as we possibly can.
Songtrust is more than just a rights management platform and publishing administrator - we're a team of experts in the music community who strive to educate, support, and provide thought leadership to creators, representatives, and businesses across the music industry.
Our hope is that you'll finish this guide with an better understanding of the business behind songwriting and have actionable resources to help you be successful.
Related Articles
Songtrust Team, Event Recap