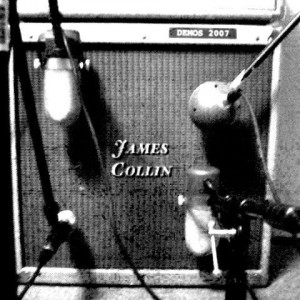 This week's '5 Questions w/ a Songtruster' comes from James Collin, a multi-instrumentalist and songwriter based in Chicago, IL. James Collin has released three albums and has two more in the works, as well as a collection of singles, demos and videos available through his website, jamescollin.com.
James Collin's songwriting process is a constant evolution. His work carries cinematic and emotional qualities and seems to tell stories and paint pictures with harmony and melody. He draws on inspiration from daily life, his friends, and favorite artists, employing new techniques and styles at every turn. He began performing in the summer of 2006 in art galleries and coffee shops, solo and with a backing band, in his then home state of Michigan. in the years to follow, Collin continued experimenting with genres, instrumentation, as well as recording techniques, to both broaden and solidify his style.
Songtrust caught up with James Collins for a brief interview, which is listed below.
1.) When did you first start writing music?I've been involved with music my whole life, but I really started writing my own songs when I was 15. That's when my father bought me my first guitar. I had been playing piano and trumpet before then, but the guitar really opened the creative doors for me. I started writing simple little songs as well as recording them on my parents 2 track cassette deck.
2.) What styles of music do you primarily like to work with?While the tracks currently I manage through SongTrust are electronic, rock has always been my foundation. Guitar became my primary instrument and there is no more satisfying sound to me then the crunch of a power chord. I performed a lot of jazz and classical while in high school and that definitely shaped my musical sensibilities. I try not to limit myself to particular genres. Rather, I let all genres influence me and I pick the sounds I think work best together. Most of my songs are rock, blues, electronic and ambient, but the lines are very blurry.
3.) Which artists have influenced your songwriting most?I draw influence from everything - music, conversation, transportation - the sounds of daily life. In term of artists I would say Miles Davis, Depeche Mode, Pink Floyd, Yann Tiersen, Bjork and U2. More recently I've leaned toward Philip Glass, Steve Reich, Vangelis and Zoe Keating.
4) For you, how important is it that you control all of the rights to your music?
Extremely important. Music is my passion, my religion, and I am very attached to it. I also love to share. The more people I can find to listen and enjoy my work, the more I am motivated to do it. I would like to make a few bucks at the same time, but I want to be sure my music is used, distributed and promoted in ways I feel comfortable with. It may take me the next 30 years do to this, but at least I will feel confident I did it right.
5.) What musical goals do you have for the future?More music. That is my goal. More writing, more collaboration, more opportunities. I am just getting started in this whole licensing thing. I have self released all my work so far, and I would like to see something more happen with it. Ultimately I would like to get to a place where writing and recording is not only my passion, but my main source of income.
--
For more information on James Collin, check out some of these links:
Web // Facebook // Twitter // BandCamp // SoundCloud