Setlist Submission on Songtrust:
Songtrust is now the first publishing admin service to let clients register setlists from international live shows and collect live performance royalties. Every time you perform your original music in public at a licensed venue, you are owed royalties. Songtrust now makes it easy to track and collect these royalties whether you are on an international tour or playing an open mic at the local coffee shop.
Features:

Get paid for every live performance, anywhere in the world
Easily submit setlist information in your Songtrust dashboard
View past earnings in your interactive Reports page
How it works:
1) Log into your Songtrust dashboard and click the "Setlists" tab.
2) Select the country in which you performed.
3) Fill out the information about your show and submit the songs you played.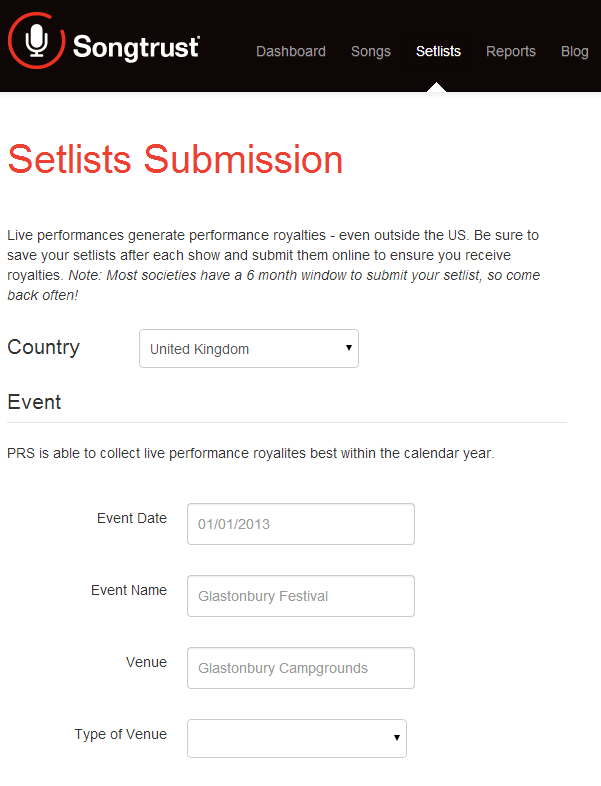 How are Songtrust clients using Setlists?
Songtrust clients Caspian frequently tour internationally. The band uses Songtrust's Setlist tool to keep track of live performances and collect royalties generated from their shows.
"International touring has become a large priority for Caspian over the past five years. They're on track to play over 60% of their Waking Season album cycle dates abroad and Songtrust has finally given them the ability to collect their foreign performance revenue without giving up rights to their music. It's possible that revenue from foreign performances would've eventually trickled into their ASCAP checks, but our relationship with the Songtrust team as well as their Setlist Submission tool have helped us turn that into a certainty." - Mark Jourdian, Manager of Caspian