Songtrust recently rolled out yet another exciting publishing tool for its members -- the "License My Music" Badge. The badge, which appears and functions similarly to that of a Facebook or Twitter button, allows Songtrust members to direct music supervisors, clearence companies or other potential licensees to their own unique Songtrust licensing page (powered by Downtown Music Publishing), via their personal/artist websites. From this page, music supervisors (and the like) are provided detailed information on how to proceed with requesting, submitting and acquiring licenses for Songtrust songwriters and bands.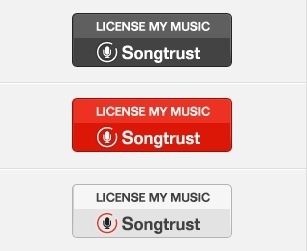 This creative licensing process will continue to grow and evolve as Songtrust explores more and more unique ways of promoting the company's diverse writer catalogues and licensing opportunities. Thanks in part to Downtown Music Publishing's hands-on and hassle-free approach to licensing, Songtrust has the ability to clear publishing and master rights to thousands of titles with an effectively quick turn-around time, and years of licensing expertise.
Songtrust members are encouraged to access their settings page where they can download their own "License My Music" Badge. Be sure to stay up to date with information and releases pertaining to Songtrust's licensing badges by checking in with Facebook and Twitter.