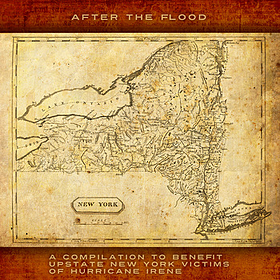 In an effort to provide support and relief to those that have been affected by Hurricane Irene (particularly, upstate NY) artists, songwriters and musicians have banded together to create the benefit compilation album, "After the Flood." Packed with 43 tracks, the album features prominent NYC acts and is available for just $15 (proceeds of which will go immediately to the Northeast New York Chapter of The Red Cross, earmarked towards flood relief).
The album and concept was put together by Martin Rivas, a veteran of the NYC songwriter circuit. Chances are, if you live in NYC, and spend alot of time going to shows...you've seen Rivas at some point. Featured on the compilation album is Songtrust writer Charlene Kaye and her track "Magnolia Wine," who you can also catch live at The Knitting Factory in Brooklyn next Saturday (9/10). Also appearing on the compilation album is American Idol finalist Caleb Hawley with his stellar, "Every Shade of Gray," as well as countless other NYC-based songwriters.
"After the Flood: A Compilation to Benefit Upstate New York Victims of Hurricane Irene" is available for download here and in multiple download formats. This compilation includes several previously unreleased tracks, and also includes a PDF booklet with track and artist information.
For more information on "After the Flood" head over to their BandCamp page.