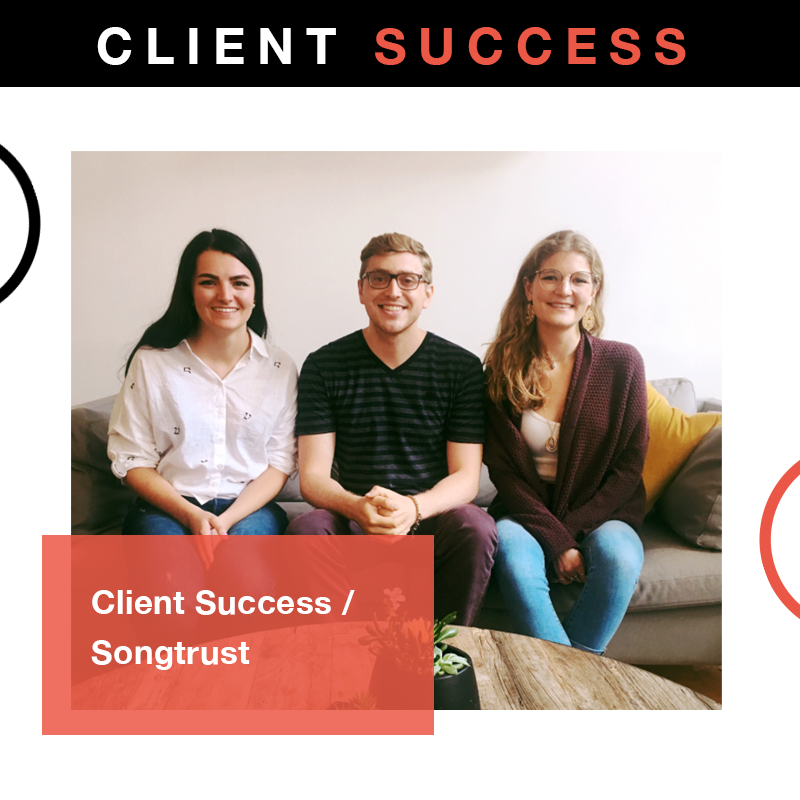 ADAM SCHWARTZ (Client Success Manager) was born and raised in Chicago where he rented as much diverse music as possible to listen to from the local library. He attended the University of Wisconsin-Madison and studied abroad in Prague, where he frequented the city's cavernous jazz clubs. He now enjoys attending concerts big and small around NYC and Brooklyn. Adam has brought his passions for technology and stellar service to ensure every Songtrust client is as successful as possible.
EMILY MITCHELL (Publishing Operations and Client Success Coordinator) is a singer/songwriter originally from the Adirondacks in upstate New York. Her passion for music and songwriting lead her to attend The College of Saint Rose in Albany, NY to pursue a degree is Music Industry. While there, Emily served as both Head Songwriter, a music producer, and later President for Rose Record Label Group. Wanting to find a way to help songwriters and producers navigate the music business, it became clear that a career in music publishing was where she was meant to be.
ASIA SMULDERS (Publishing Operations and Client Success Coordinator), though originally French and Dutch, she spent the entirety of her youth living in China where she found her muse in an unlikely place - hiking on the Qinghai Plateau in Western China. Around a campfire she witnessed men from three warring clans - Han, Kazakh and Uighur - alongside one another creating music in a moment of peace. Music, in all of its forms, has captivated her ever since. This past May, Asia graduated with Summa Cum Laude from both NYU's Clive Davis Institute of Recorded Music and the Stern School of Business, and now spends her days creating opportunities for the inspiring songwriters she has met and worked with all over the world.
What is the main goal of the Client Success Team?
Adam: The Client Success Team is constantly focused on coordinating efforts across departments internally in order to be the best representatives of Songtrust to our external clients and partners. We are the main point of contact when people need help navigating their accounts and publishing needs.
Emily: To educate clients about music publishing and its role in their success as songwriters. Our goal is to help our clients earn the royalties they are entitled to that they might not have the opportunity to collect otherwise.
Asia: Education and Expectations! Our goal is to not only educate our clients about how publishing works but also to set their expectations on how much they can expect to earn. The more tools we can provide them, the more successful they will be! We want to empower our clients to take control of their music and careers instead of relying on others.
How did you each come to Songtrust?
Adam: I moved to New York 3 years ago with the hopes of eventually working in the music industry here. I did a lot of research and was impressed with Songtrust's business and mission. After a lot of hard work and perseverance, I was able to connect with some of the fine folks at Songtrust and the rest is history!
Emily: As someone who studied songwriting in college, I began to realize just how important music publishing is for songwriters when it was something I had never even thought about previously. My curiosity lead me to a creative internship with Downtown Music Publishing. It is there that I realized my desire to not only learn everything there is to know about music publishing and the music industry, but to educate songwriters as well.
Asia: My passion has always been music and technology, and I knew in college that I wanted to work at a company that straddles the worlds of both music and tech, with the goal of bringing power back to the creators. So, Songtrust was the perfect fit! I managed to secure an internship here my senior spring, and just fell in love with every aspect of this company, so I completed my internship, graduated college and came right back to start working full time!
What was each of your experiences with music publishing before Songtrust?
Adam: As much of a music nerd as I claim to be, I was not very familiar with the intricacies of music publishing before joining Songtrust. I mostly simply knew that songwriters are often underpaid and that publishing was a main source of income for musical artists.
Emily: As a Music Industry major in college, I was Head Songwriter and later President of Rose Record Label Group, a student-run record label. In my time there, I helped establish a publishing company so they could collect royalties for the songs that were being written, recorded, and released by the students. They now use Songtrust for their publishing administration!
Asia: I have always considered myself more of a songwriter/arranger than a performing artist, so I was naturally drawn to the publishing side of the industry rather than recording. I began managing a few bands back in England and got my first introduction to publishing through them as I was in charge of registering their works with the local PRO. I quickly realized how confusing the industry was and because of that, how many songwriters are not only missing out on publishing revenue but also registering their compositions entirely! I thought it was ridiculous how complicated it was, and decided that this was where I could effect the most change in terms of helping my peers better succeed in the current music climate.
How have your past experiences helped (or helping) to inform your role on the Client Success Team?
Adam: I used to work at another fast-paced startup doing a combination of operations and service. I was coordinating company efforts for clients across the country and helping design software, so that prepared me well for my responsibilities at Songtrust. Luckily now I'm managing an inventory of songs and not sweaters.
Emily: Studying songwriting, music production, and the music business in college has allowed me to see the industry from multiple perspectives. One of the things I love most about Songtrust is the diversity of our clients. My experience allows me to give clients the tools for success no matter their background.
Asia: I tried to expose myself to as much of the music industry as possible when I was in college and high school: performance, composition, arranging, sound engineering, teaching, management, promotion and even constructing my own instruments from scratch. The abundance and diversity of these experiences have allowed me to not only empathize with our clients but also better understand their needs. On top of that, I have always loved jobs where I get to meet and interact with new people every day, so I had a lot of experience in client-facing roles prior to working at Songtrust.
In your own words, what makes Songtrust different from other publishers?
Adam: Songtrust was designed with the best interests of our clients in mind. The terms of service are very fair and allow our clients to retain full ownership of their copyrights. Songtrust is also very global-minded in its approach to publishing partnerships in order to maximize the amount scope of our royalty collections.
Emily: Songtrust gives songwriters the power to collect the royalties that are owed to them without having to make any sacrifices. Songtrust songwriters will never have to give up any of their copyrights or sync rights, allowing them to take total control of their music. Songtrust takes the burden off songwriters so that they can focus on their creative endeavors.
Asia: I have always believed that everyone should be able to engage in their creative passion, work for themselves and define success on their own terms. Songtrust offers songwriters just that: They provide tools and resources that help songwriters like myself and so many of my peers continue doing what we love most - making music. I wholeheartedly believe that Songtrust has become the leading music administration service not because they enforce a change in publishing, but rather because what they do inspires radical change and development across the industry as a whole. Songtrust empowers its clients to take control of their music instead of just relying on others for their success. That's what makes Songtrust unique.
Songtrust thrives on its community, what do you think is special about Songtrust's community?
Adam: Songtrust is supportive of songwriters at all stages in their careers. We have people genuinely interested in learning how publishing works and staying informed on the many changes constantly going on in the music industry.
Emily: My favorite thing about the Songtrust community is their eagerness to learn and their dedication to their music.
Asia: The passion, dedication and drive of the Songtrust community. Every day I am humbled by our clients. They are eager to learn and to take control of their careers. I love that everyday I get to help people who in return inspire me to be better as well.
Where do you see Songtrust in ten years?
Adam: If Songtrust currently publishes 1 out of every 5 writers globally then I see that number getting to 1 in 3! Songtrust will continue to grow and stay on the cutting edge of whatever changes happen in the industry. I see us eventually collecting from extraterrestrial sources and syncs of music with holograms!
Emily: At the pace Songtrust is growing and expanding, I see it having multiple offices and teams globally!
Asia: I have no idea, all I can say is that radical change in the industry is coming, and Songtrust will most definitely be upfront manning the fort for songwriters everywhere.
What advice do you have for beginner songwriters that want to get in the industry?
Adam: Be your authentic self and learn as much as you can. Manage your time and develop a routine that includes moments for creative inspiration as well as work.
Emily: My biggest bit of advice would be to try and write something every day, even if it is bad! I'm a firm believer that it takes many bad songs to get to the good ones, and sometimes all it takes is one great song. You should also take every gig that you get offered, whether it be to 10 people or 10,000 people. (Make sure you submit your setlists too!)
Asia: Put yourself out there, get feedback and never stop writing. You will get 1,000 no's before you get a yes. So embrace your failures, "sit down, and be humble" (Kendrick knows what's up).
How has your perception of music changed since coming to Songtrust?

Adam: Learning more about the business of music has been really eye-opening. For every "successful" artist, there's likely a huge team of people supporting their efforts.
Emily: I don't know if I would say my perception of music has changed, however, I have gained a greater appreciation and understanding of songwriters all over the world. There is so much that these songwriters and musicians have to offer the world.
Asia: The importance of education and understanding the industry you work in ! Education and understanding how the industry works - both publishing and recording - is so important if you want to maximize your success and earnings! And almost as important is staying up to date with industry changes and developments - technology is constantly adapting and as a result everyday there are new opportunities for songwriters to not only put themselves out there but to also find unique and savvy ways to sustain their career.
What's next for the Songtrust Client Success Team?
Adam: We are focusing on creating helpful resources for our clients to learn from and utilize to progress in their careers. We are also working on making some major improvements to the design and functionality of our software so stay tuned!
Emily: We're looking to keep making it easier and easier for clients to learn about publishing! It can be a daunting industry, and knowledge is power!
Asia: We are hoping to offer more face-to-face opportunities for our clients to interact with not only Songtrust but with each other as well!
Lastly, what's each of your favorite songs right now?
Adam: One of my favorite bands, Parquet Courts, released a new album this year. The last song on it, 'Tenderness' contains a very interesting perspective on globalization and humanity. Its both groovy and deep.
Emily: "Everything Is Free" written by Gillian Welch. It's a really clever folk song that is written about the struggles that songwriters have faced since streaming has become popular. It's not only clever, but the melody is just really beautiful.
Asia: "You're Not Listening" by Diving Station. I love the unique instrumentation (the lead singer, Anna Mcluckie, plays a harp), and the sheer musicianship of this group is breathtaking.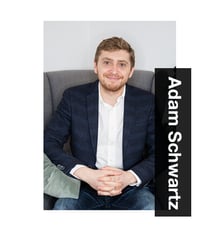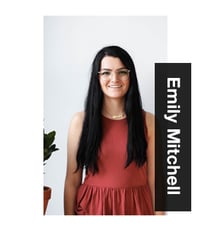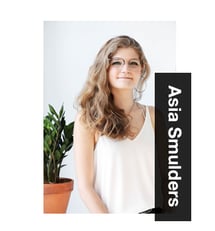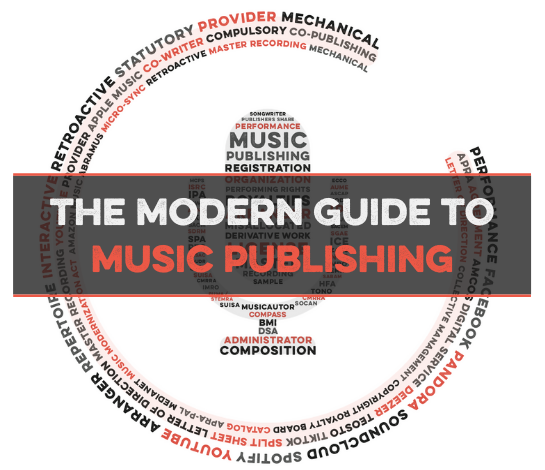 Take control of your publishing. Maximize Songtrust for your songs and business.
We created this guide to answer a simple question: How do songwriters support themselves?
The answer is not as simple as we'd like, but our goal is to make it as clear, transparent and understandable as we possibly can.
Songtrust is more than just a rights management platform and publishing administrator - we're a team of experts in the music community who strive to educate, support, and provide thought leadership to creators, representatives, and businesses across the music industry.
Our hope is that you'll finish this guide with an better understanding of the business behind songwriting and have actionable resources to help you be successful.
Related Articles
Client Spotlight, Songtrust Spotlight
Recommended Reading, Songtrust Team