JOANNE HADJIA, also known as 'JOEY DJIA', is a Sydney Australian-born recording artist who has generated over 200 million streams on her music. Now located in Los Angeles, Joey is known for her positive influence and natural ability to connect with all types of people worldwide. This is evident in her often vulnerable song lyrics and also in her #1 best selling self-help book 'Decompress'. Joey's most recent success lies within her media company, Djia Media. Djia Media develops new talent as well as signs and distributes first-time single releases for well known celebrities, athletes, entertainers and influencers who are interested in the music industry.

How did you get your start in music?
I started off writing little love songs about boys I liked, or disliked and ended up really enjoying it. I truly never even dreamt of being a singer, nor considered it possible to become a career but many jobs and university enrollments later. I kept being pulled toward music. I first started sharing my music on Youtube and just grew a following from there.
What is your writing process like?
My writing style varies a lot to be honest. I often write by myself on a piano or guitar with simple chords and then bring in musicians to develop what I created in their own talented way. I also like to write to beats that are already complete. I choose the ones that stand out to me and then the producers often tweak some changes once a song is born. On the other hand, I sometimes start from scratch with a producer, from absolutely nothing. Layer by layer as a producer trials different tempos, sounds and instruments, a melody is influenced as we develop the beat. One of my favorite and most common processes is to just improvise lyrics and melodies in the recording booth and see what stands out. I like to think that some of the magic is what comes out first, off the top of your mind before you're over thinking or trying too hard to write something cool or catchy. I write everything solo but don't mind collaborating once in a while with other song writers too.
How do you stay authentic to your style in an ever-changing industry?
I just write what I feel, or write what I am a passionate about. I don't really keep up-to-date with what's hot, or what is relevant. I don't sit there focusing on other female singers or what hit the charts. Sometimes I think I should, as it can seriously help spark a concept or influence a calculated hit creating method or idea, however, I don't sing or write with a goal to be the coolest or most famous. I finally got myself to a place where I financially live off my music, without having to follow rules or feeling pressured to sign to a major label or to be what everyone expects, in order to, hopefully, make a bigger impact and attract more views or more dollars. I have a hard time being something I am not, so I really worked my ass off to be authentic and persist until it paid off.
What role does social media, if at all, play in your brand and ability to connect with your growing fanbase?
Social media to me is just a way to shoot out updates of what I am releasing or what is in the pipe line. I feel like I used to be way more in tune with social media and a lot more active online. I tend to be a little more low key now a little more private. I wrote a self help book and am more focused on my artists and their new music rather than getting hot pics for my IG haha.
You started Djia Media, a multidimensional media company helping to develop, manage and assist other artists in their music careers. How much of what you're doing for your clients comes from your own personal experience in the industry?
Honestly, everything that I offer under the 'Djia Media' umbrella, is a bi-product of my own career and journey. I had to learn and deconstruct so many layers of the industry whilst trying to navigate myself through it and get out of the 'broke' artist zone. As most creatives know, you get mislead, let down, made promises to, you get sold dreams etc. and it's hard to stay persistent and motivated through it all without falling into it.
However, it's about being resilient and standing your ground. You eventually learn to do most things for yourself, if you care to. You also end up meeting the good souls who are like-minded in the industry, with kind intentions and mutual goals. As a result of all of this, I developed Djia Media to offer reliable musical services. I basically created a company that I wish I could have gone to -- that is fair and also safe for the female artists in such a male-dominated industry. I work with brand new artists and also famous influencers who haven't tried music before yet have the perfect platform to promote original music too if they had the assistance to create something amazing without risking their reputation and releasing something not so solid. I have lots of experience in mentoring, vocal development, A&R, managing and everything else involved. I like that what I do for my clients is executed quickly and transparently. I am passionate about it all and am proud of the music I am creating and distributing for them.
What has inspired you to release different versions of your songs, such as remixes and acoustic renditions?
Most of my songs started off as stripped back acoustic ideas with simple chords that my fans had heard in the development phases. After I release a finalized and produced version with a beat that has all sorts of layers, most of the time it is the listeners who request a version that was acoustic like a the beginning before it became a final song. I enjoy acoustic music - it's natural to me.
How have you used YouTube as another way of monetizing your music?
I developed my youtube to get to a solid monthly number of streams which once monetized ended funding more musical budget, enabling me to and create a single release schedule. I also use Youtube as a platform to show visuals, lyric videos and BTS which engages viewers at a more personal level and attracts more opportunities. I have built my company Djia Media based off what others had first observed me building for myself.
You grew up in Australia but have since moved to LA. How have you found working with different societies and different legal systems, in releasing, distributing, and collecting on your music internationally?
It was and, still is, tricky to understand the different rules and ways of releasing, collecting and protecting yourself. However, the more that I educate myself of the complex business-side of music, the more I realize most people have no idea about the different societies and royalties even in their home countries. Most artists, let alone managers don't even understand the ways to collect all types of royalties.
Why did you choose Songtrust as your publishing administrator?
I had constant issues with my publishing income as well as other royalties. I knew lots of royalties were missing, I knew songs should have been making far more money and that there were multiple errors such as on the backend of my Youtube, which I couldn't access. I tried working with my PRO to clean it up and had some success but kept on discovering more issues. I also didn't feel ready yet to sign any of the publishing deals I was being offered, and needed a person/company to clean up my catalog at a low % charge and with minimum contractual pressure of term of commitment. I was very happy with their terms and impressed by their communication and ability to actually find the answers required to resolve my issues one by one. I am now starting to see thousands of dollars that I would have otherwise, never received.
If you could give any advice to up-and-coming songwriters, what would you say?
Just don't quit! There have been so many times that I was struggling and thought it would be much smarter for me to get a consistent job and start saving up to be an adult. I am so glad I didn't. Also, educate yourself. Don't get caught up in the idea of fame or writing for some celebrity. Figure out your reason as to why you started creating, figure out your "why" - and never forget it. Also, pave your own way -- find new opportunities to monetize your talent and HAVE FUN.
What's next for you in the upcoming year?
I am focusing on myself as an artist, expanding my company to potentially assist major labels and also enter the world of sync for TV and film. I am pretty excited for this upcoming year to be honest. We need more females killing it out here!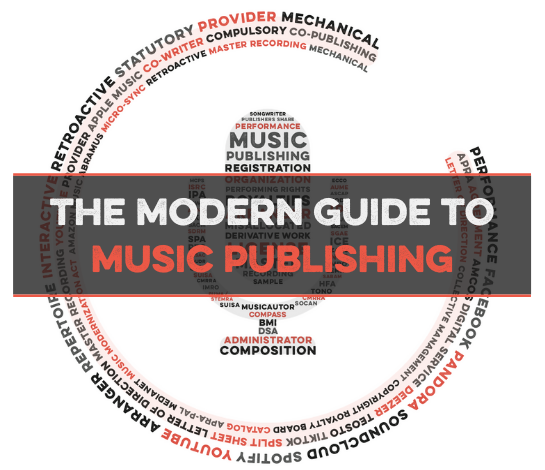 Take control of your publishing. Maximize Songtrust for your songs and business.
We created this guide to answer a simple question: How do songwriters support themselves?
The answer is not as simple as we'd like, but our goal is to make it as clear, transparent and understandable as we possibly can.
Songtrust is more than just a rights management platform and publishing administrator - we're a team of experts in the music community who strive to educate, support, and provide thought leadership to creators, representatives, and businesses across the music industry.
Our hope is that you'll finish this guide with an better understanding of the business behind songwriting and have actionable resources to help you be successful.