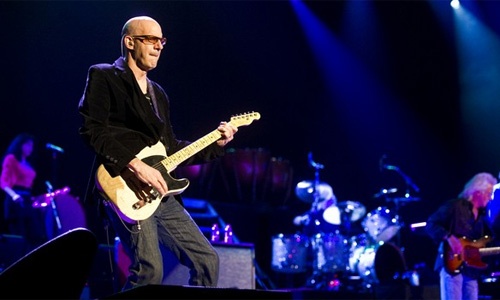 Kenny Greenberg has produced three Grammy Award-winning records and has worked with many of country's top artists including: Taylor Swift, Brooks & Dunn, Gretchen Wilson, Willie Nelson, Kenny Chesney, The Mavericks, Allison Moorer, Joan Baez, Toby Keith, Sugarland, Tricia Yearwood, Montgomery Gentry, and Faith Hill.
His guitar work has been included on projects with Bob Seger, Amy Grant, Etta James, Mandy Moore, Jewel, Indigo Girls, and Peter Cetera.
How did you first get started in a career in music?
I moved to Nashville when I was 20 and started playing in bands and clubs.
You've produced records for legends such as The Mavericks, Allison Moorer, Joan Baez, and many others. How does your experience as a songwriter help with your production?
Huge, it helps me get inside the song being recorded. And also, hopefully helps me to pick out the right songs to record.
How would you describe the feeling of hearing someone perform your song? And what have been some of your favorite performances of your songs?
Of course, it's a great feeling and an accomplishment. Amy Grant and Vince Gill singing House of Love and Ashley Cleveland singing The Power Of Love are a few of my favorites.
Which PRO do you belong to? How has your PRO helped you throughout career?
BMI. Jody Williams at BMI has been a huge help to me since I first moved to Nashville.
Who are some of your songwriting heroes?
Everybody. All the usual suspects: Dylan, Springsteen, Seger, Paul Simon, etc. In Nashville, I'm a huge fan of Tom Douglas' songs - also Gary Nicholson.
What's coming up for you in 2012?
I've been recording and touring with Bob Seger and I'm going to play at his induction into the Songwriters Hall of Fame. Just finished a new record on my wife, three time-Grammy winner Ashley Cleveland, and I've been writing and co-producing with the great songwriter, Odie Blackman. We just finished a project on a Texas artist, Jeff Allen. I've also been working a lot with Toby Keith, we have a band together called Incognito Bandito, and we're going to do some shows later this year.