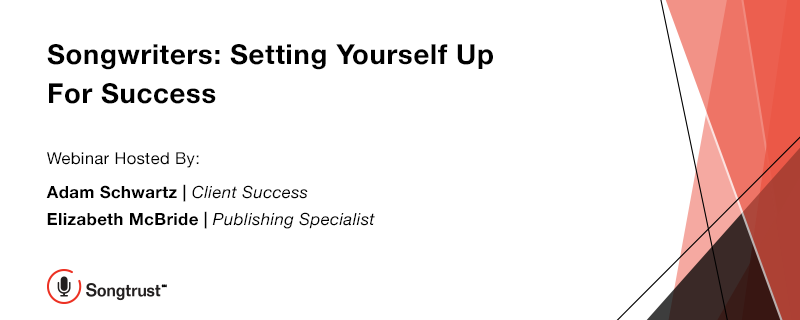 Last month we held our first-ever webinar - Songwriters: Setting Yourself Up For Success - for new songwriters and those songwriters looking to refine their process. Hosted by Songtrust's own Elizabeth McBride, Publishing Specialist, and Adam Schwartz, Client Success Manager, we covered topics from the creative process and how to get yourself organized, to understanding publishing, PROs, and royalties. The turnout was tremendous and we were asked a lot of excellent questions from the community that tuned in.
We're including some of the questions asked during the webinar and our answers below. You can watch the entire webinar and download our Packet of Success by clicking on the button. Thanks to everyone that made this a huge success! Don't forget to do your research and set yourself up to be not only a songwriter, but a great music business person as well.
What is Songtrust's position on Facebook Licensing and how does Songtrust collect that money?
Songtrust is licensing for Facebook/Instagram via the Harry Fox Agency. Being a Songtrust client automatically opts you into that agreement. Please note that it will likely be a few years before content is properly monetized and royalties are paid out.
What are managers roles in regards to the Songtrust platform - should they register their artist's/bands or should the artist do so individually?
The delegation of creating a Songtrust account and providing songwriter and song information is relative to the dynamic of that artist's team. All Songtrust accounts are identical, and they all operate the same. For example, we see managers, lawyers and artists handling Songtrust accounts for their clients, as well as independent writers managing their own accounts.
What does Songtrust do (and not do) regarding all collections of royalties, sync licensing and collection?
Songtrust enables songwriters to collect their global publishing royalties. We maintain direct relationships with over 40 performance, mechanical, and digital societies in over 120+ territories. Our mission is to support songwriters in collecting what they have earned for their compositions and providing a technology-forward and modern platform to do so.
Songtrust collects 2 types of royalties due to any publisher: performance and mechanical.
We do not offer creative or sync services, so feel free to procure any sync opportunities as you see fit and keep 100% of any upfront fees you negotiate for those uses. We can negotiate and paper incoming sync deals on your behalf for our 15% commission, but that is not necessary if you're comfortable doing it yourself. This maintains that you have creative control. We do, however, believe in providing a community for our songwriters to learn more and network with like-minded songwriters.
Can I be registered with more than one Publishing Admin, for example Songtrust and Songtradr?
Songtradr is a licensing platform and outside the scope of services of what Songtrust offers. They can be a good complemental tool for those looking for film/tv/etc placements. You can use both Songtrust and Songtradr without conflict.
Does Songtrust collect both performance and mechanical royalties?
Songtrust registers works with PROs and mechanical collection societies all over the world in order to collect both performance and mechanical royalties. We maintain direct relationships with over 40 performance, mechanical, and digital societies globally - the most extensive, accessible publishing networks in the industry.
Is BMI or ASCAP considered publishing?
BMI and ASCAP are performing rights organizations or PROs. They collect your performance royalties and, depending on the PRO, pay out your writer's share, and on occasion your publisher's share. Not every PRO pays the publisher's share, so having a publishing administrator, such as Songtrust, is important to make sure you're collecting all of your earned royalties, globally. PROs do not collect mechanical royalties generated from sales/streaming.
Does Songtrust handle filing our songs with PROs or would we still need to do that on our own?
Songtrust registers your works with PROs, royalty administrators, and mechanical collection societies around the world. Register your songs at Songtrust only, and we'll take care of the rest.
Is the first step to register your work with BMI or ASCAP, then use Songtrust or should Songtrust be used first?
Both ways actually work! If you're not already affiliated with a performing rights organization (aka PRO), we suggest registering with Songtrust first to save time and money, as we can affiliate you with a PRO directly from our site. If you are already affiliated, that's great! We will still register your works with more than 40+ global PROs in over 120+ territories worldwide and collect your performance and mechanical royalties on your behalf.
What is Songtrust's value over other companies in the publishing space?
Songtrust's deal is simple and flexible. We take no ownership in your copyright, have a short term of 1-year, and register your works worldwide. Our direct affiliations with societies all over the world allow us to collect as directly as possible from the territories in which your songs are generating royalties, and our technology allows us to register songs and collect royalties quickly and efficiently.
Is it $100 per song to work with Songtrust?
It is a one-time registration fee of $100 per writer to sign up with Songtrust. This gives you full access to the Songtrust platform as well as an unlimited number of songs you are able to register with us.
Does Songtrust assign ISWC to the composition? What about ISRCs?
No. ISWCs are allocated by an authorized national or regional ISWC agency. Once the songs are registered with the appropriate societies by Songtrust, and ISWC will be assigned. ISRCs are usually generated by distributors. We recommend that you provide Songtrust with those ISRCs, as they are very helpful for societies to match royalties generated by recordings to you as the writer.
Do we still need to sign up with BMI or ASCAP if we sign up with Songtrust?
Songtrust does not replace PROs like BMI and ASCAP, and you must be affiliated with a performing rights organization in order to collect your publishing royalties. We are your publishing administrator and will register your songs worldwide to collect your performance and mechanical royalties on your behalf. You can sign up for Songtrust even if you're not yet affiliated with a PRO, and Songtrust will help you get affiliated.
Does Songtrust find retroactive royalties?
Societies typically hold onto unclaimed royalties for about 2-3 years before distributing those royalties to their members. Songtrust can collect royalties that have accrued within that time limit.
After you've registered with Songtrust, how does my PRO become aware of my performances?
PROs track performances of works in various ways for all of the works registered in their catalogs. Once a song is registered with a PRO, the society will be tracking performances of that song.
Can you register my setlists for live performance royalties?
For performances in the US, you should submit your setlists directly to your PRO. For performances outside of the US, Songtrust can do so for you.
Does Songtrust collect Mechanical Royalties from both Harry Fox Agency and Music Reports?
Yes. We also collect mechanical royalties in the US from MediaNet and some digital service providers directly. We can also do a direct mechanical license with any labels who are releasing your music in the US.
To make sure you're collecting all your performance and mechanical royalties worldwide, sign up for Songtrust today!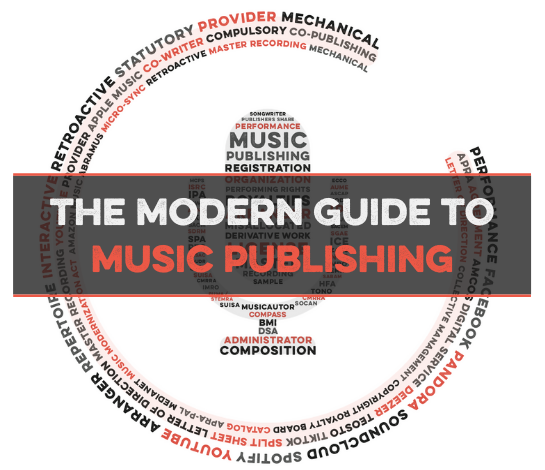 Take control of your publishing. Maximize Songtrust for your songs and business.
We created this guide to answer a simple question: How do songwriters support themselves?
The answer is not as simple as we'd like, but our goal is to make it as clear, transparent and understandable as we possibly can.
Songtrust is more than just a rights management platform and publishing administrator - we're a team of experts in the music community who strive to educate, support, and provide thought leadership to creators, representatives, and businesses across the music industry.
Our hope is that you'll finish this guide with an better understanding of the business behind songwriting and have actionable resources to help you be successful.
Related Articles
Music Publishing Resource
Music Publishing News, Music Publishing Resource