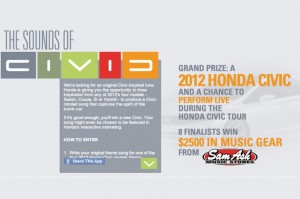 Honda has kicked off a Web-based songwriting competition for the 2012 Honda Civic, and judging by the handful of entries already in the can, it promises to be the automotive equivalent of American Idol.
The curious can enter the "Sounds of Civic" contest or listen to some of the entries on the dedicated Facebook page.
Honda said it is looking for "appropriate theme songs for the 2012 Civic."
Thus far, the 2012 Honda Civic Si appears to be inspiring some of the most intriguing video entries, including one by Randy Gentille of Ventura, California called "It's a Brand New Day (Civic Si Rules!)" that features girls in tank tops lounging on the hood of the car. Other entries veer from snore-inducing Muzak-like songs to techno-pop tributes to the car.
The grand prize is a 2012 Honda Civic valued between $15,000 and $27,000, plus a chance to perform live during the 2012 Honda Civic Tour date in Los Angeles and be featured during the Civic's interactive marketing campaign. Submissions will be accepted until June 5. Voting on the songs begins on June 8 and runs through July 17. The eight songs that receive the most votes win $2,500 in music gear from Sam Ash Music Stores. The top vote-getter wins the grand prize.
Honda has also recruited what it calls "several popular YouTube musicians" to write their own blatantly commercial songs about the 2012 Civic. These entries can be seen at the Honda YouTube channel or the Honda Civic Facebook page. They include artist Julia Dales singing "I fly, but I'm not talking about a guy. I'm talking about my Civic" and making little zoom-zoom sounds.